R.E.M.
Modest Mouse, The National
Red Rocks Amphitheater, Morrisson, CO • 6-3-08
Tim Wardyn
If it was up to my wife, we would have arrived at Red Rocks Amphitheater just in time for R.E.M. to start playing. She had never heard of opening acts The National and Modest Mouse. But I had, and I really wanted to see both of them. It's a good thing we did.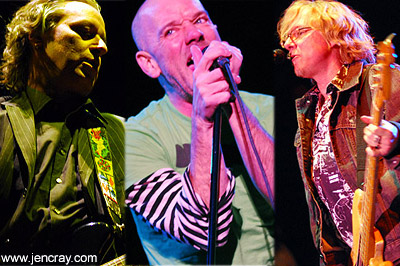 We arrived about an hour before The National went on stage, before general admission seats were being taken faster than the bong hits taken later in the night by everyone who surrounded us. It's a workout just to get from where we parked to our seats. The walkways took us around a couple of beautifully gigantic red rocks that look like God snapped the land in two and then just left it. Once we got to our seats we were literally 200-300 feet higher than our car. (The people around us were much higher than that.)
The National took the stage to most people still trying to find their seats, and they only had about 1/3 of the stage. They made the most of it as they ran through the better part of their album Boxer. Their sound enveloped the place, despite lead singer, Matt Berninger, walking around like he was trapped among the band when he wasn't singing. The highlights were "Fake Empire" and "Mistaken for Strangers," but as my wife put it, all their songs sounded the same. I still don't see what's wrong with that.
Modest Mouse was up next and they opened with one of my all time favorites "Satin in a Coffin" which instantly brought the energy up in the place. They followed that up with the hard-hitting "The View" and their smash hit "Dashboard," which brought the house down. I didn't realize just how talented lead singer Isaac Brock is – he did the better part of the guitar solos and his voice is actually better live than on the albums. Although they didn't play their breakout "Float On," they did play another of my favorites, "Black Cadillacs" and they made one more fan in my wife. "I really liked them. A lot." (I need to start taking her to more concerts.)
I had no idea what to expect from R.E.M. Would they play mostly songs from their new album Accelerate? If they did dip into the back catalog, what would they play? In the end, they played a perfect mix of both.
Once the band hit the stage, everyone else had hit something else. We were in a haze from the bong to the left of us, a joint to the right, and in front of us, a bag full of vodka-soaked watermelon and pineapple. (Maybe it wasn't a coincidence that they ended up playing "I've Been High.") The place was packed and once the band took the stage, the cheering was deafening. If there were any doubts that R.E.M. was back, they were dispelled from the start, opening with the killer "Living Well is the Best Revenge" and then following that with the Monster classic "What's the Frequency, Kenneth?" Throughout the night, the energy never let up as they had cameras showing grainy shots of the band members on several flashing screens behind them. They ripped through songs from the new album including "Accelerate," "Hollow Man," "I'm Gonna DJ," and "Horse to Water." But it was the back catalog that made this a night to remember. From "The One I Love" to "Orange Crush" to "Electrolite" to "Bad Day," they spanned their career with at least one song per album from their Eponymous collection to Accelerate.
I knew that there would be an encore, but I must say that this was one of the best encores I've ever heard. I thought they would play "Supernatural Superserious," but they also played "Losing My Religion" and closed with "Man on the Moon." I thought that they hated playing "Losing My Religion," but to hear it live was breathtaking; or maybe that was the smoke. Overall, their set was initially politically-charged with five songs including "Ignoreland" and "World Leader Pretend" directed specifically at President Bush. After those songs, Stipe proclaimed, "I have some great news: Barack Obama is going to be our next president." The crowd just went nuts.
R.E.M. has been playing music together for 30 years, but last night, watching the band interact with the crowd and jump around the stage like they were in their 20s proved that not only is the band still making some of the best music around, but they are having a great time doing it.
R.E.M.: http://www.remhq.com ◼
---