Silver Age Sci-Fi Companion
by Mike W. Barr
TwoMorrows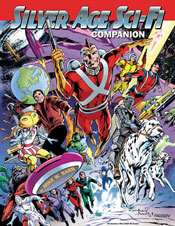 TwoMorrows continues their noble quest to fully illuminate the darker and more neglected corners of pre-Silver Age DC continuity with this companion reference book to DC's consistently high quality science fiction/space adventure publications of the late '50s/'60s (particularly Strange Adventures and Mystery in Space), helmed by the illustrious DC editor/idea man, Julius Schwartz, aided and abetted by John Broome, Murphy Anderson, Gardner Fox and Carmine Infantino. Here, Schwartz and company, freed from the earthbound constraints of the mainstream superhero titles, let their imaginations fly free, tethering the best high-adventure parts of a Batman or a Flash with the best of the pulps and a liberal dash of hard science, just to keep the whole thing plausible. Most famous among these space-cases is Adam Strange, an Earthling adventurer trapped in a strangely melancholy cycle, where he is teleported to the planet Rann to rescue it from some space menace. Doing so by the skin of his teeth, he is snatched away back to Earth before he can celebrate or spend time with his Rannian love, Alana. This last flourish of pathos even one-ups the Flash Gordon man-out-of-time concept.
I'm glad that comics writer Mike W. Barr (Batman, Green Lantern, Star Trek, Mystery in Space) got the nod to write this one. He has a strong creative background in both superheroics and sci-fi titles, which Schwartz's stable created a potent hybrid of, so he's got experience with the tenets of each particular genre. As an editor on Legion of Super-heroes, he has a sensitivity toward the demands on Schwartz the editor, and a firsthand appreciation of his accomplishments. Plus, being colleagues gives him a VERY easy rapport with an august interviewee like Murphy Anderson. Most importantly he's a fan of the stuff.
And why shouldn't he be? These characters were pretty amazing, even viewed through today's 21st century tired media blender eyes. Just this side of educational, rational, secular humanist, and tirelessly optimistic, the mainstay characters of Schwartz's space titles – Darwin Jones, Adam Strange, Star Rovers, Star Hawkins – all had an unruffled sense of cool, whether doing battle with an alien or figuring out what made an entire planet disappear. The stories were peppered with nods and winks toward classic sci-fi, pulp, and mystery tales. Iin a move that was prescient given current web marketing, Schwartz would encourage a then-unheard of level of fan interaction – in the letters pages, with contests (giving away original art as prizes), and even his own image inserted into stories in Hitchcock-esque cameos – and he created an insular sense of brand loyalty. The art was top-shelf; legends like Murphy Anderson and Carmine Infantino could really spread their wings on the imaginative layouts and concepts these stories demanded.
Geez, stuff like Star Rovers, I think at least, would be pretty fucking awesome if done right today, like this surrealist outer space Rashomon with the detached cool of an Oceans Eleven caper. The premise is gold – a playboy, an author, and a glamour model go on intergalactic adventures and then banter over who exactly saved whom, because each one has a totally different version of events. Over half of the more over-the-top concepts within could easily have been adapted into the animé of your choice. And let's see the grim n' gritty Dashiell Hammett-ized noir version of Star Hawkins (!), down-on-his-luck, possibly drunk P.I. with a robotic girl named Friday who always ends up saving his wagon. Or Darwin Jones, mild-mannered, smartest-guy-in-the-room schtick could either be played up for laughs (à la Dr. Thirteen) or straight up to-the-future goodness – like the recent Metal Men revamp.
I do have to call the publisher out though. The biggest letdown of the book is, unfortunately, its best hook as well. Alan Davis and Paul Neary did a beautiful, explosive Technicolor cover with EVERY DC sci-fi/space adventure hero coming straight for you! And it goes miles in communicating how no-holds-barred imaginative these comics were – colorful costumes, steely resolve and fantastical devices all tempered with that sense of secular humanist optimism that Schwartz and the rest did so well. But the drag is, a good number of the characters' pictures aren't in the damn book: Space Ranger, Ultra the Multi-Alien, Space Cabbie and especially Captain Comet don't even get sections of their own. And the amusingly surreal Super Chief does? This one bit of slightly disappointing can't-judge-a-book-by-its-coverdom just left a lingering tang of disappointment the whole time I was reading this. You'd think Captain Comet at least, in the middle of a successful title relaunch, would have been a savvy inclusion.
The book starts off with a very convivial interview conducted by Barr with Murphy Anderson, adorned with the usual wealth of sketches and original art that somehow the TwoMorrows folks are able to dig up. The book proper is broken up into long chapters dealing with a particular character (Adam Strange), concept (Space Museum), or ephemera (Schwartz cameos, cover motifs reappearing in other titles). Each section on a particular character includes a long article discussing the genesis and progression of said character and then going all-out scholarly research with an index to all of that character's stories – packed with summary info, trivia, and a thumbnail cover. This sorta stuff is great for both completists who need it all and neophytes who are trying to determine if these comics are up their alley or not. Here's hoping they are.
TwoMorrows: http://www.twomorrows.com
---