Mongol
directed by Sergei Bodrov
starring Tadanobu Asano, Honglei Sun, Khulan Chuluun
Picturehouse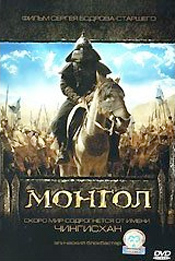 Every villain is a hero in his or her own mind, and even a man as bloody and feared as Genghis Khan had a mother. She seems nice enough, and in this spectacular biopic you see an excellent back-story on the man who ruled most of Asia from the back of a horse. Mongol shows Genghis's early years as a child in Mongolia and the bloody tribal maneuverings that he suppressed for the greater good of his name and one of the shortest-lived empires in history.
Beginning in 1192 (the year of the Black Rat), nine-year-old Temudjin (Asano as Genghis) rides off with his dad to select a bride. He chooses Börte (Chuluun), and in the five years he has to wait to actually marry, there's enough blood and fighting to last any normal man a lifetime. Dad is poisoned by the neighbors, Temudjin is too young to hold his title, and he and his mother are abandoned. He's captured by neighboring tribe, the Ta'yichiut, escapes, and meets Jelme and Bo'orchu (Ji Ri Mu Tu), who become his best generals. The feuds are petty and ill-explained, the names and relations a welter of confusion, and the scenery (shot mostly in Kazakhstan) as blindingly beautiful as any Panavision epic of Hollywood's golden days.
What you don't see is Genghis at his most powerful. We end with the consolidation of a few tribes and the elimination of a few rivals. It's not clear what element of Genghis's personality or upbringing makes him the conqueror, but he's clearly resourceful, politically savvy, and not afraid to chop off a few heads. What you feel as the multilingual credits roll isn't fear or wonder at a demigod, but the feeling you might well ride with him to glory and riches and a quick, bloody end. Life may be brutish and short, but it's all you have. Enjoy your fermented mare's milk and try to make something of yourself so your mama can be proud.
Mongol: http://www.mongolmovie.com
---