Gatorface
Static Radio NJ, How Dare You
Blackbox Collective, Orlando, FL • Sept. 27, 2008
Jen Cray
A wrong turn during my maiden voyage into the graffiti-adorned warehouse complex known as Blackbox Collective found me in the middle of an Andy Warhol exhibit. A quick assessment of the well-dressed, middle-aged crowd let me know that this was not the right room for the night's all-ages punk show. A little careful exploration, as this new venue just happens to be situated in one of the worst corners of downtown Orlando, and I made my way into the dusty and dark area backstage where the evening's bands (Gatorface, Static Radio NJ, and How Dare You) were waiting around for the late arrival of the PA system… and some beer.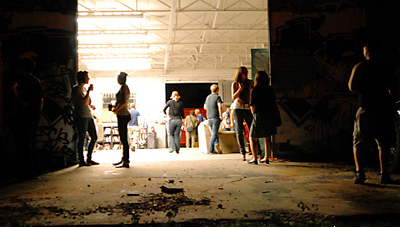 With no air conditioning, no bar, and a pair of porta-potties serving as restrooms, the oddly cozy warehouse – and its surrounding dirt parking lot – had the feel of a teenage BYOB party. Despite the obvious elements of discomfort, I found this charming as hell!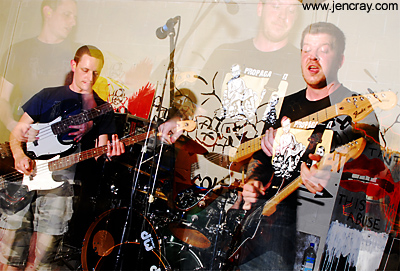 As midnight approached, Orlando's How Dare You finally got their mics set, and the couches previously set up in front of the stage were pushed aside to allow the 60+ fans in attendance to get up close to the band. Unfortunately, other than guitarist/vocalist Elliot Meyer's comical frustration with a mic stand that kept falling out of his reach, the band's performance was rather subdued. Each song sounded similar to the one previous – due in large part to the fact that the vocals could hardly be heard above the guitars – and no mosh pit formed to assist in creating a little energy for the band to feed off of. Everyone may as well have been sitting comfy on the couches. As a matter of fact, several people were! Though this particular performance did little to inspire me, I won't write this band off just yet. Beneath a thin layer of self consciousness, there lies some serious promise.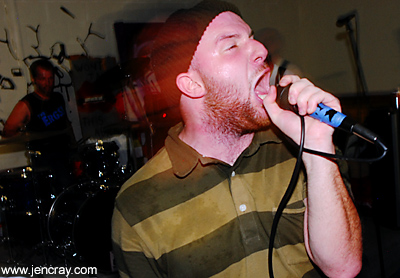 Melodic punk outfit Static Radio NJ gave a considerably more audience-stroking performance. Shunning the stage for the floor beneath, vocalist Mike did the whole 30-minute set in the faces of those up front. With a wider range of sound at their disposal, the young quartet also offered up songs that were more memorable, even including the near ballad, "Fin." It was a bold move to take things down to a quiet pace in a room full of punk fans and no security.

Though there was still no pit, and no audience energy beyond a little head banging and a few sing-a-long fans who eagerly screamed into Mike's mic, Static Radio reaffirmed my prior praises of their music. Hearing their music performed live only drilled them deeper into my good graces.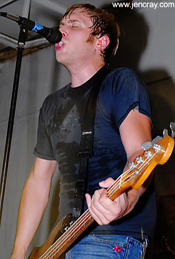 The band will soon be heading up to Gainesville, FL for the weekend punk festival that gets bigger each year, simply called "The Fest." Also on that bill will be New Mexican Disaster Squad, giving what is promised to be their final performance. That under-appreciated punk band from Orlando has recently split into two equally exciting acts: Sam (vocalist) started Virgins, and Alex (bass) and Richard (drums) make up half of Gatorface. After a few failed attempts, I finally made it out to see the latter.
Rounded out with a pair of other veteran local musicians, Gatorface is more melodic than New Mexican Disaster Squad, with a sound that's closer to '90s era California punk like Face to Face or Bad Religion. They're still working out the kinks and are just on the cusp of releasing a debut EP, but their ambition already shines through. Confidence seeps from their pores, and they've already penned an irresistible three-chord hit that I can't get out of my head in the form of "Kid in a Candy Store."
Orlando has one more great band to add to its roster of talent.
To see more photos of this show, and others, go to [www.jencray.com](http://www.jencray.com/bands_live.htm).
Gatorface: http://www.myspace.com/gatorfacefl • Static Radio: http://www.myspace.com/staticradio ◼
---