The Revival Tour with Chuck Ragan
Ben Nichols, Tim Barry, Austin Lucas
The Social, Orlando, Fl • Sept. 28, 2008
Jen Cray
Never, in all of my concert going adventures, have I encountered the degree of good will, positive spirit, and overall love that I found at Chuck Ragan's Revival Tour when it recently came through Orlando.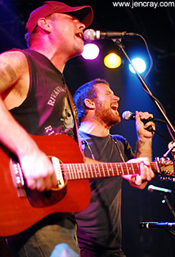 The tour found the Hot Water Music front man (Ragan) joined by Ben Nichols (Lucero), Tim Barry (Avail), and Austin Lucas (who received guest billing on Ragan's latest album). Each man got his own time alone on the stage, but the real treat was watching them frequently jump in on one another's sets. The sort of ego-less camaraderie onstage spilled over into the audience and strangers threw their arms around one another, cheering on the musicians with beer cans raised high above their heads."
With each man's set ending, not with a long breakdown and wait, but with an introduction of the next musician, there was no lull between acts. No down time means no loss of momentum, which made the whole evening feel like a party in someone's living room where the guitar just kept getting passed around from player to player.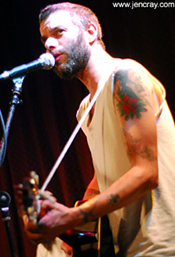 Needless to say, this down home atmosphere put everyone in the mood to get nice and drunk, band members included. Beers and shots were repeatedly passed up into the hands of the men at the mics, who happily toasted the fans in thanks.
"Am I in tune?" Ben Nichols asked the crowd in the middle of a song. "I'm so drunk, I can't tell," he added and flashed a goofy grin.
So, yes, alcohol played a big part in the evening's festivities, but the overriding factor that made the night so special was the feeling of intimacy and family. Tim Barry told stories about losing loved ones, and about the unreal beauty of holding his newborn niece in his hands the day before the tour began. His lyrics were thick with working class blues and economic struggle, but at the core of it all was a message of the embracing of life.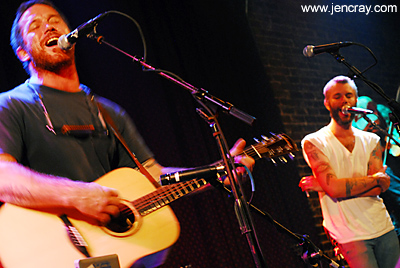 I throw empty beer cans at the TV when I'm watching the news/ I hate Republicans I hate Democrats I hate Liberals too/ I think pacifists are weak and violence is wrong but I go limp for police and I fight when it's called for/ the truth is I don't know or care with who or where I fit in at all/ but I keep on living simple riding fast and living slow – from "Avoiding Catatonic Surrender."
Not one to be afraid of sounding like a motivational speaker, Barry bared his soul onstage in a way that made the hair on my neck stand at attention.
The whole show was a spine-chilling event. Though never a fan, I was so impressed by Ben Nichols' solo work that I made a mental note to revisit Lucero's last album and give it another chance. The rockabilly stomp of "Dog Day Night" had me hooked from the very first note, and a quick glance around the crowd let me know that I was not alone. Orlando loves Ben Nichols, and they're not afraid to let it show.
By the time Ragan had his alone time in the spotlight, which he shared with his three-member band, the tour was already a success with the top biller just serving to drive the point home. With the gruff vigor that he applies to his vocalist duties with Hot Water Music, Ragan's solo work has a punch that few folk artists can manage. Even a sentimental song about his mom ("Geraldine") has bite, and will rip out your heart as is pulls tears from your eyes.
As expected, the last few songs of the night found Ragan, Nichols, Barry, and Austin Lucas on stage together. The vibe was loose, the spirit light, and the emotional effect was memorable. The same could be said of the tour as a whole.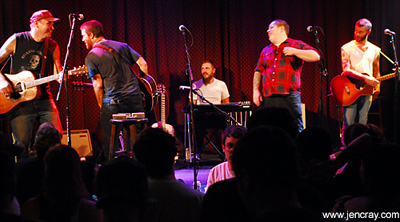 With almost two months worth of dates, and scheduled special guests that include Kevin Seconds (7 Seconds), Jesse Malin (D Generation) and Tom Gabel (Against Me), The Revival Tour is the small show to catch this fall.
To see more photos of this show, and others, go to [www.jencray.com](http://www.jencray.com/bands_live.htm).
Chuck Ragan: http://www.myspace.com/chuckragan ◼
---