Oneida
Attacking New York with Their Preteen Weaponry
P. McEver
Oneida could be a late night creature-feature on a dilapidated screen in their hometown of New York: A cacophonous monster risen up out of the 1960s sounds of psychedelia and kraut-rock traveling through a time warp to the present; snatching unsuspecting snippets of '70s folk and avant synths, '80s punk and '90s post-rock; dropping eight albums and a few EPs in their wake before spewing the three-album opus Thank Your Parents on the unsuspecting metropolis. The first in the "triptych," Preteen Weaponry, is raucous chamber psychedelia cut up into three 11+ minute tracks. As the Brooklyn experimentalists gear up to release Rated O, the second installment of Thank Your Parents (due out at the beginning of 2009), Ink 19 caught up with Oneida's drummer, Kid Millions, for a few words on performing, creating, and bodily functions. – P. McEver and S D Green for Ink 19.
Who is your favorite kind of Oneida fan?
It's the people who have become true friends. There are countless people who I've met through Oneida and there's a solid group who I count among my closest friends.

For those unfortunate souls who have not/cannot see an Oneida show, what are they missing? How would you describe a typical Oneida show?
Seriously? I think you realize that you are asking me to do the impossible. But anyway – we give our entire selves to the performance. I know that personally when a show is over, I'm finished physically and emotionally. Some people don't realize this and want to rap at me after a show – which is totally great – I don't discourage it, but sometimes I'm about to pass out.
I think a typical Oneida show contains an extended effort to capture the elusive fruits of improvisation and mediation… or it's just a really good fucking time. The other dudes in the band can be really, really funny – a lot of people are like, "You have the best stage banter!" I realize that might not be what people are looking for – but it's fun.
If you could play any venue, conventional or not, where would you play?
I'm trying to wrap my head around this and realizing it's not really about the venue – yes, there are places that are real pleasures to play, unique settings around the world that contain their own power and influence, but I'm not usually feeling drawn to a venue… a city or country? Sure. Japan. China. Australia. I love playing outside and I love playing DIY shows in small spaces where I can hear the dudes really well.
I'm looking forward to Brahloween 4 which is at Secret Project Robot in Brooklyn on Nov 1st.
Let's talk about those amazing, timeless album covers. Do you help create each cover or is that purely a Jagjaguwar affair?
While Jagjaguwar has given us so much over the years, they haven't had a hand in the covers. To their credit they've never said a word to us about modifying them!
We've worked with a couple of artists over the years – the first two albums, single, and EP were put together by Brian Perry, Crosshair and Dan Macadam created the Each One Teach One cover – the sunflower thing. Kayrock designed a lot of the follow-up albums – Come On Everybody Let's Rock, Anthem of the Moon, Atheists Reconsider, and Secret Wars.
Now we use Dan Schechter – a really gifted designer who now lives in Portland, OR. You can lurk on hotlixx.com to see more of his designs. He's amazing and has really caught the spirit of the projects we've been working on. He gets the gist and moves the entire package into an amazing realm. I am really excited about the Rated O artwork – I think it's gonna blow some minds.
What would you say makes you uniquely qualified for your line of work?
Well, live, I play the drums and I think I am not mediated when I approach the instrument. I don't know why I've developed my particular relationship with my instrument, but it's a combination of technique and abandon that I think at best can really surprise and touch people viscerally. But why am I qualified? Well – that's not for me to say – but no one is stopping me.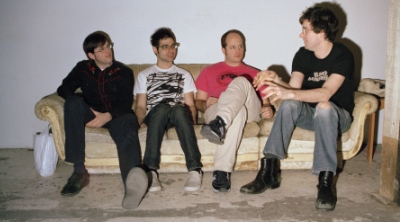 What's the latest on Thank Your Parents?
I just finished the mastering for Rated O today – part two in the trilogy of releases. It's a triple album.
My advice is don't worry about it – you don't have to listen to it if you don't want.
If your music produced a particular bodily function, which function would that be?
Dopamine production.
Oneida: http://www.enemyhogs.com/site ◼
---