Henry Rollins
Philadelphia, PA • 11/01/2008
Mike Hanan
Words form sentences. Sentences create paragraphs. Paragraphs turn into chapters. Many chapters form a book, but this was no book – this was Henry Rollins' live spoken word at the first Unitarian Church in Philadelphia.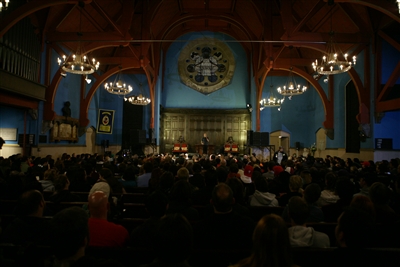 Yeah, that's right, I said it. Henry Rollins' live spoken word in a church. In a setting that might seem ironic to some, the heavily tattooed punk rock legend held mass in front of a sold-out, brightly lit congregation (pews and all). For anyone who has never experienced the endurance of a Henry Rollins rant-a-thon, it's unique to see him standing at a pulpit with a mic cord wrapped around his hand while standing with an eerily familiar Black Flag/Rollins Band stance. There were no stage lights, no opening band, and no dramatic intro – Henry just walked out on stage and spilled his guts.
During Father Henry's almost three-hour sermon, he weaved in and out of almost too many topics for one to keep track – America, the world, politics, religion, culture, music, loneliness, travel, childhood, marriage, world hunger, Hollywood, the election, insects, the war, airport security, the Middle East, getting jerked off while hitch-hiking, and, of course, George W. Bush.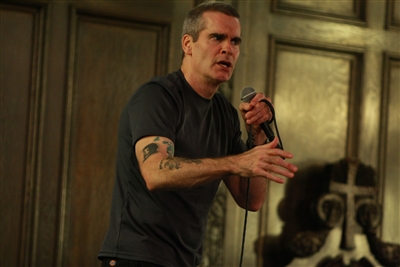 Even though this was billed as a show "To celebrate the end of the Bush era," this certainly wasn't a simple Republican bash fest. For the most part, politics took a back seat to an intricately woven barrage of stories. Henry did bring insightful assumptions of what W's post-presidential life might look like – and how the country might view the last eight years as time goes by. Surprisingly, Henry said he "didn't hate Bush," in fact as the night went on it became clear he felt sorry for him.
Travel seemed to be a constant theme throughout the night. Henry described his loathing for a typical beach vacation and his love for visiting some of the most dangerous places on the planet. He told an amazing story about being in Pakistan when Benazir Bhutto was assassinated shortly after Christmas in 2007. He vividly described numerous experiences when traveling and talking to people he feels are mostly misunderstood. Henry's curiosity to travel to these places and walk through the streets is inspiring, and it seemed to validate his many strong points of view and opinions.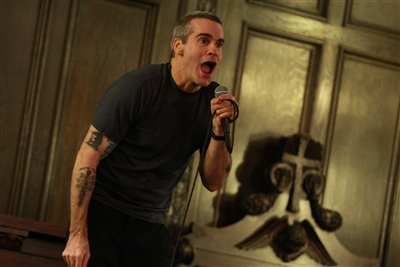 Holding sermon on the Sunday night before the election there was a feeling of electricity in the air, and the sold-out church seemed to hang on every word. Countless applause breaks seemed unnecessary as Henry plowed through a nonstop lava flow of ideas, thoughts, beliefs, and stories. Although he never seemed to force too many left wing ideals directly down your throat – his quick, sarcastic, sharp tongue made it obvious which side he's on. Whether you agree with his politics or not, if you stayed with him through his countless tangents and chose to look at the amazing pictures he painted, it was very easy to see where he is coming from – and it would be impossible to argue that it's anything but genuine.
Henry Rollins: http://www.21361.com ◼
---