Winter NAMM
Anaheim, CA • January 15 – 18
Elianne Halbersberg
In the throes of a tanked economy and across the board losses reported by retail, the last thing one would expect is a successful trade show – particularly one focused on enticing music store owners to buy-buy-buy in the hopes that they will sell-sell-sell.
In fact, the winter National Association of Music Merchants (NAMM) show drew close to 86,000 attendees: a 3 percent drop from last year, but in today's times an impressive figure nonetheless.
As long as musicians create and record, manufacturers will turn out new gear. With technology facilitating the D.I.Y. process, all it takes is a quality computer, up-to-date software, income (or a generous girlfriend!) and you too can be on your way to becoming the next Jay-Z, Jonas Brothers or Children of Bodom, depending upon your preference.
Following, a look at some of what's new for 2009, to help you on your climb to the top of the ringtone charts.
At the heart of the industry is Solid State Logic , the world's leading manufacturer of analog and digital consoles. SSL is "the" name when it comes to production, with over 3000 studios equipped with their high-end products. You may (or may not) already know that the company was bought by Peter Gabriel and David Engelke in 2005. Their goal, says Dan Duffell, SSL's head of marketing, "was to bring better technology to a wider audience."
Commonly thought of as purely analog, SSL was one of the first to pioneer digital consoles. In 2006 the company released the Duende Mini workstation, a one-third rack width unit with two configurations and half the amount of DSP of the Duende classic, but with a software aspect to unlock the other half.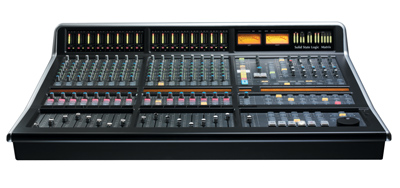 New for 2009, SSL introduces the Duende Expanded and Duende Studio Pack. These new purchase options offer SSL capabilities with affordability. Duende Mini and Duende PCIe hardware is available in cost-effective bundles that include the DSP and Bus Compressor Plug-in Upgrade for Mini and/or the complete SSL Plug-in Collection. Previously powered via FireWire, the new PCIe card – PC and Mac compatible – opens up more bandwidth, making it more practical for users who run a lot of plug-ins.
While SSL continues to dominate the market and remains a mainstay in most studios, the trend toward "in the box" mixing raises the question: What is the future of mixing as we know it?
"There are a number of debates," says Duffell. "The console technology will continue because the professional end of the industry knows the value of analog, the importance of the analog mix bus, EQ, processing, compression, and being hands-on.
"However, with software and mixing inside the box – will those things kill the technology? The story of SSL says absolutely not. Several years ago, many people thought that big studios were dying; yet we added Duality in 2006 and it has outsold everything. The reason is because it's the best of both worlds: a full-blown SSL console and a DLW controller with innovative updates on total recall, like a big version of AWS, which has been a success story for us.
"Within ten minutes, a good operator can recall Duality, with all the sonic advantages of an analog board, finish a mix and give it to the client. The workflow of the recording environment has changed. They need sound quality, versatility and ease of use.
"Trying to mix inside the box has made technology available to a lot of people, but in a professional environment there's a sonic edge to working with analog. Producers now have a collection of equipment in their sound, and that's what clients come to them for.
"For SSL, it's about embracing the change in workflow," he says. "We want to create products to help people work the way they want to work. That's our business model. Making technology available in software form is great for people on the way up who want high-quality sound. The sound in Duende is superior to other plug-ins inside the box. A great many people work inside the box for many good reasons, and there are upgrades for them as they make their way up.
"The console users use Duende as a sketchpad on their laptops for pre-production and being able to get to the sound of a console. When they're back in the actual mix on the board, they go back to analog mix and analog EQ. So whether you're on the way up or you're a professional, we have the tools for you.
"SSL has experienced 50 percent growth year on year," he notes. "The only way that works in a difficult environment is to embrace changes in attitude and in the way people make and design things that fit."
IK Multimedia has made a name for themselves by consistently introducing unique, quality products for reasonable prices and offering customer discounts and upgrades. "We're very aggressive in our marketing and promotions to reward customers, and that translates into customer loyalty and more sales," says product manager Dan Boatman. "We broke our sales records in 2008. When you adjust to the needs of the musicians, your sales reflect it."
For 2009, IK Multimedia has launched two significant pieces of gear for guitarists, both introduced at NAMM.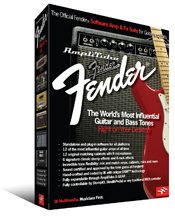 AmpliTube Fender and AmpliTube Fender Studio for the computer were created in collaboration with Fender. "It's the first and only recreation of their amps," Boatman explains. "Fender evaluated and tested every amp we created. Ampeg approached us for our bass modeling software and it was a success. Based on that, we approached Fender with this idea. We drew from Fender's classic retro amps all the way up through their modern high-gain amps."
With a collection of 45 pieces of gear, the expandable AmpliTube includes 12 amps, 12 matching cabinets, six classic stomp effects, six rack effects, nine mics, and the ability to mix and match. There are also two configurable rigs with up to 32 simultaneous effects, a digital tuner, and five modules.
"AmpliTube covers a tremendous range of times and styles. It's a dream collection of amps for a guitar player," says Boatman. "For the producer or engineer the benefits are more subtle. They can use these effects for sessions. They work well with drums, vocals and keyboards as a collection of effects. A lot of the mid-1960s amps are great for drums. They add a little bit of distortion without losing clarity and attack. AmpliTube works well on bass, and also on synth and bass and kick drums. It runs through a cabinet with a mic and restores the punch and character for extra energy. The pedals are all great effects for a keyboard patch or even to thicken background vocals. It can stand alone or work on any platform or system as a plug-in."
The StealthPedal is the first audio interface/controller in a compact wah. "It has everything you need to record, play and control AmpliTube, or any other MIDI controllable software, in real time," Boatman explains.
StealthPedal is USB-powered and both PC and Mac compatible. With two inputs and two outputs, "It has enough control to get the job done in the studio, and it's an expandable line," he adds. AmpliTube and Riffwords T4 software are included.
Lexicon's new line of recording interface studios – the I-ONIX U22, 42S and 82S – offers home recording studio design at reasonable prices. With an all-metal chassis and USB or FireWire connectivity, the series features analog headphone and instrument inputs, stereo output, software, and built-in, high-voltage dbx mic preamps.
The I-ONIX design is such that it fits perfectly between your keyboard and monitor, at a flush angle to the keyboard for easy access and front-panel control visibility. The U22 is compact for easy portability.
Ultrasone is the leader in high-end headphones and will make a believer out of even the staunchest headphone hater. In the new year, the company is launching some rather pricey sets, but also some in a lower price point, although keep in mind that these are not electronic-store items.
The Edition 8 features new S-Logic Plus technology, titanium drivers and – animal lovers beware – Ethiopian sheep leather ear cups, which reportedly provides the most isolation of any other leather available. Nice for some human ears, not so good for the sheep.
By popular demand, the company has also designed the H-101, its first headphone amp, which features both balanced and unbalanced inputs and outputs. Again, not for the low budget.
The Balanced Pro 900 is similar to last fall's Pro 900, but features balance, with one cable for each ear cup, thus changing the character of the headphone. Quite an investment, but the listening pleasure is remarkable – again, even if you detest headphones.
Replacing the popular, and much more affordable, iCans is the Zino, portable headphones with S-Logic technology and ULE technology, which reduces the amount of radiation directed at the listener's head.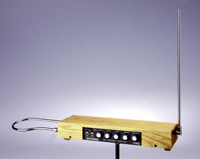 When you hear the name Moog , do your thoughts still automatically turn to synthesizers? While the line is best known for its flagship keyboard, the product line includes so much more. Moog debuted their guitar at the summer NAMM show last year, and for the winter show they demoed a highly unusual product: the Etherwave Plus CV Controller/Theremin.
Thanks to pitch and volume CV outputs, you now can control a different CV parameter with each hand. Pitch Preview and Headphone Output with volume control let you hear each note before the audience does, and the LED allows visual power in the dark. Add theatricality to your performance as if you were conducting the music. In Moog's words, "Control your gear with a wave of your hand!" Literally.
Moog offers a remarkable selection of products, including their Taurus bass pedals, Voyager and Little Phatty keyboard/synth series, controllers, and the popular Moogerfooger effects processors, which can be used on a rack, tabletop, or on the floor as stomp boxes.
"The digital world has some sterility, whereas the Moogerfooger adds some analog warmth," says marketing manager Chris Stack. "We make the best bass synth in the business, so we are aware of what it takes to make things thick and warm-sounding. The Little Phatty has that incredible Moog bass sound, and we've added USB, which makes it possible for the 'laptop' musician to use it as a MIDI controller and get great Moog sounds."
And finally, few products have rocked the music world as has Digidesign's Pro Tools, which literally made it possible for anyone with a computer to create music from the comfort of their home. Pro Tools has also become the right hand of every producer, and it's impossible to interview anyone in the music-making realm without hearing its name.
Digidesign debuted the long-awaited Pro Tools 8 at winter NAMM, and giving it the coverage it deserves would require reams of text. Even the "Reader's Digest Condensed Version" won't scratch the surface.
In Pro Tools 8 you'll find an enhanced user interface, the ability to customize the toolbar, add and subtract components, "grab and move" items, a large resizable counter, improved graphics, hi-res metering with calibration, and clearer labeling. The new Score Editor lets you view, edit, arrange, and print MIDI data. Elastic Pitch gives you pitch correction. Move your playlist, use multiple lines of automation, and see them simultaneously. The possibilities are endless.
Love to shred? Go into guitar loop mode. Hip-hop is your thing? Get a beat with virtual Boom or Vacuum, the synth plug-in that gives you a gritty street vibe. Check out the upgraded video features. Navigate your system with Universe View. You can even Ethernet two systems together in very tight sync. Pro Tools 8 ships with built-in templates, with instruments and loops installed. It is ready to go.
While it may be difficult for some to imagine anything about Pro Tools needing an upgrade, "Anything can be improved, and it's important to have the ability to realize that," says Digidesign product specialist Kerry Rose. "As you're making a mass-market product, you need to create flexibility because all users are different, so we are taking user feedback and employing it in the product itself. We want to serve the customer.
"Digidesign has 50 to 60 percent of the market share," says Rose. "We're leveraging technology from Sibelius and M-Audio for synergy and products that work well together and by themselves. We offer solutions – in many cases, Best In Class solutions."
NAMM: http://www.namm.org • SSL: http://www.solid-state-logic.com • IK Multimedia: http://www.ikmultimedia.com • Lexicon: http://www.lexiconpro.com • Ultrasone: http://www.ultrasone.com • Moog Music: http://www.moogmusic.com • Digidesign: http://www.digidesign.com
---