Girl Talk
Harvest of Hope Festival, St. Augustine, FL • March 6, 2009
Phillip Haire
The opening-night buzz at the Harvest of Hope Festival was undeniably Girl Talk. I had several people approach me to make sure I was going to check out his set. "I highly recommend it," or "you really gotta check this dude out" had piqued my curiosity enough for consideration. Plus, the building crowd at the main stage and Grand Buffet's homage in the previous act were too much to overlook.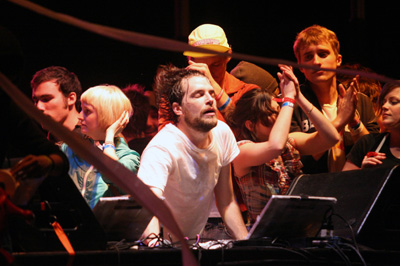 You see, prior to this festival, I had only heard about Gregg Gillis, a.k.a. Girl Talk, second handedly. With no idea what to expect visually or audibly, I waited for Stage 1 to unlock these secrets. Soon, a six-foot table emerged with two laptops and a pair of monitors perched atop – pretty Spartan for this headliner, I thought. Add some fog machine/light effects, and out pops the man to make these computers sing.
An engaging, and obviously bright young man, Girl Talk gave props to Pittsburgh and proceeded to hunch over the table and mash-up St. Augustine. Each mix GT engaged launched the already frenzied crowd into orbit. GT himself made up for the sparse stage by adding several dozen dancers, who surrounded him as he head-banged into a sweaty, mouse-clicking maestro. GT broke away from the laptop long enough to stand on his table and encourage the crowd. Good idea, but his whole set-up came tumbling down as the table collapsed. Impressively, not a beat was missed and all equipment was set back in a matter of minutes!
I was amazed at the number of samples woven into each song and the intricate beat mixing involved to bring completely unrelated arrangements in synch, i.e.: Lil John over Procol Harum's "Whiter Shade of Pale" from Still Here. Are you kidding me? Yet he pulls it off faster than a copyright attorney can file a lawsuit for infringement. Some arrangements were better assembled, and thus flowed more than others, though the audience didn't seem to notice any lapses. GT incorporated hip-hop lyrics layered onto a myriad of sampled tracks to allow consistency and beat within. I left Girl Talk's performance with a new respect for this generation of mixing/mashing and the complexities involved in creating a single, coherent arrangement, much less an entire concert. Combine this with Girl Talk's unbridled energy, and I may have witnessed the next wave of DJ "techno"-logy.
Girl Talk: http://www.myspace.com/girltalkmusic ◼
---