Alternative Press Tour 2009
3OH!3, The Maine, Family Force Five, Hit the Lights, A Rocket to the Moon
House of Blues, Orlando, Fl • April 18, 2009
Paul Lucas
Another awesome year with the Alternative Press Tour 2009, though the first thing I saw when arriving at Orlando's House of Blues was little girls and boys with their parents – making it feel more like a Hannah Montana concert than a sampling of the best in pop punk and emo.
A Rocket to the Moon eased everyone into the evening on a very mellow note, before Hit the Lights turned on the charm – and the energy. Vocalist Nick Thompson kept everyone amped up and the Ohio band really got things energized in preparation for The Maine.
Are they emo, or are they indie is a matter of opinion, but the fact is that The Maine played a quick set of easy-listening tunes that the crowd was really into – more so than any of the other bands combined. The band, all appearing to be in their twenties, looked overwhelmed by their good fortune to have scored a spot on such a high-profile tour. Expect more from this Arizona band!
Really stepping things up a notch and a half was Family Force Five. The band members, all in colorful matching suits, took the stage with raw fury. As I was sitting in the balcony watching the crowd react to the band onstage – I didn't see one person not dancing. Their beats and grooves shook the building, and they took all the energy from the prior bands and just threw it out the window – destroying the stage with their enthusiasm – and the audience matched it ounce for ounce. This band could have easily been the headliners, and the audience did not want to let their party end.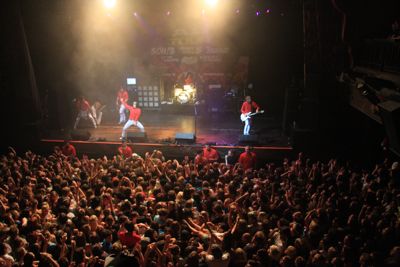 After they gave the stage up it was an impatient wait till the feature band, 3OH!3 came up. The bouncers in front of the stage brought cups of water to the front row kids, who would take a sip then pass it back to share the wealth. Camaraderie was overflowing at this packed spring show, and it was refreshing.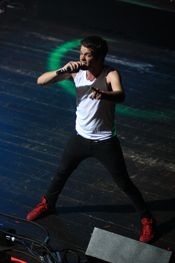 Okay, I have been talking about energy a lot. Forget that, these guys were like a nuke going off, they had everyone jumping up and down to the point where I almost evacuated the building for fear of collapse. I had previously been warned about the song "Starstruck" and how the fans tend to go crazy for that. What an accurate statement. The floor was a writhing sea of bodies when the fan favorite was played!
Their talent brought goosebumps to my arms; these guys are something worth seeing, no doubt. All in all this was quite a successful show for the AP tour, I was impressed with the line up and the turn out (sold out), I am sure there is something great in-store for AP Tour 2010.
Alternative Press Tour: http://www.altpress.com/theaptour
---