New York Dolls
Black Joe Lewis
House of Blues, Orlando, Fl • June 11, 2009
Jen Cray
Even after 30+ years, and when mortality has claimed all but two of the band's original members, there are still plenty of fans who love the New York Dolls… and when I say love, you best believe I mean LOVE, L-U-V!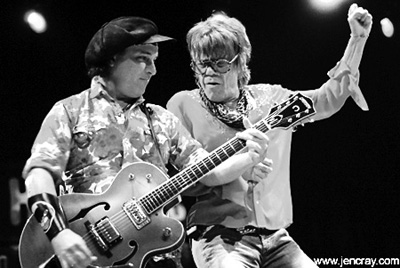 Though the Orlando House of Blues was terribly undersold for the CBGB scene veterans, those who did show up were ready to stand at the feet of, and worship, the men who helped define American punk rock back when punk rock was dangerous.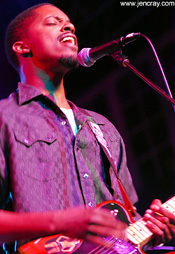 Black Joe Lewis, a young man with an old soul, turned back the clocks early on with a sincere throwback to the days of Wilson Pickett and Sam & Dave. Wielding a Telecaster like it was a third arm, the Austin, Texas soul singer put just enough kick into his R&B to get the big booties shakin' – just the way he likes it, if his song "Big Booty Woman" is any indication. And shake they did, after all who can resist a soulful voice, a blues guitar, and a pair of saxophones that bring it all home? The icing on top of this warm apple pie was Lewis' sense of humor. Closing out his set he sent out a heart felt dedication "to Minnie Mouse. This one's called 'Bitch, I Love You.'"
Sixties pop music kept the mood jovial as the minutes passed in wait for the Dolls, and slowly the floor in front of the stage began to fill as loge ticket holders abandoned their high priced seats in the balcony to get within spitting distance of David Johansen (vocals), Sylvain Sylvain (guitar), and crew. Lined up and ready, with their crisp new 2009 New York Dolls t-shirts and tour posters in tow, fans of all ages burst with glee when the band stepped out and broke into "Looking For a Kiss" off of their seminal self-titled 1973 album.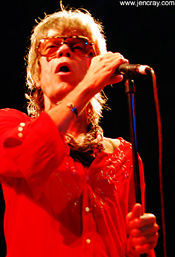 Let's talk about Johansen. He's pushing 60 and the guy is still Iggy Pop wiry. Strutting his slow walk in pants that are nerve damaging tight, veins popping out on his neck and arms, the only sign of wear and tear on the gloriously glamorous front man are the lines that cut his face with experience – making him look more than a little like Lou Reed. He may have to flip through pages of lyrics to get through songs he should be able to sing in his sleep by now ("Trash,""Private World" – both included in the night's set), but his voice has grown richer with the years. He still channels Mick Jagger at his raunchiest and spins it with glam and grit.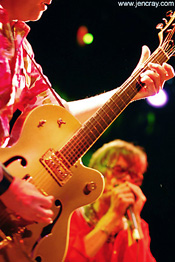 The band's most infamous guitarist may have been Johnny Thunders – who left the band in 1975 and went on to form The Heartbreakers – but Sylvain Sylvain has long since stepped up as the face behind the strings. Seemingly oblivious to the lackluster ticket sales, he played up to each and every audience member like he was sitting on top of the world – and responsible for entertaining every one in it! Thrusting his big boxy Gretsch out to the crowd, he wore a mischievous smile forever on his lips. Backing up the vocals, he looked at home onstage – and happy to be there once again. Like Johansen, time seems to not have touched Sylvain – at least not in terms of energy and the ability to ROCK!
Of course it was the old songs that got everyone's panties in a bunch, but even the new songs, off of the just released 'Cause I Sez So, sounded classic. The classically rockin' title track, the cowboy lounge groove of "Better Than You," and the funkified "Nobody Got No Bizness" should stand the test of time and earn their right to be inside of the Dolls' impressive catalogue.
Fans who stayed until the bitter end were rewarded with an encore of "Personality Crisis."
To see more photos of this show, and others, go to [www.jencray.com](http://www.jencray.com/bands_live.htm).
New York Dolls: http://www.nydolls.org ◼
---