Rise Against / Rancid
with Billy Talent
House of Blues, Orlando, Fl • July 20, 2009
Jen Cray
The Rise Against / Rancid tour has been a hot ticket all summer, but only in Orlando was it scorching enough to not only require that a second date get added, but to result in a double night sell-out. For the first night of this impressive veteran punk band bill it was a toss-up as to which of the two brought in the most vocal, and most loyal fan base.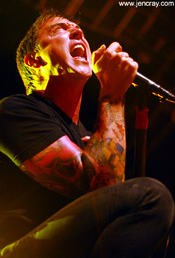 Charged with the unenviable task of playing before the pair was Billy Talent. Blending hardcore punk and British heavy metal in a manner too sincere to be cursed as "metalcore," the Canadian group may not have been sweet music to my ears, but they did stir up some heat in the audience. Front man Ben Kowalewicz packs the vocal chords of Bruce Dickinson (well, almost) and has the same stalking-the-edge-of-the-stage mannerisms of Tim McIlrath, of the evening's headliners. For his carefree abandon, as well as for the undeniably rockin' "Fallen Leaves" and "Devil on My Shoulder," their set got my respect.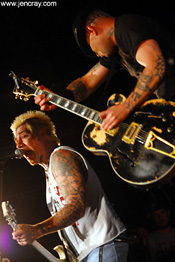 The aging punks, who stay eternally youthful while performing as Rancid, took their time stepping out into the white hot lights while a slide show chronicled their nearly twenty-year career on a screen behind them. Drummer Branden Steineckert (previously of The Used) and bassist Matt Freeman garnered applause, but the big love was reserved for Lars Frederiksen and Tim Armstrong, co-vocalists/guitarists. After all these years, Armstrong's trademark Mohawk may be gone (it's all skin beneath that fedora), but their sound has not altered and they can still control a room better than most of their peers.
Their 45 minutes brought songs off their latest, Let the Dominoes Fall , to brilliant life – most notably, the rare acoustic ballad "Civilian Ways." Predictably it was the big '90s numbers that sent the pit into overdrive and sparked the shout-alongs: "Salvation," "Time Bomb," "Roots & Radicals," and "Radio." A particularly vicious older track – though I can't remember which song thanks to the memory erasing beercan blur – was dedicated to Sick of it All singer Lou Koller, who watched the set from the side of the stage. "Let's get a massive circle pit going, just for Lou," Frederiksen instructed, and the fans obliged.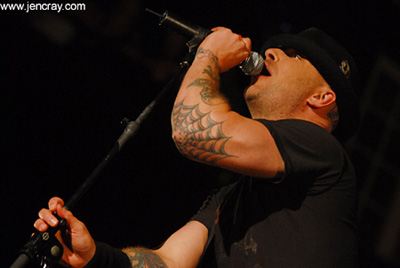 The band closed out with the roof-collapsing "Ruby Soho," and left the stage to shouts for more, gone unanswered. Even after hitting a home run, the opening band is not allowed any overtime.
The crowd tightened up against the stage's barricade, as energy mounted to the point that some fans felt compelled to release it by hurtling plastic bottles of water and $6 cans of PBR through the air. When, at long last, Rise Against stormed the stage – plowing head first into the explosive and politically charged "Collapse (Post-Amerika)" – the liquid torpedoes ceased and the crowd surfing commenced.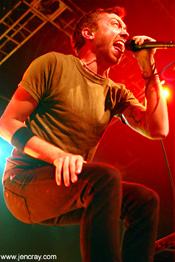 The dynamism of this Chicago band centers around vocalist McIlrath's eye bulging, throat bleeding approach to singing – which he does, mostly, while leaning over a front of stage monitor just inches from fans' faces. Behind him, and equally as cranked up, are guitarist Zach Blair and bassist Joe Principe, who are constant blurs of motion – back, forth, up, down. If Brandon Barnes could strap his drum set to his person and join in the cardio fun, my guess is that he would. Where do they get their energy? Is it their vegan diet, the adrenaline high of 2,000 voices celebrating your every move onstage, or is the vast amounts of love they unfailingly receive unique to Orlando audiences?
"We are so happy to be back in Orlando again, for so many reasons," McIlrath gushed to the crowd.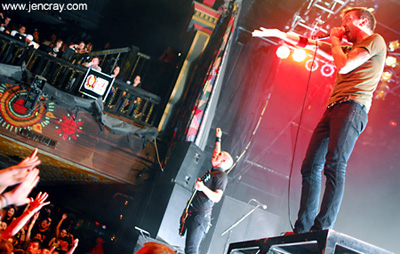 To appease fans, old and new, the set list was a mixed bag that chronicled the band's five albums. They threw "Drones," "Give it All," and "Paper Wings" into the mix – much to the elation of fans who have been following the band throughout their ten-year career. A ninety-minute set wasn't nearly enough to satisfy some fans, but after a lengthy encore the band was allowed their leave – to rest and prepare for the following night. Same place, different faces.
To see more photos from this show, and others, go to [www.jencray.com](http://www.jencray.com/bands_live.htm).
Rise Against: http://www.riseagainst.com • Rancid: http://www.rancidrancid.com ◼
---