The Sounds
with Foxy Shazam, Mission Veo
House of Blues, Orlando, Fl • Oct. 2, 2009
Jen Cray
In a time when we can all use a bit of good vibes and good times, The Sounds are bringing both the fun and the sexy back to popular music. They may not yet have the widespread fanbase to fill up the House of Blues, but those who have been let in on this secret Swedish sensation eagerly line up to see them play Central Florida for the third time inside of four months.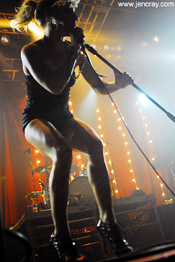 Having been added to the show at the last minute and given the unceremonious order to go on just minutes after the doors were opened, Mission Veo gave a well-received performance that culminated with vocalist Jonny and guitarist Ben in the arms of the audience. The Miami post-new wave/dance punk band did a capable job of warming up the early birds, but Foxy Shazam set them on fire.
Foxy Shazam is quite a spectacle. Like Of Montreal or Gogol Bordello, their theatrical approach to the live experience is almost as important as the music itself. It's their comically absurd antics that keep the crowd captivated, though their musical chops are certainly not in question. You've got to have skills to be able to play lying upside down beneath your keyboard, or to play with one hand and one stomping foot as Sky Vaughn White does. Though even if he had missed a note, what does it matter in the wonderful world of live performance?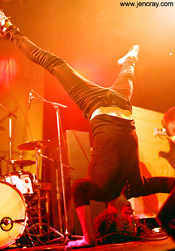 "You come here to see us screw up," the impossibly Gumby-esque vocalist Eric Sean Nally admitted. "Otherwise you'd just stay home and listen to the CD… or you'd stay home and listen to The Sounds' CD."
In-between doing headstands, turning somersaults, and climbing atop his band mates, Nally did manage to sing a song or two, including a hilarious bluesy a capella rendition of the theme song to The Fresh Prince of Bel Air. Beneath their comedy is a sound that somehow takes the grandiosity and soulfulness of Queen and mixes it in with a Warped-Tour-friendly emo/indie hybrid. They're a must-see, but their progressive approach to discovering a new sound could still use a little developing before I will call them a must-listen.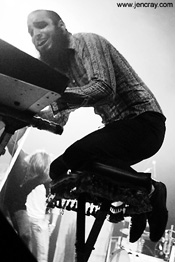 The night's headliners, however, are destined to be spun as greatest hits of the double 00 decade for future generations – not because of their success in terms of numbers, but for the simple reason that their songs are perfect little alt-pop gems that represent this generation's blurring of a multitude of musical styles. What used to be deemed "alternative," is rolled around in the mix with a bit of disco beats, a mild case of electro flavor, a heavy helping of punk attitude, a smattering of hip hop style, and just enough emo to keep the kids happy. At the root of it all is a sense of good time '50s structured ear-pleasing rock 'n' roll, and these delectable melodies will stand the test of time. In front of all of these danceable, singable songs stands one of the sexiest, most feisty women in modern music. Maja Ivarsson's star power is not to be undervalued.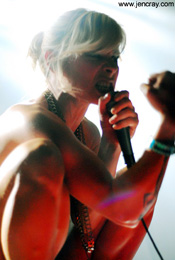 Like any other time I've seen The Sounds, this night's performance found Ivarsson – who was celebrating her 30th birthday – flirting, kicking, and smoking her way through a mixed bag of the band's dance-y numbers as well as the heartfelt ballads. It's always a pleasure to see "Hit Me," or "Queen of Apology" inspire some body movin' on the part of the audience, but equally as moving is witnessing a lighter-swinging sing-a-long to the aching break up tune "Night After Night."
Songs off of the band's latest, Crossing the Rubicon, get a much needed breath of life on tour. "4 Songs and a Fight," and "No one Sleeps When I'm Awake" failed to woo me on the album, but when coupled with Felix Rodriguez's guitar star presence onstage and the ambiguous sexuality of the band's interaction with their blonde front woman, it's hard not to fall in love with these new songs. The sexual tension onstage heats up further during the Rodriguez-led "Hurt You," during which Ivarsson, cigarette clenched between her teeth, prowled the stage, crawling up the legs of her bandmates.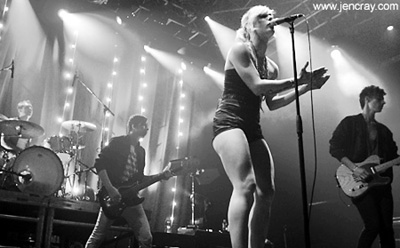 "Beatbox," with its Blondie-style rapping, still doesn't do it for me, but it's the only moment of the night that finds my attention at all wavering. The rest of the set I could be found, like the audience, enraptured and victim to the band's exotic charms.
To see more photos from this show, and others, go to [www.jencray.com](http://www.jencray.com/bands_live.htm).
The Sounds: http://www.the-sounds.com/ ◼
---