Psychedelic Furs
with Happy Mondays and Islands
House of Blues Orlando FL • Wednesday 09/30/2009
Al Pergande
I confess to hanging out at the chip shop drinking beer and eating deep fried junk food until after opening act Islands wrapped up. But when I zipped through House of Blues security, Happy Mondays had just taken the stage and began an evening of retro music complete with some nice onstage choreography. A comfortable crowd of aging Gen-Xers occupied Orlando's HOB, filling the pit but leaving enough space around the bar to mingle comfortably.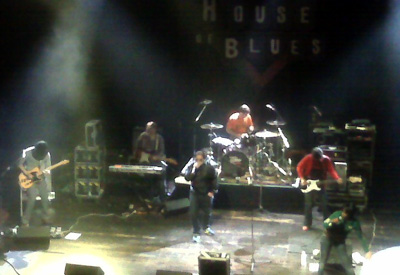 Happy Mondays mixed a ska sound with today's working class Brit fashions. The band sported a mix of jeans, bustier, sweatshirts, and polyester pick-me-ups, while founder Shaun Ryder slicked back his comb-over and hid behind rock star dark glasses and a windbreaker that implied "I get up early to fish." As they ran through their set, interpretive belly dance filled the stage, lights flickered, and the crowd gently bounced up and down. Happy Mondays performed some of their best material, including "Loose Fit" and a remixed cover of "Strange Days." As they played on, the light show grew more frantic, Ryder bantered with the rest of the band, and we waited with growing anticipation for the band's biggest hit, "Step On" which closed the set to enthusiastic applause. While Happy Mondays made their mark on the rave scene, tonight's show had more of a pop/ska flavor and I never really felt like anyone was in any danger of handing out glo-sticks.
After the Happy Mondays set, we went to the traditional "hang out and drink some more while the next band sets up" interval. During the break, a surprising number of people slipped out, which seems a by product of booking two stylistically unrelated bands whose best work fell into two separate generations. The advantage was a better view from the upper balcony where I saw the most dedicated fan in the building. This guy had brought along a copy of Mirror Moves in a plastic record collector's sleeve, obviously with the intent of getting some autographs. I hope he connected.
As the Psychedelic Furs opened, they rolled into "Love My Way" with lead singer Richard Butler up front. The band was dressed completely in artistic black, with only slight differences in footwear to set each of them apart. As Butler dances with a grace and style that can only come from years of classical ballet training, he plièd and pirouetted and even got off a dying swan maneuver at the end of "Pretty In Pink." The rest of the band held their assigned stations, only occasionally moving around to change guitars or chug bottled water. The keyboards were downplayed, with Amanda Kramer tucked off in a corner and mostly out of the spotlight other band members rated. The dancing added a visual sparkle to a show that had one major flaw – the sound was awful. Even by HOB standards, this band was hopelessly muddy, with excessive late echoes forcing us to lip read the monitors to figure out what they performed. All the key hits were there, as you would expect, including "Heaven," "Ghost in You," and "All That Money Wants." Even with the muddled sound, the audience responded positively, bumping into each other in the pit with courtesy and respect. It was either the gentlest mosh ever, or just fidgeting. All in all, this was a show for a low expectation crowd – both bands had their day in the sun a while ago but no recent hits, but this was a retrospective crowd, looking for memories, and content with the past.
Psychedelic Furs: http://www.psychedelicfurs.co.uk ◼
---