TV is My Parent
starring Sia
Hangman Studios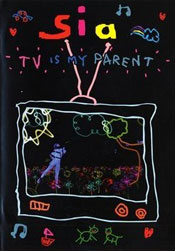 I've been a big fan of Sia since her collaborations with Zero 7 on hits like "Destiny," "Distractions," and "Home." She's since gone out on her own with moderate success. This DVD changed me from a casual fan to a huge fan, partially because of the concert footage, in which her voice is better live than on CD. And on CD, it's really friggin' good. But her music videos are amazingly original.
The main part of the DVD, however, is the concert and it starts out like an acid trip with Sia and her band dressed in blacklight-lit fluorescent outfits, opening with "Buttons." This brings the line "I'm seeing ghosts in everything I do" to life in a way that is almost nightmarish, but in an "I'm not going to hurt you" kind of way. After that song, all the costumes come off and the concert resumes with "Little Black Sandal," Sia looking like a larger version of a pre-teen with her short blue dress and hair that barely covers her ears. She even has a little girl help sing on the song as if to show what she looked like when she was actually twelve. But then Sia takes the end of the song and runs with it, showing why she is considered one of the best female adult-pop vocalists performing today. When she sings, her voice conveys a maturity that only artists like Billie Holliday and Ella Fitzgerald, and more recently Chan Marshall of Cat Power have been able to convey.
She displays this best when she croons the Zero 7 hits "Destiny" and the closer "Distractions." She does it so well that despite her banter about blowjobs and her bandmates' "enormous penises," she could cause any man to melt where they stand.
There are only four music videos and each one is fantastically original. "The Girl You Lost to Cocaine" has Sia dressed in a dozen or so outfits acting as a soccer mom, office secretary and a construction person in a fat suit drinking coffee. I know it doesn't sound all that great, until the very end where the director takes all the props and makes them out to look exactly like the cover of her latest album, Some People Have Real Problems. "Buttons" is more of avant-garde in which the entire video shows nothing but Sia's head covered in everything from pantyhose, Saran wrap, zip ties and clothespins among other things. "Day Too Soon" is the most "normal" of the collection of videos. Set in a wooded area, Sia just kinda hangs out and ends singing to the camera about how "I've been waiting all my life/ Not a day too soon." And then she leaves on a gigantic floating swan. "Soon We'll Be Found" is brilliant in how she initially uses sign language to bring the song to life, then she upgrades shadow puppets and colored hands, culminating in a blacklit bridge that leads to fluorescent drawings with the various hands. It pulls you in without even noticing it.
The hidden eggs on the DVD really aren't much, but the best is where she tries to golf – ending up looking like Charles Barkley playing the game. She compromises by saying that she'd be better at golfnastics. So she does a somersault after every made putt.
Overall, TV is My Parent is a must for any Sia fan and something that all fans of artists like Dido and A Fine Frenzy must check out to broaden their horizons. This DVD is Sia at her juvenile finest.
---