Emma Anzai
Elianne Halbersberg
"One thing about music: it's not like sports, where the best will win," says Sick Puppies bassist Emma Anzai. "In music, no matter what you do, no matter how good you are, you've got to be persistent and you've got to be lucky. We consider ourselves very lucky."
Luck and perseverance have played a great part in Sick Puppies' success, but talent and a sound that quickly drew in millions of listeners have also factored into the picture. The band – Anzai, vocalist/guitarist Shimon Moore, and drummer Mark Goodwin – are three albums deep into their career, with their latest release, Tri-Polar, giving them the necessary push into the major league. Their single "You're Going Down," which served as the theme for WWE's Extreme Rules PPV this summer, reached No. 1 on the Active Rock Charts.
Sick Puppies is Moore and Anzai's first band, put together ten years ago when they were classmates growing up in Australia. After winning a radio competition, they were quickly signed to a record deal and management, and released Welcome To The Real World before parting ways with their drummer, who left because of a family emergency.
"We were in limbo for a year or two, wondering, what should we do? Should we continue? Should we try to get a deal here or go to the U.S., because this is not a genre that many people play in Australia and would it be worthwhile?" says Anzai. "After a lot of thinking, we had to go to the U.S. We worked a lot of jobs and maxed out our credit cards just to take the risk. It took a long time, because you only get three months on a tourist visa, so we would go back and forth from Australia to the States."
During that time, Moore and Anzai met rock photographer Robert M. Knight (they can be seen in the documentary Rock Prophecies, which follows his career), found Goodwin through an ad on craigslist, and recorded their RMR/Virgin/EMI debut album, Dressed Up As Life, with production team Rock Mafia (Antonina Armato and Tim James). The video accompanying the single "All The Same" received over 50 million YouTube views. Sick Puppies spent two years on the road supporting the album, with almost no breaks in itinerary and returned to the studio with Rock Mafia to record Tri-Polar.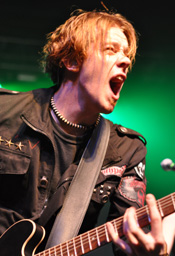 Anzai's aggressive approach to her instrument has earned her a place in the ranks among her hard rock peers. In fact, her slapping technique owes a lot to the classic soul of the Brothers Johnson, whom she discovered through an Australian band called Preshrunk that featured two bass players and a drummer. "I was amazed," she says. "When I talked to them, they told me that I should get Louis Johnson's instructional video. It's the first one I ever bought and I learned so much from that. For me, the bass is a mixture of funk and aggression. I slap in an aggressive way more than in a funky way because our songs need it. That's the beauty of bass. You can pick, slap, be melodic. You can get funky. There are a lot of dimensions to the instrument that I don't think most people realize."
Why three years between albums?
We spent two years touring, and in that time we took a little break and started writing. That's also when our growth happened. I don't count the first album so much. There was a lot of growth there, too, but we really put our minds to honing our craft when we came to the States. We knew it was our shot, and we put everything we had into it. This is a very uncertain industry; just because you think you have a great album doesn't mean that it's going to be successful. You have to make an effort to get better in every way. We toured with Evanescence and Breaking Benjamin, we saw how they did things, and playing live we saw what's really us. We kept that in mind when it was time to make the new album. We decided to harvest the energy that we saw at festivals, the experience people get out of seeing us live, that very aggressive, visceral, raw energy, and that came out in songs like "War," "You're Going Down," and "I Hate You."
How many drummers did you audition before hiring Mark? Advertising on craigslist must have brought out some interesting individuals.
Twenty or 25. Trust me, we had some funny ones, and we were so lucky to find Mark. He saw us on craigslist. He sells furniture and stuff; he's on there a lot. He also saw our ads in music stores.
It's so important for the bass player and drummer to be in the pocket. Did you feel that immediately with Mark?
It takes a good amount of time to find that pocket with somebody new. When we auditioned Mark, I noticed he was just a raw rock drummer and not a technical guy who needed special gloves or special shoes to play. He plays by feel, he sounds great, he looks great, and he makes you want to play better. Now, four years down the track, the chemistry is a lot better. When someone first joins, it takes a while; rarely does it ever walk into place. We grew together.
How is it different with a three-piece and the guitar ahead?
That's a very interesting question. I've never thought about it. Shim and I have been playing together for ten years, and the guitar is in front, the bass is in the back and the drums are the foundation. The bass and drums lock together and the guitar sits nicely on top, but Shim and I have been together for so long that we have that groove anyway. I love being in a three-piece because it's so tight. You've got to make each instrument count because there are only three and the vocals.
You decided to work with Antonina Armato and Tim James again. What do they bring out in the band?
They were the first and only producers we worked with. There were others while we were doing demos, but we admired Antonina and Tim because they are extremely talented individuals. Their writing is great, their production is great, they come from a pop background and we come from a background of this grassroots – Red Hot Chili Peppers, Green Day, Primus – raw, quirky music. We put that together and it's a good match. What came out is kind of unique. The second time around, we knew each other better and what we're capable of, our strong points, and there's better chemistry. I love what came out of it. That saying "If it ain't broke…" we kept that in mind. We didn't want to stray off when what worked in the beginning got us here.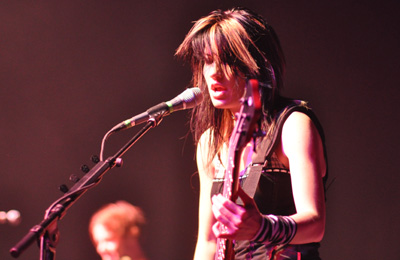 What was your goal on this album, both as one-third of the band and as a musician?
I've always admired bass players who were unique and stood out with tasteful lines that don't step all over the melody or guitar. For example, the Chili Peppers' "Soul To Squeeze" – I listen to just the bass line progress and how he changes up toward the end. It's amazing for the bass to be able to do so. I want to get as close to that feeling as possible with our songs and as a player. Listening to the bass makes me feel something. Of course, I hear it as a bass player, but it's hard to do. It's not like a vocal or guitar. I can hear it as a player and I hear it in "Soul To Squeeze" and I would love… I hope… that they've gotten that kind of feeling from Tri-Polar.
You began as a guitarist. Why the change, and was it an easy transition?
I began playing bass because I met Shim in high school and he sang and played guitar, and how were we going to do this with two guitars? So I said, "Let's find a drummer and I'll play bass," because the most important thing to me was to be in a band. I picked up the bass and after a while I realized I could do a lot of things with it. I love rhythm as well, so this is like a cross between bass and drums. At first I thought, I have to learn to play with my fingers, because I was used to using a pick with the guitar. Then I saw Chris [Joannou] from Silverchair using a pick and Mike [Dirnt] from Green Day using a pick, so I thought I'd play with a pick. Strumming was a change. Over the years, I picked up slapping and use my fingers a little, but it's not my strong point.
What about gear?
I have an endorsement from Warwick basses. I use D'Addario strings, two Ampeg classic 810 cabinets with no effects, a Boss tuner, SansAmp distortion pedals and an Emma DiscumBOBulator ["auto wah"/envelope filter].
There's no denying the role that the Internet has played in the band's success.
It's absolutely astonishing. If not for the Internet, we would not be where we are today. Objectively, a lot of bands would not. It's an amazing thing. It's good for exposure, and bad because people download your music for free, so it's a Catch 22. I love the Internet and I much prefer having it than not. It's pretty essential. The one thing that bothers us is downloading. So many people get your music for free, and it would be great if those people would at least buy a ticket to a show or buy a shirt, because it's difficult to survive as a band, and that's important.
The band has been very open about the toll that the first tour took on each of you. What did you learn from those experiences and how did they prepare you to tour again?
We toured for two years. It taught us that the whole glamorous rock and roll lifestyle is a farce. It's not like you can party every night and do a show every night. Some people's bodies are built for it, but we cannot. There is no way you can put your body through that much stress and perform at your best. You've got to take care of yourself more than ever, eat properly, take your vitamins, and get enough sleep. It sounds boring, but it helps with staying on the road. Otherwise, you're off the tour. You have to do anything you can to maintain being on the road. That's the physical side. The mental aspect – you've got to do what you like, have your routines, to keep sane. I like to spend time by myself. Some people like to talk to family and friends on the phone, some people like to socialize, some like to spend time on craigslist! Whatever it is, everything is important to do. You can't skimp. I understand why a lot of bands say that they need this or that and it's imperative to their sanity, which is imperative to staying on the road. You have to strike a balance, and it's very important to keep that balance.
Sick Puppies: http://www.sickpuppies.net ◼
---