Winter NAMM
Anaheim, CA • January 14-17, 2010
Elianne Halbersberg
Following a small summer show and a tentative fourth quarter, the National Association of Music Merchants (NAMM) enjoyed a two percent increase in final registration and exhibitor numbers for the 2010 winter trade show, held January 14 – 17 in Anaheim, Calif. At show close, NAMM reported 87,569 registrants and 1,373 exhibitors, including nearly 250 new exhibitors – a new record number in the event's 108-year history.
NAMM shows provide an opportunity for music products retailers to meet with manufacturers, make their biggest purchases, and gain product knowledge for their stores in the coming year. For media, it's a chance to see new product (often before it retails) and speak with the manufacturers as well as the occasional endorsing artist, and attend press conferences.
Quincy Jones, Yoko Ono, and others spoke on behalf of the importance of music education for children and celebrated the 70th anniversary of Lennon's birth. Ono is utilizing this year to celebrate Lennon's legacy and is showing her continued support of music education and the John Lennon Educational Tour Bus, which gives students across the country free hands-on access to music and the digital arts.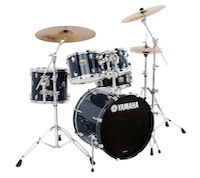 Yamaha introduced its new Rock Tour Series drum sets, with guests Sully Erna of Godsmack and several Rock Tour Rebels, up-and-coming drummers who are promoting the drum kits at gigs and online. The Rock Tour Series features affordable, high-quality drums designed with an edgy, rock and roll look. Yamaha Corporation of America celebrated its 50th anniversary in the U.S. with a concert featuring Vince Gill, Michael McDonald, Natalie Cole, Jason Mraz, and other guests.

Gene Simmons of KISS appeared in the media room to discuss Cort's reissue of his Axe bass, now the new GS-AXE-2. Available in March for the suggested retail price of $699 – and that's including padded gig bag with Gene's tongued image – you, too, can now parade around onstage feeling like the God of Thunder, and when your time is up, you and your AXE can be buried in a KISS coffin, wearing your KISS T-shirt, and depending upon what you were doing when you left this earth, possibly a KISS condom. Cha-ching.
A few new and noteworthy products are up for mention.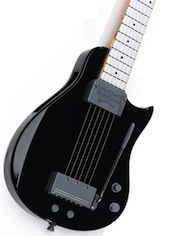 Inspired Instruments introduced the YouRock Guitar (www.yourockguitar.com), the first hybrid guitar and gaming platform that can be plugged into a computer, amplifier, or video game console. Is this the future of manufacturing, an ideal learning tool for young gamers expressing an interest in music or simply another rung on the ladder of technology? YouDecide.
"Because the YouRock is digital, you can plug it into any amp and choose from built-in guitar presets," explains JR deSouza, executive vice president, Inspired Instruments. "The strings are on the bridge, but the fretboard is touch-sensitive with no latency." The YouRock comes with 100 guitar and synth presets and runs on USB or battery power. It's Mac- and PC-compatible for use with GarageBand, Cubase and ProTools. With headphones, it works with an iPod, iPhone, or MP3 player. In Game Mode it works with any major gaming platform. It also features a Gainflex port, with purchasable cartridges, to work with any music video game – Sony, Nintendo, Wii, X-Box, or Rock Band.
The YouRock took almost a decade to develop and hundreds of prototypes, says deSouza. "It was developed as a controller, but we saw potential for it to be so much more. It's the next step in many ways – as a learning tool, a practice tool, and for the gaming community to develop new games that involve frets and strings. We're developing prototypes for a bass and for different sizes and shapes of guitars. We're also developing a Pro Series."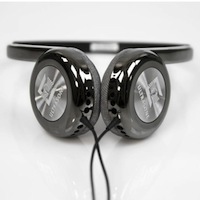 Long respected as leaders in the field of headphones, Ultrasone recently introduced their Zino, at $99 the most affordable product in their line. A lower price, however, doesn't mean a compromise in quality, according to company president Paul Taylor. "The design in the Zino is equal to our other products," he says. "They feature the S-Logic and ULE radiation-reducing technology, as well as the 40mm gold-plated driver. This is a stereo-quality driver in a consumer headphone made for an iPod. If you're going to spend $150 to $200 on an iPod, why spend $50 on the actual device that you are putting next to your ears? Why damage your hearing? Hearing goes away over a long length of time. You don't realize it until the levels have to be louder in order for you to listen, and by then it's too late."
Ultrasone offers a five-year warranty on all products. Their patented ULE reduces radiation by 98 percent, and their S-Logic system was designed to offset the driver. "Why put the driver in the center when you can put it lower to move sound up and through the ear canal into the ear?" says Taylor. "S-Logic is designed at a 40-degree off-center angle to offset the driver, which gives more separation. The sound is no longer coming from left and right; it's front and top. In the Zino, the driver is all in how the headphone sits on the ear. The drivers are tuned for placement in the front lower portion."
The result: comfortable, durable headphones that even longtime headphones haters love, and the clearest sound to ever enter the human ear.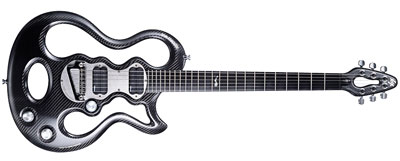 From Italian manufacturers XOX comes the Handle, a uniquely shaped, uniquely designed, thin-bodied, carbon fiber guitar created specifically to break away from tradition. "The wooden guitar has not evolved in 50 or 60 years," says Peter Solomon, design director and C.E.O of XOX Audio Tools. After XOX conducted detailed studies with musicians, they found that key points of concern were weight and materials. "So many guitarists complain of back problems from long gigs," says Solomon. "At four lbs., this guitar is half the weight of a Les Paul. The concave back is made to fit your body ergonomically. We also chose materials that would satisfy the requirements for weight, longevity, resistance to heat and humidity, and temperature changes. "Nobody says that wood is the end of the line for guitars," says Solomon. "Carbon fiber has a wider range and it is more rigid, with sustain that you could never get from wood."
With its high-tech look and unusual shape, the XOX appears fragile at first sight but is remarkably durable. "The body does not bend or break," says Solomon. "It's built to last. The guitar is hollow through the neck and body, and the holes in the design eliminate unnecessary materials. It's a resonance shaper. You can take this guitar from the mountains to Mexico without re-tuning it. Additionally, this guitar is "green," in that no wood is used in its manufacture. Yes, carbon fiber is derivative of petroleum, but it does not hurt anything environmentally."
Peter Solomon has been playing guitar since he was "a kid" and is an accomplished, award-winning designer. The Handle is no exception, having garnered a few awards of its own. The instrument went through at least 50 prototypes before completion, according to Solomon. "The original design took two years of researching material selection and process modifications, then three years of improvements. It took longer to develop than I ever dreamed of," he says. "For example, we started out without truss rods, but guitarists want them and we had to add them. Nobody in carbon fiber knows about guitars, and guitarists don't know carbon fiber, so we had to bring in experts from both sides."
While Europe has what Solomon calls "an out-of-the-box mind frame for design and innovation," guitarists, not the marketplace, were his priority. The Handle features a specially positioned volume knob, blend knob for neck, bridge and dial-in mixture, and a quick switch to take you from neck to bridge or, in center position, to activate the blend knob. All jacks are in the back of the guitar. "We wanted playability and sound," he says. "A lot of guitarists want to be unconventional with their instruments, but they want wood. You need material with great acoustical range and solid materials for better sustain, and that means using more wood to compensate for the flexibility of the guitar. We had to get away from those preconceived notions. We studied acoustic transmissions, and it's a challenge to get people to understand that you don't need exotic woods, and you don't need to kill rain forests, to design a quality guitar."
The Handle is available in several models, and XOX is launching an accompanying series of pedals and straps. Learn more and listen at xoxaudiotools.com.
The summer NAMM show will be held June 18-20 in Nashville, Tenn. For more information, visit namm.org.
NAMM: http://www.namm.org ◼
---