Da Doo Ron Ron: The Story of Phil Spector
directed by Binia Tymieniecka
starring Phil Spector, The Crystals, The Ronettes, Darleen Love, The Righteous Brothers, The Ramones
Channel Four Television and Charly Films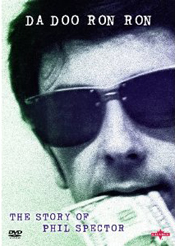 "Kick 'em when they're down" is a long time Hollywood mantra, and it looks like Phil Spector gets his turn in the barrel this week. At age 69, he's doing 19-to-life for second degree murder, and this rather unflattering 1982 documentary has been re-released by Charley Films. It's an interesting time capsule, but it's hard to separate fact from rancor in its collection of celebrity and has-been interviews.
Spector got into the music business working for Jerry Leiber and Mike Stoller, two songwriting geniuses with umpteen dozen hits to their names. While others wrote bigger hits, or more of them, or uncovered more talent, Spector was a master of publicity and it's his name we remember when thinking of 1960s AM rock. While he could hear talent, it was his genius at recording and producing that made hits tuned to the tinny lo-fi AM radio sound popular in that decade. With upwards of 30 studio musicians backing his singers, he crammed them into little echo chambers and layered the resulting sounds to get a particularly rich effect. When his songs aired, they lept out of the speakers.
Archival footage of The Crystals, The Ronettes, The Righteous Brothers, and others highlight the film. The narration is tied together by Rodney Bingenheimer driving the filmmaker around LA, showing the sights from Gold Star Recording Studios to roller disco girls in the park. Interviews with the likes of Barbara Alston (lead singer of The Crystals), Al Goldsmith, and the Ramones paint Spector as a brutal but brilliant man, willing and able to exploit his discoveries. Leiber and Stoller seem impressed, the Ramones seem scared, and Al Goldsmith declares Spector's music "the worst possible schlock ever recorded." No one actually says anything nice about him personally, not even his ex-wife, Ronnie Spector.
This grainy yet fascinating look at Spector's life is as positive a summing up of his life as you'll see – the kinescopes of "Da Doo Ron Ron" are still thrilling, his discussing of whether "I met him on Sunday" or "I met him on a Monday" works better shows his obsessive attention to detail, and the only thing missing is a rebuttal from Spector. This is rock and roll history, juicy with gossip and sleaze. You couldn't ask for more.
Phil Spector: http://www.philspector.com • http://www.TheConcertChannnel.eu • http://www.CharleyFilms
---