Darryl Worley
Elianne Halbersberg
Darryl Worley's career trajectory is the stuff that "movies of the week" from yesteryear were made of. A native of Savannah, Tennessee, he spent 15 years as a struggling singer/songwriter, hoping to be discovered and someday signed. The deal finally came to him at a card table in a Moose Lodge, where country music industry legend James Stroud, then heading DreamWorks Records, presented Worley – at that time in his mid-30s – with a contract. It was unheard of in what was already a youth-crazed genre, and it's even more unthinkable now.
Many years and hit singles later, Darryl Worley has survived personal and professional challenges and lived to tell it all. The route he chooses in order to share his stories is wrapped in traditional values, deep-rooted faith, and old-fashioned patriotism. The title of his upcoming EP, God & Country (scheduled for September on Stroudavarious Records), could take on a two-fold meaning when considering what Darryl Worley stands for: his love for America and his love for the music.
God & Country is being advanced by a new single, "Keep the Change," that follows in the footsteps of what Worley has become best known for: to-the-point commentary from the heart of the working man. And that's exactly what Darryl Worley is: a working man. His days begin early, fragmented into a series of 15-minute interviews, hours on a tour bus, and night after night in clubs, theaters, arenas – wherever the road leads him. On this day, it led him to a phone call with Ink 19.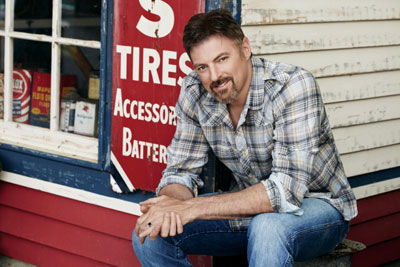 • •
How much can you accomplish in 15-minute sound bite interviews?
You'd be surprised. A lot of times I do some for half an hour, and if they have questions and fire them at me, I've learned that I can't do the "Darryl Worley long answer" – because that is who I am – and they stay on me all the time to condense my answers. So I get a lot done quickly.
Do you feel that you have hit your stride as a singer and songwriter?
We talked about this on the bus the other night. It seems like, for a lot of artists, before things gel and they enjoy the fruits of their labor in the business, ten years is the magic number. I just hit that, and even though I've been through the hardest times on my end, I'm still having success, things have gelled, it's stable at my record label and I see no negatives. It looks like this song ["Keep the Change"] is ready to blow the top off the charts, so who knows. I've seen a lot of artists beat themselves up, struggle, and ten years later it's, "Oh, you're Trace Adkins," and "You're Toby Keith." So many guys I thought the world of came out at the same time as me, and after me, and I have not seen or heard from them in a long, long time. Obviously, I'm very thankful that I'm able to do this – and with some success, because I can't do it for free. I've got to feed my family. It's a struggle at times, and the last couple of years tested my faith, but I'm headed in the right direction.
How do you keep the faith when your faith is being tested?
The way I handle it is pretty simple. I'm not saying it would be for everyone, because not everyone has been tested like I have, but if you have been through enough in business and in your personal life, especially at a young age – it tempered me for that. When you go so far down after you let go of the rope that you feel you're not going to see the light of day again… the only thing that brought me back is leaning on God. After that happens several times and things get good, you forget why they're good and you go off in another direction again. I sure did. But I have found that if I do what He wants me to do, things will work out. My wife and I have anchored our belts tight and rededicated ourselves. We're on track with our faith and things are looking up.
James Stroud has been an important part of your career and has been very good to you since the beginning.
I always try to give credit where it's due, and James has been exceptional for me. He sat me down not long ago and said, "Damn, son, if anybody I know can write a song with their finger on the pulse of this country, it's you." I'm blessed to be part of [Stroudavarious]. I think some artists who have reached a point where they can do whatever they want and may still be on the radio and doing stadium tours… a lot of times people have a certain level of success as well as burnout. They don't need more money or more fame, they're run into the ground, so they take a vacation. A lot of people put everything they have in it, and the real blessings can be had if you work very diligently. It is very, very important to stress that it's about defining where you fit in the big picture. James helped me do that. It's almost like I wouldn't know how to act without him. He's my "music daddy," and with his success and his name, it's not a bad thing to have someone like him in your corner!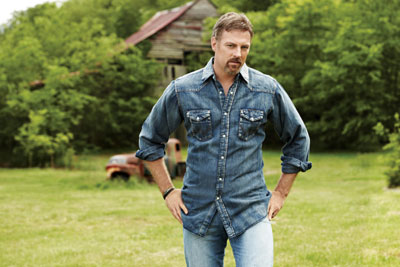 Country music, like the entertainment industry in general, now revolves around teenagers. By the same token, your songs wouldn't be age-appropriate for a 19-year-old artist.
I've always been very honest and open about my age, and people can't believe I tell it. I say, "You don't think they can see years go by?" I sing better now, and they tell me that a lot of that has to do with how you treat yourself and take care of yourself, so I work real hard at that. I feel a different level of confidence. I got a late start, so my ten years put me further down the road and I'm willing to sing about whatever it is that moves people, even if I have to defend myself for it. Having a platform brings about a great deal of responsibility, and it's our job to speak for millions of people who don't have a voice. If we help them get heard, and we make a difference, that's good. I wasn't involved with "Keep the Change" in its infancy. I got a call from the songwriters [Jim "Moose" Brown and Phil O'Donnell] saying, "We think we might be on to something. We've got a title. We got the idea off of a bumper sticker and it's headed in a certain direction; we would love to get you in on this with us because you're the only person in the business we think about recording this song." It's not just the youth factor. I had "Nothin' but a Love Thang," which didn't do anything, and "Tennessee River Run," which was a top 15 but has become a popular song for me, so it's hard to have a big hit that doesn't say, "Here's my message for today." That's our niche, and it's not always real controversial. Some people took issue with "Sounds Like Life to Me" and said, "That's tough love you're singing about," but by the end of the song they said, "He's right."
The image a lot of people have of you is that of a 6-foot-something, two-fisted, country ass-kicker holding a Pabst Blue Ribbon in one hand and waving a flag with other. What they don't know is that you are college educated, you are a songwriter, a devoted father, you just broke ground for a cancer treatment center in your hometown [Worley lost both of his grandfathers and his aunt to cancer], and you have performed for U.S. troops in Iraq. Does it upset you when these facts are overshadowed by a stereotype?
I know there's some of that about me, so I've got to be careful not to tarnish my bad reputation! I think what happens is I have a certain fan base; in my case it's not huge, but it's big enough to keep us on the radio and alive and they know who I am. They fight for me and are at my defense. I can go on the Internet for 15 minutes and we are rolling on the floor from the comments people make because they don't know my history, they have no clue, and then 25 people immediately pounce on them and I go, "Wow!" I think I've had enough songs that are borderline, because as songwriters we take liberties and just enough creative license to cause a slight rumble. So people who are on the other side come out against what I sing about, but when they see what I do for living and that I work hard at it, they go, "I had you pegged differently." Yes, they think I'm a PBR-drinking, flag-waving guy going, "We're all becoming communists! The government is becoming socialist!" But it's not as flamboyant as some people may think. I just try to make music that moves people and that I believe in with all my heart.
---