Pumice
Aaron Shaul
Stefan Neville, of the lo-fi damaged pop project Pumice, is one of experimental pop's true unsung heroes. The New Zealand native's creations are a mixture of perfect pop hooks and left-field noise, accordion sea shanty dirges, and field recordings. This blend reached (in this writer's opinion) a fantastically warped peak on 2007's epic Pebbles album. At times ugly, beautiful, scary, and hypnotic, it sounded – more so than his other material – like a singular insight into the mind of unclassifiable musical genius. Recently, I spoke with Neville via e-mail about his sound and the seemingly endless inspiration that inspires it to flow.
• •
According to the prolific discography on http://www.softabuse.com, you've been recording music for about 16 years. How has your sound evolved over that time?
Well, I've been at it probably longer than that. The first tape, Yi Jun, was compiled from a few years worth of stuff. Me and Sugar Jon started Pumice when we were 16; I'm gonna be 36 in September. I dunno how it's evolved other than pretty naturally, like my graying hair and rotting teeth.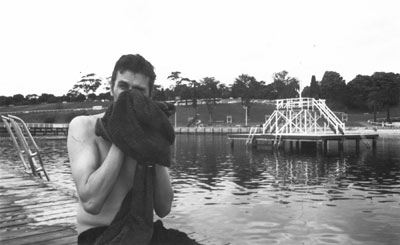 Is there any chance any of this long out-of-print early material will see release again?
Maybe. I've thought about it, but it's hard to find motivation to go through the suitcase of tapes and do the work. Do you need to hear it? There's probably some gold from back in the day, but it's probably better if you just imagine what it sounds like.
Can you describe your songwriting process? How much of your work is pre-written before recording versus simply having an idea of what you're aiming for and working with it while in the midst of recording?
It varies. There's no recipe. I recorded a song yesterday from a stupid riff that had been hanging around for about a year. I was walking with a friend with a wonky leg the day before and I thought the wonky rhythm of his steps might make that riff less cheesy. I added wonky drums, slapped some words on it, and they stuck.
One of my favorite things about Pumice is the fact that you can take great pop melodies and, through the recording process, dirty them up, and make them sound really gloriously gnarly (like "Eyebath" off of Pebbles or "Worsted" off Yeahnahvienna). Is this an aesthetic choice on your part? A simple result of the equipment you're using? A combination of these?
I just try and make them sound good to me. I don't like thinking about it much, but they are meant to sound the way they sound. The worn recording heads on my old tape machines do add something, but most of the grit exists in the air before the sound gets to the microphone. I think the records are a good example of what I sound like.
I read a quote from you in reference to the Persevere 7" you recently put out that makes it sound as though you make the best attempts at making music despite deteriorating equipment. Could you talk about what kind of equipment you use (recording/guitar/accordion/etc.)? How long have you been using it and what kind of beating has it taken? Do you impose any limitations on yourself during the writing/recording process?
Instruments come and go. My guitar got smashed several times traveling around the world, but you can't kill it 'cause it's already dead. I keep playing it out of a mix of perversity and poverty. Struggling makes it better. If you can't play it properly, it won't sound ordinary. I always love it when a drummer tries to keep playing as the kit is disintegrating around them, or when a guitar player is too drunk to plug in their pedals. I remember playing once with Gfrenzy, where he made us bind our fingers up so we couldn't play properly and so we would play more futuristic-ally. I do want to say that I take great care with my equipment though. I roll up my cables properly.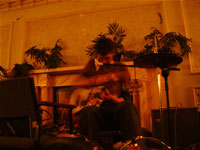 You've released material on pretty much every kind of media available (CD/vinyl/cassette). Which, if any, is your preferred form for your releases and why?
I like vinyl, but it's the music on there that matters and making this music in New Zealand, you're lucky to get a recording released on any format.
Can you talk about your experiences self-releasing your material versus having labels handling the pressings? Does it feel strange at all to have the majority of what you've recorded unavailable to fans aside from your latest releases?
I really like self-releasing, but it's pretty futile to make it work from NZ on any kind of big scale. You get some nice small run, handmade homemade releases here, like the lathe cut records. Something with a bit of love in it always goes a long way, but there's only a small audience here and crippling postage to the rest of the world (if you're putting out vinyl anyway). The nearest pressing plants are in Australia where one of them is run by cowboys and the other is all boutique and expensive. Even if you got something pressed the thought of posting them back to NZ only to be sold and posted back overseas again is enough to sink my spirits. I'm actually funding this LP by Olympus that's out soon and Soft Abuse records is managing the pressing from Minneapolis, to my eternal gratitude, else it just wouldn't be possible. Working with labels depends on the people. Soft Abuse is an absolute joy to work with. I owe Chris Berry, Soft Abuse founder, heaps. There are Pumice CDs going back to White from 2003 all still available. That's pretty good going I think. The vinyl will always run out 'cause its collectability is part of the reason it sells. Everyone panics and scrambles for it, but there usually seems to be enough to go round. It will all end up on blogs anyway. If you wanna hear it, you'll find it.
How did you get together with Chris from Soft Abuse?
I asked Glenn Donaldson (of the Jewelled Antler collective) if he could recommend a good label for the Yeahnahvienna album and he said Soft Abuse is the right home for you. Chris sent me some of his releases and I knew he was right. Luckily Chris agreed to do the album.
Can you tell me about your new project, Olympus, and what's in store for Pumice as far as recording and touring go in the near future? Any chance you'll be playing more American dates?
Olympus is a duo with Pat Kraus who is one of my favorite musicians. See http://www.kraus.co.nz for some of his solo stuff. We have been recording together for about three years. It's good wonky music. If you know our solo stuff, I think it sounds like what you would expect the two of us to sound like. We had about three different useless ballbag labels crap out on us with this album, Bold Mould, so i decided to do it myself. It'll be out in a couple of months and available from Soft Abuse where you can also get the just reissued Pumice, Pebbles and Quo, albums on cassette, too. Pebbles will also get an LP reissue at some point. I got lots of releases coming up. A Pumice 10" out really soon on French label Doubtful Sounds. A rock band I play drums and synth in, The Coolies, have an LP out soon on Chapter Music from Australia. I recorded that one and I'm pretty proud of it. There's a Matthew De Gennaro & Stefan Neville cassette coming out, a CD-R of Pumice live-to-air radio sessions, and another duo I'm in with Antony Milton called Sunken, which will have a LP on Emerald Cocoon Records. I've spent the first half of the year actively not making any new music and trying to be a proper human being. It didn't really work, so I'm admitting defeat and just started recording some new Pumice. As for touring – I dunno, man. The thought of more touring makes me feel sick. I'd never say never, but it'd have to be something special for me to consider it.
How have your touring experiences been? Were there any specific tours or shows that put you off it or is it just the endlessly traveling long distances and playing for possibly sparse audiences that did it? Do you gig in New Zealand very much? When you play live is it just you or do you enlist a backing band?
I've had some wonderful times on tour, but it's really bad for me. I find it lonely and self-serving, superficial and soul destroying. I've just done too much of it. It's always gonna be at least $2,000 to fly to the Northern Hemisphere and it's rare that I will make that back. Because of that, I always try to make the most of it and tour for three to six months. I can't pay rent while I'm away, so I return to NZ in pieces with no home to go to. It's too much. I have a bleak perspective on it at the moment. It might be okay to tour with a band, have some mates along, but that is even less financially viable. I haven't played in NZ since last November, but I mostly like touring NZ so I can see my friends up and down the country.
Lastly, New Zealand has gotten quite a bit of attention over the years for its pop music scene. Are there any NZ bands, contemporary or otherwise, you really like who you feel haven't gotten proper recognition?
Some contemporaries I rate: The Ghastlies, Backyard Burial, Devoid of All Mercy, Kraus, the Aesthetics/Crude, Strange Girls, Evil, Sign Of The Hag, Full Fuckin' Moon, Mr Sterile Assembly, Octopus, Dirk Diamond, and WITCYST – who honestly makes the rest of us look like try-hard babies. Gfrenzy has turned his hand to animating lately. It's worth a look here: http://www.youtube.com/user/dadandtracy
All-time favorites that helped make me the man/musician I am: Tall Dwarfs, Hand of Glory, Economic Wizards, The Terminals, Axemen, The Kiwi Animal, Frybrain, Grommet, Patea Maori Club, and Dadamah.
Soft Abuse: http://www.softabuse.com ◼
[Editor's note: Though Jon "Sugar Jon" Arcus has chosen not to participate in Pumice for the past ten years, he is still a member of the band. Apologies to Jon, Stefan, friends, and fans for the misrepresentation in a previous version of this story.]
---