MGMT
with Kuroma
Hard Rock Live, Orlando, FL • October 25, 2010
Jen Cray
After three albums and a handful of ridiculously catchy hit singles, MGMT finally got around to playing Florida. Their Orlando visit dropped them off at Hard Rock Live, at Universal Studios CityWalk.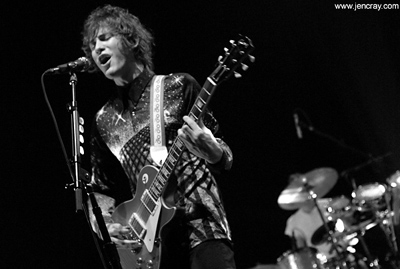 Someone should have pointed out to them, or to whomever puts together the slide show of random images that play on dual screens throughout their set, that Universal Studios is not equivalent to Disney World because the very first photo that sprung up was of Cinderella's castle at the Magic Kingdom. Party foul, guys.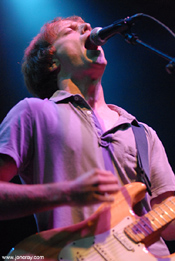 This wasn't the only error in judgment for the night's performance. Having a dreadfully mediocre opening band attempt to jump-start the night was the biggest slip-up. Led by a former member of The Whigs, Hank Sullivant brought none of the minimalistic garage rock of his old band to his work in Kuroma. They've got two keyboard players, both of whom have got a pair a piece (keyboard and keytar for one, keyboard and synthesizer for the other), whose myriad of sound effects do nothing for the already forgettable psychedelic pop music they make. Sullivant was once a touring guitarist for MGMT so there's no mystery as to how Kuroma landed this choice gig. For a band as popular as MGMT I would have expected an opener that was a little more buzzworthy.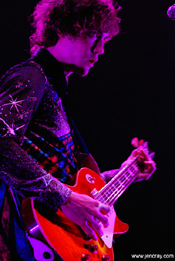 For a band that followed up a commercially successful breakthrough album (Oracular Spectacular) with a slow tempoed psychedelic acid trip (Congratulations), I expected their live show to be more elaborate than it was. Inflatable set pieces, laser lights, fog machines, spaceships sailing through the air – I don't know what exactly, but something more otherworldly. The Brooklyn band's songs are mind altering in a subtle sort of way, which made the random images they flashed on the side stage screens come off as pretty silly (a cat playing piano), or just downright dumb (a pot leaf).
Fortunately, after a good 30 minutes of loosening up, the band's energy took the attention off of the video screens and brought it back to the music and the band. By the time they kicked in to the disco dance party gone retro, "Electric Feel," MGMT had found their groove, and musically they were untouchable.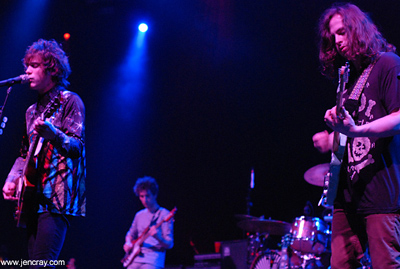 Core members Ben Goldwasser and Andrew VanWyngarden were joined by a full touring band and from the opening chords of "It's Working" all the way through to the gorgeous closing encore of "Congratulations" roughly two hours later, they were dead on with their recorded albums. VanWyngarden, looking like a Stroke dressed up as a hippie for Halloween, stylishly played the role of distinguished front man – edging ever so close to the front row fans whenever he took a break from guitar playing as during the show-stealing singalong "Kids." Even Goldwasser, who spent the bulk of the set tucked behind his keyboards, grabbed a mic and stepped out within hand shaking distance of the excited fans for this number. And, yes, many of the fans were dancing! Even the cool kids all the way in the back were finding their groove.
Straddling the boundaries between super psychedelic ("4th Dimensional Transition") and crowd pleasing pop euphoria ("Time to Pretend"), MGMT are unique in their ability to be both mainstream and strangely fringe – an electronic jam band that brings both polo-shirted college guys and gypsy-dressed teenage girls together on the dance floor. It's a strange world we live in, and MGMT are happy to soundtrack it.
To see more photos from this show, and others, go to [www.jencray.com](http://www.jencray.com/bands_live.htm).
MGMT: http://www.whoismgmt.com ◼
---