Shelter From The Storm: Bob Dylan's Rolling Thunder Years
by Sid Griffin
Jawbone Press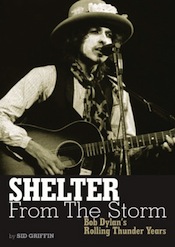 When I got my review copy of Shelter from the Storm, Sid Griffin's journalistic, microscopic scrutiny of one of the two great creative periods of Bob Dylan's career, from 1974 to 1976, I was excited. I'd never seen the Rolling Thunder Revue, just heard raves about it from friends and listened to the two-CD album, The Bootleg Series, Vol 5, the best Dylan cuts culled from that much-publicized and well-documented 1975 circus that included Joan Baez, Roger McGuinn, Ramblin' Jack Elliott, Bob Neuwirth, and a large supporting cast.
I'd hoped that the book would pull back the elaborately painted curtain and provide some deep insight into the mounting of that carnival of folkies and rockers that heralded Dylan's second coming. After all, Griffin's book about the fabled Basement Tapes recording sessions, Million Dollar Bash, had gotten rave reviews three years earlier for its wit and insight.
Also, the book recounts and covers the second most productive, fertile, brilliant period in Dylan's career, the first being the period from 1964 to 1966 when he recorded four amazing, seminal, and career-changing albums from Another Side of Bob Dylan to Blonde on Blonde before burning out and literally crashing. Dylan went from skinny troubadour in a work shirt to jet-setting rock star in a leather jacket overnight, then disappeared. After years of wandering musically following his motorcycle accident, Dylan put out two stunning albums between 1974 and 1976, Blood on The Tracks and Desire. It was another intense period of creativity for Dylan, but also one of intensely private failure as his marriage fell apart. While recording the songs for Desire in New York, Dylan put together a cavalcade of folk singers and rockers to barnstorm the country with, The Rolling Thunder Revue. At once accessible and enigmatic, the Revue shows Dylan at his most outgoing, social self, yet he cast an enigmatic shadow over it all with different singers wearing the same costumes, hats, and white face to create a doubling and tripling effect. Even Joan Baez would don the Dylan hat and white face. Will the real Bob Dylan please stand up?
Imagine my disappointment to discover that Shelter from the Storm doesn't deliver on its promise to reveal behind-the-scenes insight into what went on during the tour. Instead, Griffin has rehashed tedium of the highest order, grinding old arguments into the dust with the author's boot heel, offering relentless and unwarranted asides into the controversies surrounding the songs "Hurricane" and "Joey" off the album Desire, providing mind-numbing minutiae about recording sessions, stage and lighting directions, and the sequence that went into opening and closing the curtain used on stage during Rolling Thunder gigs. Also, there are annoying moments when this American who transplanted himself to London uses British words like "punter" and "damp squib." Oh, and the ultimate insult, alluding to Spinal Tap when he says the band had their "amps turned to eleven." He's writing about a quintessential American musical icon, and using British slang. Sheesh.
There also are outright howlers in this book. Griffin compares Dylan's hair at the time to Kramer's from Seinfeld. He calls Dylan and three of his session men on Desire the "Four Hoarse Men of the Apocalypse." Or how about describing gypsy violin player Scarlet Rivera as being decked out in a Laura Ashley white dress, like any self-respecting lady of the canyon? Another annoyance, Griffin seems obsessed with psychoanalyst and playwright Jacques Levy's influence on Dylan at the time, knocking his romanticized take on the death of crime figure "Crazy" Joey Gallo, even going so far as to say that the song "Chestnut Mare" that Levy co-wrote with Roger McGuinn for the Byrds was "gay." Huh?
The relevance of Griffin's book is summed up by the author himself, in this paragraph: "Several books exist on the Rolling Thunder fall 1975 tour… at their best, they make for excellent engaging reading. Put them together with the multiplicity of books and articles on Renaldo & Clara, and a strong image emerges of the traveling and behind-the-scenes camaraderie and intrigue." Then what, pray tell, is the purpose of this book, written 35 years after the fact, dependent on second and third-hand source material, and some interviews with members of the tour?
"The only area that fails to get a mention is the stage," Griffin writes. Oh, great. A 244-page book about stage directions! I was hoping for something fresh, the much-promised interviews with Dylan's cohorts, but alas! Those insights were already delivered by Larry Sloman decades earlier in his behind-the-scenes tour book, On the Road With Bob Dylan.
Both the earlier period, when Dylan was in his 20s, and the later period, when Dylan hit middle age, are legendary for the number of bootleg albums produced from live recordings. Those of course are from which The Bootleg Series comes. It's worth comparing versions of the same songs from those recordings to see how Dylan's approach to the material has changed, how it reflected the musical styles of the times. That is something Griffin never bothers to analyze in this spirit-killing doorstop of a book. At his best, Griffin delivers minutiae about the recording sessions for Desire, production notes on the concert tour, and Levy's cues for raising and lowering the curtain or turning on spots. At his worst, Griffin offers unnecessary criticism and observations out of left field, like one about Americans not caring for public television in the mid-1970s. And there is a transcript of a tour bus conversation recorded by Roger McGuinn that reveals how dull and boring a concert tour can be, rather than offering any insight to the star of the tour.
As I struggled through this book, a thought kept coming to me, a paraphrase of the Cracker song, "Teen Angst." What the world needs now is another book about an overly scrutinized folk singer like I need a hole in my head. Better yet, I'll pop the Rolling Thunder CDs into the player and crank up the volume. Every thing I need to know is in the music and the liner notes.
Jawbone Press: http://jawbonepress.com
---