Wavves/Best Coast
Club Downunder, Tallahassee FL • January 27, 2011
Jessica Whittington
The younguns with neon-colored sunglasses on inside the dark club pile toward the stage in huge groups, looking psyched. There are still about a hundred people outside trying to get into the show, including my two friends (I know, I'm an asshole), but Club Downunder is full to capacity and no one else is getting in that door. I make my way up the stairs for a better view of the stage because there is no way I'm standing in the mess of what looks to be a huge mosh pit. I'm too old for that sort of thing.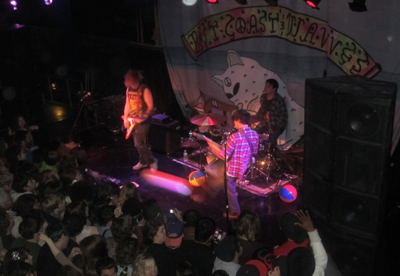 I get stuck in-between a nice couple and a bunch of college bros who were using their iPhones to find out where Wavves were from –"Dude, just use your phone to look it up, man"– I roll my eyes. (California, of course. I'll save ya'll the Google search.) As we wait for Wavves to set up, I notice the giant backdrop of a huge cat smoking a joint. This is brilliant. The dudes from Wavves come out and immediately break into their first song. They sound good, loud, fast, and everything about them looks awesome: a little grunge and a total '90s flashback. Their bass player, Stephen Pope, has a big blondish 'fro waving around in the air as he jumps up and down, and singer/guitarist Nathan Williams rocks a plaid shirt, sweatpants, and Timberland-ish boots, reminding me of a Calvin Johnson/Keiran Culkin hybrid. All the while, drummer Bill Hayes tries to casually swat away, with his drumsticks, the ten beach balls and plastic aliens that are flying stage-ward. I can't help but wonder how many Nirvana albums these guys have listened to in the past months.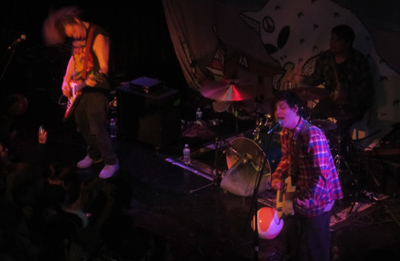 Williams tries to talk the club into letting some people in the door; hell, it was cold out there and there was plenty of room inside still. He tells them that repeatedly but no one budges. Williams yells, "There's more of you then them, guys!" trying to start a mini-riot and these boys win my heart. If the show hadn't have been at FSU, the riot would have happened but the only rebellion these college kids have in them is not finishing their computer science homework on time. "I'm So Bored," gets tons of feedback as does "Idiot" and " Super Soaker" and I can't believe I'm seeing kids crowd-surfing in 2011. I dig the newer songs; they're not as lo-fi and gritty, more poppy but in a good way, more like Fifties doo wop love songs with curse words, awesome guitar riffs, and fast drum beats. The song "Green Eyes" was about the only song where the crowd somewhat calmed down a bit to catch their breath before crowd surfing again. Meanwhile, the club owners start letting more people in the doors and I start getting excited looking for my friends, but don't see them anywhere and my heart sinks when I see the girls who were behind us in line walk in the door.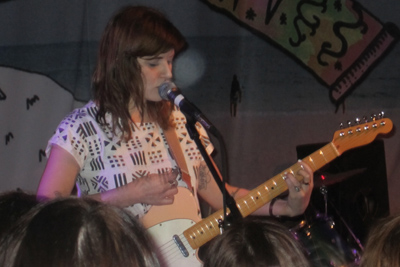 Between sets, everyone's having fun drinking beer and updating their Facebook status on their phone while they wait for Best Coast to come on, but all I can think about is how big of a dick I am for not trying to sneak my friends in the back door or something. Soon enough the drummer and guitarist for Best Coast start setting up their equipment, but singer/guitarist Bethany Cosentino doesn't make her appearance until the last second. She walks out, grabs her already tuned guitar, and introduces the band, and we're off.
There are more girls in the crowd for Best Coast. The band starts off with "Crazy For You" and, I have to admit, everything I have heard about them not sounding as good live is true. My heart breaks a little bit. At least Cosentino's pink guitar looks awesome. Best Coast songs are superdream girl-band stuff, with songs about cats and weed and boyfriends, but she just doesn't seem like she puts as much energy into her performance. But hell, most likely she was high so I won't hold it against her.
Wavves: http://wavves.net • Best Coast: http://bestycoasty.blogspot.com ◼
---