Flogging Molly
with Moneybrother, The Drowning Men
House of Blues, Orlando, FL • February 11, 2011
Jen Cray
Shamrock teddy bears have started to appear at the cash counters of retail stores, as have fake-Irish-themed tattoo sleeves for Old Navy shoppers who aren't quite ready to commit to real ink. St. Patrick's Day is right around the corner, which means Flogging Molly's back in town. Their annual Green 17 Tour – now in its seventh year – has become a tradition for their fans that is as warm and fuzzy as chocolates on Valentine's Day.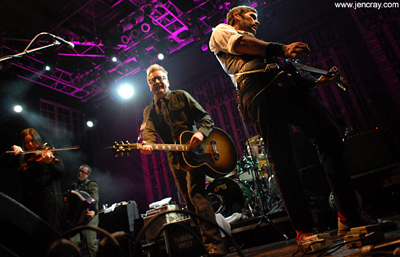 One thing I always look forward to when I make my yearly pilgrimage to catch this tour at Orlando's House of Blues, is the selection of bands they bring along. Flogging Molly can always be counted on to put on a party, but their opening acts are oftentimes just as exciting.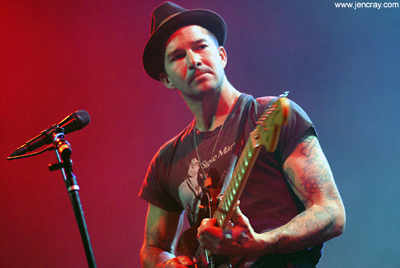 The Drowning Men weren't as strong as the tunes I'd listened to prior to the show had promised, but they weren't "bathroom break" bad either. Headed up by Nato Bardeen, who spends most of the set singing behind his electric piano except for the occasional guitar break to stretch his legs, the San Diego group sounded like a working class Arcade Fire. I doubt that's the sound they're striving for, but whether they want it or not Bardeen's voice is a dead ringer for Win Butler. I kept waiting for them to play "Keep the Car Running."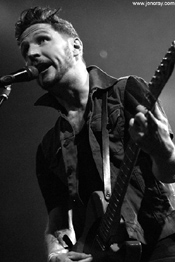 Weilding a Fender Telecaster and glowing with an ear-to-ear grin, Ander Wendin – who, alongside his band, goes by the moniker Moneybrother – has got the same onstage energy as Frank Turner but sounds like Joe Strummer. A smidgen of reggae colors Moneybrother's otherwise rock 'n' soul melodies, which, when flavored with Wendin's slight Swedish accent, makes for a hard-to-fail combination: a perfect recipe for the worldly, punk, Flogging Molly fans who soaked it all in.
Of the dozen songs or so that they soundtracked our evening with, the funky dance floor stomp of "Born under a Bad Sign" and the Clash sounding "Down at the R" stood out as music to make any listener fall for Moneybrother on contact… and the Orlando crowd did. A sold-out room, tipsy and eager to make the most of a Friday night out on the town, embraced the feel-good vibes brought to Florida care of Sweden.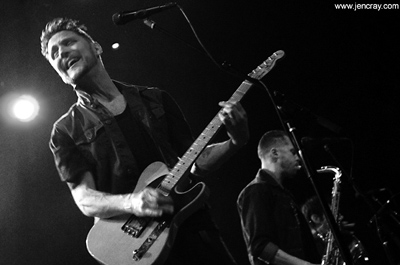 Having properly heated up the masses, Moneybrother took their leave to make way for the Dublin by-way-of Los Angeles, crowd-pleasing, pub punk rock band, Flogging Molly.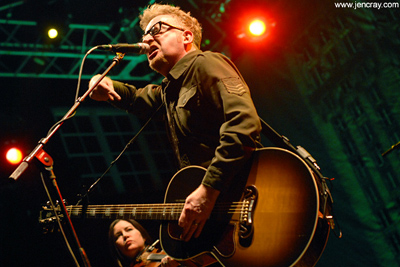 If ever there was a perfect opening number, "Requiem for a Dying Song" was it. Standing out as a highlight on an album full of killer songs (2008's Float), the fast-paced track hits all of its marks: it gets the antsy pit-stirrers moving, the bar flies nodding their heads, and the groove-seekers shaking their asses on the dance floor. It's fun, it's sexy, it's punk rock, and it's got politically charged lyrics about corrupt governments and revolution. They opened with this, and the place was set afire.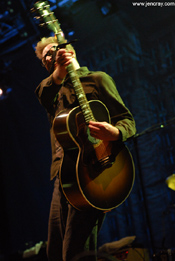 Washing down the adoration with gulps of Guinness between songs, the band flew from one anthem into another with the occasional slow number slipped in to let everyone catch their breaths… well, maybe not to "catch their breaths," since "The Worst Day Since Yesterday" and the heart wrenching "Float" are irresistible sing-alongs, but these ballads allowed for the sweat to cool on our brows after building during "Swagger" and "(No More) Paddy's Lament."
Two hours and two dozen songs followed, and – as per usual – the band played at full throttle. Few live bands can compare to the energy, the vitality, and the sheer stamina of Dave King and crew. Every show is treated like it's their last. The fans know it – it's why virtually every show of every tour they do sells out. With Flogging Molly, you always get your money's worth.
To see more photos of this show, and others, go to [www.jencray.com](http://www.jencray.com/bands_live.htm)..
Flogging Molly: http://www.floggingmolly.com • Moneybrother: http://www.moneybrother.net ◼
---