Enter the Haggis
The Plaza Theatre, Orlando, FL • February 23, 2011
Carl F Gauze
Celtic music is so versatile – mix it with punk, jazz, or maybe even flamenco, and you always get something special – something along the lines of Enter the Haggis.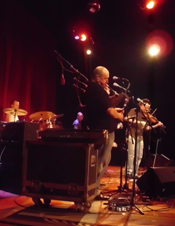 More than a few kilts came out to party with these charming Canucks on their current tour through O-town at the semi remodeled Plaza Theatre. They cleared a dance pit in front of the stage and a few people moseyed down during the first few songs, but they just sort of swayed and held hands until Enter the Haggis got down to one of their big hits, "One Last Drink."
That was the ice breaker, the pit filled, a few couples danced like it was their 15th reunion, and the energy level ratcheted up. Plus it gave us permission to wander around, snap a few pictures, and yell at the band during song breaks.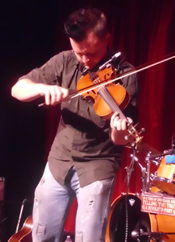 The crowd was a bit mature, yet enthusiastic, and when the band mentioned "we see a few familiar faces… " a small cheer went up. I saw these guys back in '08 when they felt more punkish than tonight, but ETH was just as entertaining. They capture a sense of Irish belligerence tempered by Canadian politeness, and there were more than a few reels lurking in the set list. Flashes of folk and even jazz peppered the set, which was anchored in "Wild Mountain Thyme." Like that song about the guy with the blue ribbon, it's mandatory to pass your Irish Band License test.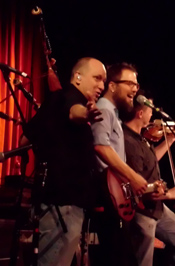 Leadership seemed fluid, although Brain Buchanan seemed to hold the limelight as he swapped between fiddle, keys and acoustic guitar. Occasionally Mr. Lewington jumped in front with his guitar and pink eyeglasses, but the most interesting fellow stood stage right and covered bag pipes, tin whistle, flute, and for all we know, Flugelhorn. This would be the avuncular Craig Downie, the great uncle you never had. As ETH bounced over the stage, the audience down front grew and those in back went out for fresh beer.
The night offered a fun and relaxed feeling, even if the sound was muddy and vocals were hard to decipher. No opening act, just a fun, accessible group of hard-working musicians with a loyal and well-deserved following. I can't wait for the Plaza to get the good seats back; this is one of my favorite venues when they can make the band sound clean.
Enter the Haggis: http://www.enterthehaggis.com • The Plaza Theatre: http://www.plazaliveorlando.com ◼
---