A Matter of Taste: Serving up Paul Liebrandt
directed by Sally Rowe
starring Paul Liebrandt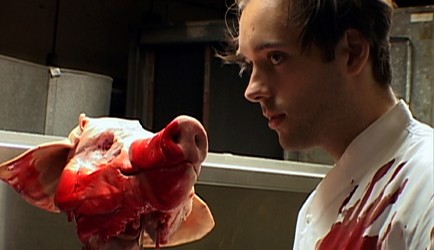 A few decades of slaving away in the kitchen, and you can become an overnight sensation in the cutthroat world of New York haute cuisine. This engaging documentary mixes culinary theory and hard-hitting interviews with wunderchef Paul Liebrandt and his competitors, friends, enemies and former employers. A decade ago he was tearing up the New York Times food reviews until 9-11 tanked the city's highest rollers. Moving down to a $70-a-head "dump" (wine extra) called Papillon, he still did wonders until the failing economy forced them to abandon "real cooking" to start selling (gasp!) hamburgers and french fries made from lowly Idaho potatoes. A few more gigs followed, none ending happily, but while he was out of work in 2007 and Vogue Magazine was dogging his heels, another opportunity arose: He became head chef at a new venture called Croton, and immediately received three stars from the Times. That's a bit like winning the Nobel and the Heisman, and we leave him exhausted and triumphant.
Filmmaker Rowe spent a decade filming Liebrandt, following his ups and downs. I suspect she tracked more than one chef, just to cover her bets, but Liebrandt was the one with the interesting career and superb on-camera presence. Along the way we see the tension and the passion of Liebrandt's pursuit of great food and the drama and hard work of the kitchen, and learn some of the politics of the business. Part of the fun is watching his manager try to guess who the food critic is – it's a combination of guess work, espionage, and tracing phone calls, and while the visits are supposed to be anonymous, it doesn't quite work that way.
What we don't see is the Times side of the story. There's not a huge amount of insight into the ranking process, not officially anyway. But along the way, we learn about the philosophy of food and watch Liebrandt serve one of his duck creations to a confused older couple. He breaks pieces of some concoction over the duck and then adds the blood, and while the customers seemed shocked, they also seem extremely pleased with the results. Zippy and engaging, Liebrandt's story might just raise your restaurant bills, if not your cholesterol.
This film plays at the 2011 Florida Film Festival: http://www.floridafilmfestival.com • http://www.amouthfulthefilm.com
---