Le Butcherettes
Hard Rock Live, Orlando, FL • May 21, 2011
Jen Cray
Unadvertised, and so unexpected by most every attendee who had piled in to the Hard Rock Live to see Deftones and their billed opener, Dillinger Escape Plan, Le Butcherettes' appearance on the stage come show time was not immediately welcomed by the mostly macho audience. When a petite girl wearing an overcoat quietly took her place behind a keyboard and eased her band into a pretty melody, mild heckling erupted over my shoulder.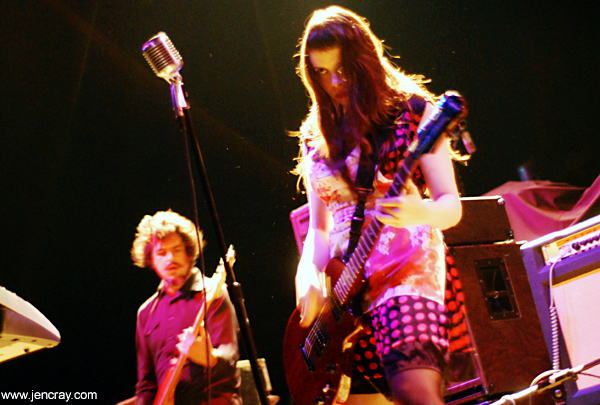 "What is this?! Fucking Lady Gaga?!" called out a bear of a man who didn't seem to know what Lady Gaga looks or sounds like at all because Le Butcherettes, and front woman Teri Gender Bender, are pretty far from it.
After a couple of unassuming songs sung in the dark, the overcoat came off to reveal a blood-stained apron worn atop a girly, polka-dotted dress. A guitar was grabbed, and a look of sweet naiveté was replaced by a mischievous glare. Teri Gender Bender unleashed the animal within, and Le Butcherettes metamorphosed into a she-beast worthy of all of the Riot Grrrl comparisons you can think of.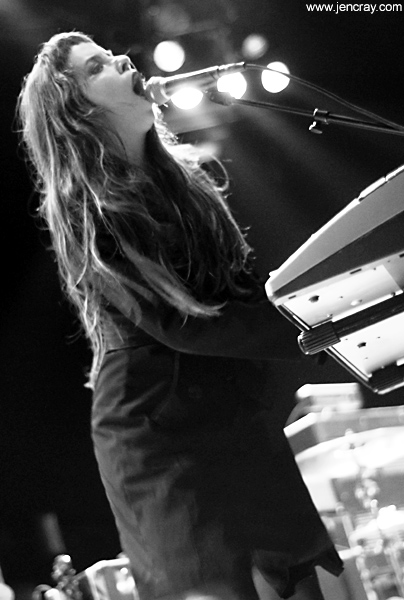 A Mexican punk band with a feminist-leaning performance art background, Le Butcherettes landed the attention of The Mars Volta's mastermind Omar Rodríguez-López, who promptly offered to produce their debut album, fill in on bass, and sign them to his label (Rodriguez-Lopez Productions). They've won praise in certain circles and have landed gigs alongside some pretty heavy hitters (Pixies, Jane's Addiction, Yeah Yeah Yeahs, The Dead Weather), but still the trio remain relatively unknown to most. Those who have heard of the group have probably only heard about their past stage exploits involving slabs of meat, fake blood, and artistic jabs at gender roles in modern society.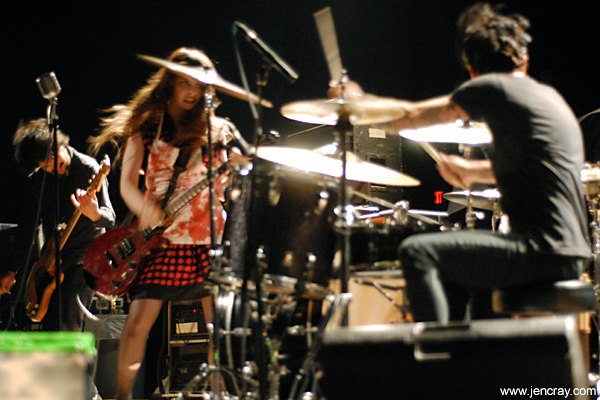 Beyond the blood stains on the apron, no props were used in tonight's performance, nor were any needed. Once the fiery front woman got warmed up, and out from behind her keyboard, even the hecklers began to cheer.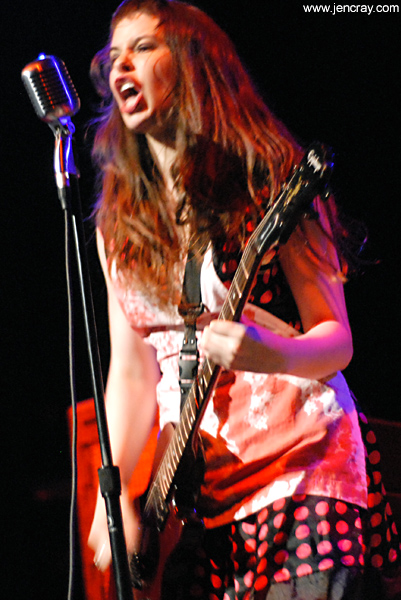 With a voice like Concrete Blonde's Johnette Napolitano bled raw and a schizophrenic stage persona that shifts from childlike to sexy to possessed in the time it takes her to roll a somersault or pounce into the audience, Teri Gender Bender is deliciously unpredictable. During "Dress Off," she caressed a security guard's head while spewing out the repeated line "take my dress off, take my fucking dress off!" In a later moment, she fell to the floor to thrash around a bit while her band (Gabe Serbian on drums and Jonathan Hischke on bass) provided the noisy funkified punk melodies that threatened to peel the memorabilia right off of the Hard Rock's walls.
There's a raw energy to Ms. Gender Bender that defies complacency. When she screwed up the chords on the addictive "Henry Don't Got Love," it didn't feel like a mistake, it felt like she was so completely lost inside of the act of performing that she forgot that the noise she was making had a set structure. The chords seemed to exist merely as a jumping off point for her fingers as she squeezed and stroked out sounds to make the room sit up and take notice.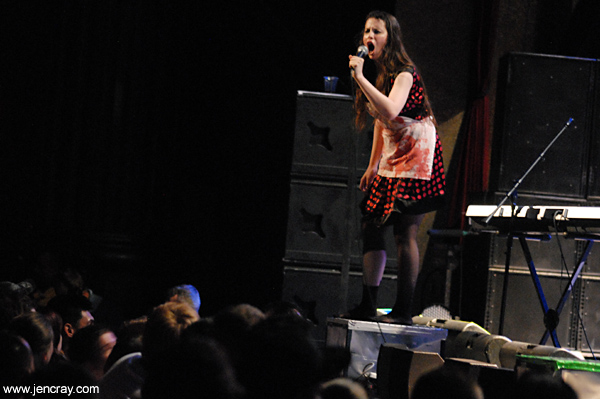 Le Butcherettes' gender bending set was capped off with the-little-girl-who-raged diving into the audience before being led dramatically, by flashlight, out a side door. Teri Gender Bender is clearly too radical to do something so mundane as to walk off a stage. Her exit, like everything else about her performance, begs to be remembered.
Gallery of shots from this show: Le Butcherettes.
Le Butcherettes: http://www.lebutcherettes.net ◼
---