Los Amigos Invisibles
with Zuva
The Social, Orlando, FL • June 10, 2011
Ian Koss
It was a night as beautiful as this. Though the week had been threatening Floridians with the brutality of heat, by Friday everything was pleasant as we waited outside the club for the doors to open. We'd made good time to the club, and being present at the opening let us snag some choice seats for el espectaculo that was to come, one I'd been anticipating for at least a decade.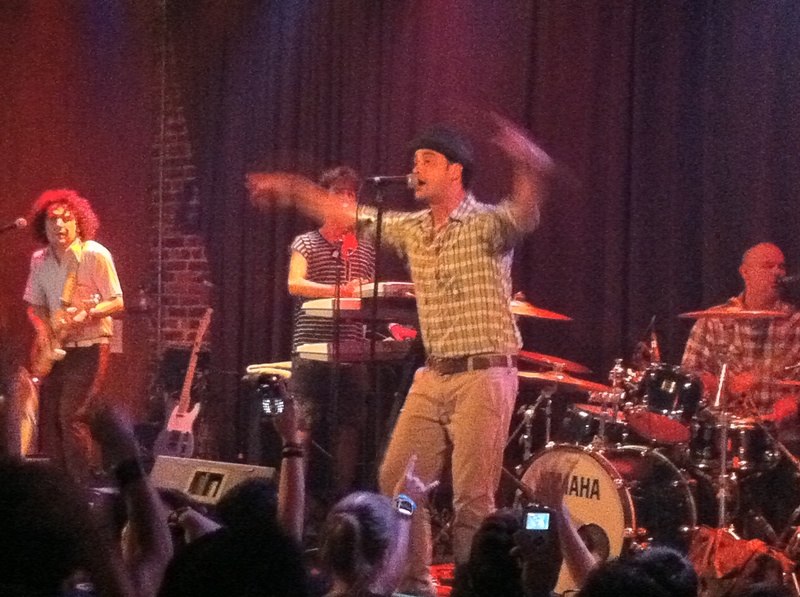 Opening act Zuva, local to Orlando but with roots in Venezuela, played a rousing set of rock en español to start things off. Although both bands tonight are Venezuelan in nature, their approach to music is quite different. In Zuva's case, the lyrics are in a different language, but the music is of a more familiar four-piece combo, with vocalist Ernesto Romero doubling on an acoustic guitar. The band was crowded to the front of the stage by the headliner's instruments, mysteriously shrouded in black, but it was clear that a large part of the audience was familiar with them and the band enjoys a strong following.
During the set, Zuva's original compositions stood head and shoulder with a medley of Mana songs and an Enanitos Verdes cover. The audience gleefully sang along, and the band worked their national spirit into an appreciative room. Bassist Angel Leon kept an aggressive rumble in check, barely, and David Quintero spiced things up with tasteful riffing on guitar; it's indie rock, and it doesn't have to be in English. Drummer Angel Guerra was a treat to watch, whip-sharp and dynamic, cracking out snare and single-tom fills without breaking a sweat.
After Zuva's set, the instrument covers were ceremoniously removed and folded in anticipation of Los Amigos Invisibles. The Caracas six-piece has been honing its craft for going on twenty years now, and even if you don't recognize their name, chances are you've heard at least parts of their infectious Latin disco style on the odd commercial or soundtrack. Initially a cultural backlash against the Anglification of Venezuelan music, the band has become a badge of Venezuelan pride, garnering Grammies and world tours.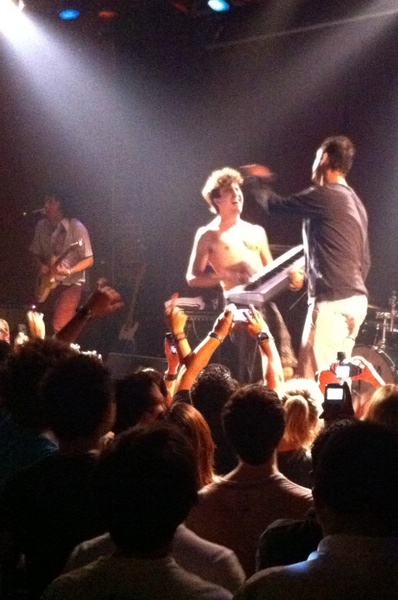 As the band took the stage, it was difficult to reconcile the bubbling thrum of their music with the dudes lining up behind their instruments. Guitarist José Luis Pardo ("Cheo") sported an unruly explosion of hair, and keyboard player Armando Figueredo ("Odnam") started out the night with a sailor shirt straight outta the Eighties. Vocalist Julio Briceño ("Chulius"), with a plaid button-up and drummer Juan Manuel Roura ("Mamel"), with a shaved head, looked like they could have basically wandered in off the Orlando street. Bassist José Rafael Torres ("Catire"), with a shaggy blond haircut and shaggier facial scraggle, could have doubled as the bassist for Drive Shaft. Only percussionist Mauricio Arcas ("Maurimix") would have been asked for his papers in Arizona.
But all of this didn't matter once the band kicked in. Holding an intense disco beat on the kit non stop for most of the night, Mamel decisively kicked things off and the band quickly organized. Catire stood wide-legged for most of the night, bass slung as low as possible. On the congas, Maurimix danced around Mamel's incessant hi-hat. As the rhythm section fell in line, Cheo began striking off high chords from his Strat like a brave chipping a flint spear point. Cheo's staccato bursts of sound were often counterpoint to the riffs Odnam scribbled off his keys. At the prow, Chulius radiated magnetism, exhorting the crowd to join the gozadera.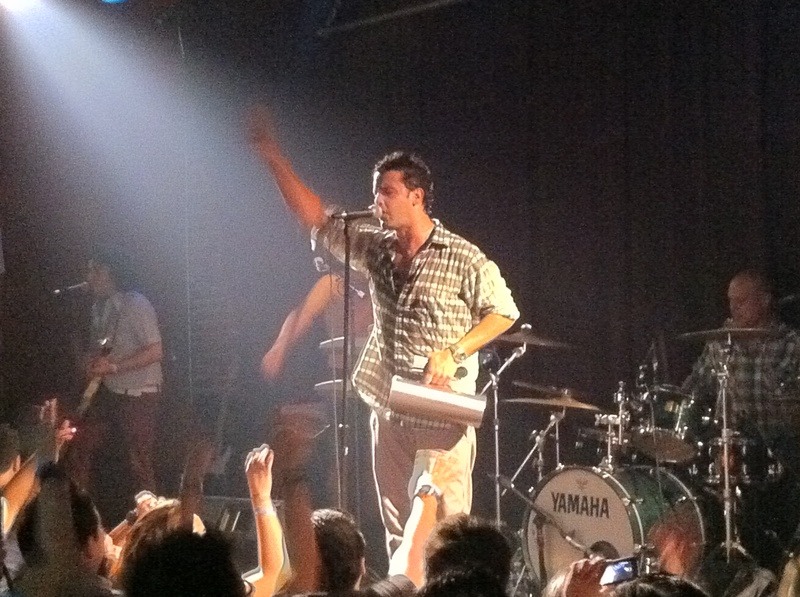 I can't say for sure how long the band played for. An hour and a half? It's really quite a blur. The music paused only a couple of times during the set, as Mamel joined Maurimix in the percussion corner and then went back to his kit. Other than that, it was as if some sort of band DJ were at work, seamlessly blending the beats from one hit to another, never letting the commanding march of bass drum and snare stumble or the sizzle of the hi-hats douse. In-between songs, and sometimes in the middle of songs, the band was eager to sprinkle in bits of Eighties hits – "Eye of the Tiger," "The Final Countdown," "Bring on the Night" – without pausing for breath. Cheo waggled his guitar incongruously with the flawless cascades of notes ringing out. Odnam picked up his cheapo controller in one arm to step up to the front and caress the keys in full visibility. Through it all, Chulius kept up eye contact with each and every concert-goer in attendance and rotated through a variety of hand percussion.
The band boogied through the night, playing about every single song I wanted to hear. "Mujer Policia," "Esto Es Lo Que Hay," "Que Rico," "Mentiras", "Cuchi-Cuchi," "Ponerte En Cuatro," and so on. For the obligatory encore, a medley of "Disco Anal" and "El Barro" (!!!) was presented. If there had been room to dance, there would have been no choice. The set list spooled by like silken thread, the minutes sliding one from the other in an unnoticeable glide. There's a certain amount of song counting that goes on whether I'm enjoying a concert or not – either dreading or craving the ending, and wanting to know just how much more of this is left. There was no counting that could done tonight, and at the end I could only wonder where the time went, and whether more of it would kill me. Otra vez!
Los Amigos Invisibles: http://www.amigosinvisibles.com • Zuva: http://www.facebook.com/zuvastage ◼
---