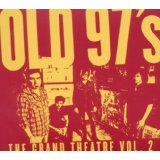 Old 97's
The Grand Theatre Vol. Two
New West Records
When I reviewed The Grand Theatre Vol. One for Ink 19 last year, I said the band sounded like they had hit their second wind, with plenty of creative detours alongside the sounds that will be immediately familiar to longtime fans – Rhett Miller's wild-eyed vocals and smart guy lyrics, Ken Bethea's twang-surf Telecaster, bassist Murry Hammond's smooth backing vocals and Philip Peeples galloping drums. Unfortunately, Volume Two, which was recorded during the same sessions, doesn't quite measure up to its predecessor (or for that matter to the rest of the band's brilliant catalog) and several of the tunes here sound like they could have easily been left on the proverbial cutting room floor and the world would not have suffered too much. And rather than sounding like a band hitting a second wind of creativity, Old 97's sound stuck between what fans expect them to be and perhaps what they'd like to become. One is ultimately left with the impression that if they'd been willing to take a few more chances, they might have come up with a more rewarding disc.
The problem is that familiarity is starting to breed contempt, at least as far as this listener is concerned. Openers "Brown Haired Daughter" and "I'm a Trainwreck" have all the trappings of standard Old 97's fare, but frankly they're both a little dull. "Perfume," while being the album's early melodic highlight, sounds like a half dozen other Old 97's songs. With the possible exception of the tinkling piano in the background, it's simply nothing new.
The album hits its nadir with "The Actor," which sounds like it was still being written on the fly, if the opening studio banter about working out the proper key is to be believed. Miller seems to still be searching for the key with his voice breaking and cracking and shouting and not really carrying any sense of melody. This is the point at which you'll realize his wild-eyed shtick is becoming tiresome and he's not really even trying anymore.
Fortunately, Miller follows that with "No Simple Machine," an album highlight that nearly restores your faith in his abilities as a songwriter. It's a song that takes off from the age old lament that girls will choose the asshole over the nice guy every time. Miller manages to make claims as to his own romantic credentials, while at the same time praising the woman in question as "no simple machine."
Hammond takes the mic on the yodel-punctuated rollicking Irish sea chanty "White Port." While not necessarily worth more than a handful of listens, the song at least sounds like the band was having fun in the studio.
Bethea gets his own showcase on the record's next two tracks. His twangy guitar work is a highlight of "Ivy," bringing life to an otherwise dull melody sung by Miller. And Bethea's brief instrumental "Marquita" manages to be both galloping and pile driving.
Unfortunately Miller is back for more off-key, wild-eyed vocalizing and flailing on the Bo Diddley-style "Bright Spark (See What I Mean)," which comes off as underwritten by half.
Volume Two manages to finish strong. "Visiting Hours" starts as a shabby throwaway but gains momentum with a decent chorus. "Happy hour is almost over / Hope I can walk on my own power," Miller sings.
Based around a distorted, nagging little Bethea guitar riff "You Call It Rain" demonstrates the kind of tunesmithing we've come to expect from the band and really takes off during a killer bridge section.
Miller's strong melody and controlled singing combine with Bethea's colorful guitar textures on "Manhattan (I'm Done)." Then Hammond again takes the mic to close the record with a sunny dose of '70s singer-songwriter-style pop brilliance that almost makes up for the shortcomings that have preceded it.
There are plenty of creatively written and arranged tunes on Volumes 1 and 2 with which Old 97's could chart a new course as a band. But it remains to be seen whether they have the courage to fully commit or whether they're content to simply become a caricature of themselves. At any rate, it may be time for them to go away for awhile and make up their minds who they want to be.
Old 97's: http://www.old97s.com
---