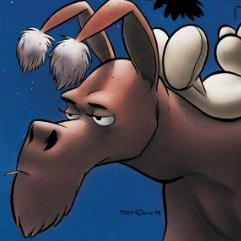 Modern Masters Volume 25: Jeff Smith
by Eric Nolen-Weathington
TwoMorrows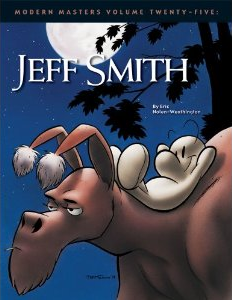 Most of my generation discovered the art world through the Sunday funnies. Two or three full sheets of paper covered by amazing and surreal drawings brought Dick Tracy and Steve Canyon and Charlie Brown into our lives. The colors were full and saturated and filled with chromium and lead. The drawings were intricate and gorgeous, and the whole thing was regarded as a disposable amusement for the kids while Dad read about football and Mom clipped recipes. By the time Jeff Smith came on the scene, newspaper comics had begun their decline; panels became postage stamps, and the artwork became coarse. But there were still genius strips, and Smith caught the tail end of those glory days.
Like all good cartoonists, Smith has sketched obsessively since he was 10. In this thorough and engaging interview, the TwoMorrows crew chats with him about growing up, learning the trade, and even getting paid. No detail is too small to discuss, down to fonts and lettering methods and how he composes panels and stories and characters. Smith may be one of the most successful indie cartoonists alive; he's garnered a stack of awards and a huge fanbase, and he's even pulled a stint at DC working on a Captain Marvel title and done animation for White Castle hamburgers.
The Modern Masters series is one of my favorites. The interviews are thoughtful and well researched, and when specific panels or other artists are mentioned, that art appears immediately adjacent to the text. Thus, your visual brain cells can integrate what your text brain cells are hearing. Early sketches and high-quality, full-page, color frames are included, and each one of these books can get you up to speed on an artist quickly. Maybe you'll fall in love, maybe you'll pass on, but at least you'll know what you're arguing about at Comic-Con.
TwoMorrows Publishing: http://www.twomorrows.com
---