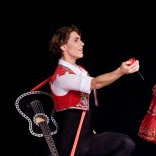 Don Quixote
Enzian Theatre, Maitland FL • September 3, 2011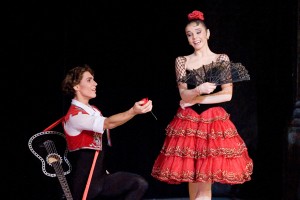 Mention Don Quixote, and most people conjure up a delusional old man tilting at windmills. Mention Russia and most people will recall the Bolshoi, one of the few pre-revolutionary arts to flourish under the boot heel of communism. Combine the two, and it's a spectacle few of us will witness were it not for the magic of hi-def television.
Yes, this is a movie about dance, and while it's rather long (2:45), there are two intermissions and if you really, really can't take the jete, there are graceful exit points. Plot-wise, little more than a title and an iconic scene make the stage so you'll still need to read Cliffs Notes to get the essence of Cervantes' fictional anti-hero. Here Don Quixote (Alexei Loparevich) and his buffoonish page Sancho Panza (Alexander Petukhov) set out to do knightly deeds, whatever that may mean. Panza would just as soon visit the tavern, and they find one filled with dancers in Barcelona. Here, Kitri (Natalia Osipova) is in love with penniless barber Basilio (Ivan Vasiliev). Her father wants a better groom, a death is faked, Quixote forces the marriage, and we still have one and a half acts to fill. Act Two feels more scatter-shot, after the marriage we get a gypsy dance, a dream sequence full of dryads and wood nymphs, and Don Q going for a ride on the windmill. In Act Three, the action moves to the Duke's palaces. No idea what he's duke of, but it's a good excuse for everyone to watch Vasiliev and Osipova perform two magnificent Pas De Deux numbers, along with exciting solo dances by all the other principles.
Even with my limited experience with ballet (I've seen Nutcracker, Nutcracker, and then I was dragged to another Nutcracker), this is the crème of the litter. Vasiliev looks like he's breakdancing in midair, Osipova appears to freeze time in mid-leap, and any of the "lesser" supporting dancers (Olga Kishnyova, Victoria Osipova, Andrei Merkuriev) would bring down the house anywhere else. Quixote and Panza don't really dance; they mostly make gracious moves and act as a flimsy framing device, and flocks of spear carriers litter the background, each acting just busy enough to be plausible, but never to distract from the dancers.
The film has the quality of any typical Enzian film, although it appeared a bit washed out. A little technical sweetening to make this look more Technicolor would have been completely appropriate although it is hard to get really saturated reds with digital projection. There were a few digital glitches as well – sometimes the sound slipped a bit and in the third act there were some drop outs. That seems to be a problem with all digital movies in general; they often have these flaws late in a showing. But these are nits. Besides the dancing, there's about half of a symphony orchestra crammed into the Bolshoi's pit, and the sets are as over the top as befits a ballet of this caliber. It's truly Spectacle! Spectacle! and with dance, there are never any translation problems. If all you've ever seen is someone's grandkid struggle as a sugar plum fairy, please know that there are much, much better performances out there.
Emerging Pictures: http://www.emergingpictures.com • Enzian: http://www.enzian.org ◼
---