Capitol Steps
The Plaza 'Live' Theatre, Orlando, FL • November 10, 2011
Carl F Gauze
Ever wonder what happened to President Merkin Muffley in Doctor Strangelove? He's playing keys for this slick and silly set of Capitol Hill staffers who have a better sense of humor than any third-world dictator ever had. If anything preserves what few liberties we still possess, it's the right to mock and satirize our fearless leaders and all those capitalist lapdogs we elect every election cycle, and you get a solid two hours worth tonight.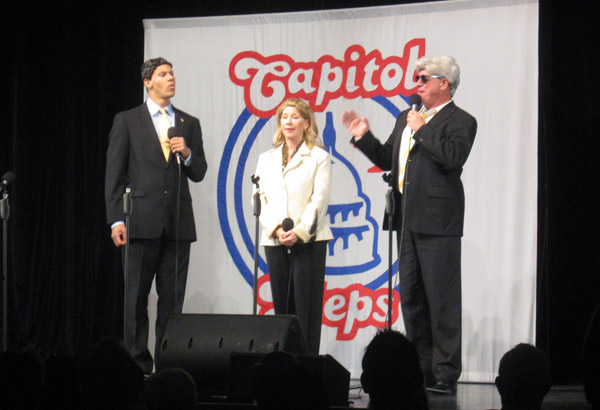 Now, there are two-dozen little characters on the Capitol Steps cast list, but only six of them appeared on stage tonight, and I'm just generally confused as to who is who so I'll just admit I don't have any idea who was up there, other than they were Herman Cain and George Bush and Michelle Bachman in my mind's eye. Their set is minimal, a large white canvas with their logo allows the cast to sneak backstage and change costumes, and I give them points for very smooth and slick transitions between gag sets.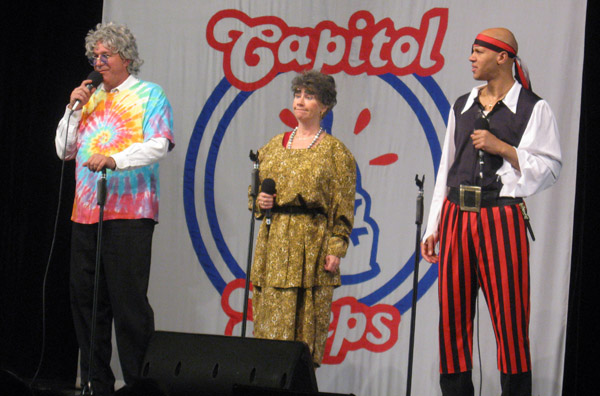 Capitol Steps bases its humor on current events and the political inanities of our elected and wishing to be elected leaders. When disaster strikes, either from God above or congress below, the first question they ask is "what does that rhyme with?" While they offer some material that counts as standup, most of the big yucks come from parody songs like "A Bush Clone Cowboy" and "Love Cain." Behind this comic musicality, there's the fair and balanced element; they make fun of both sides, including the lunatic fringe that seems to dominate any sort of common debate.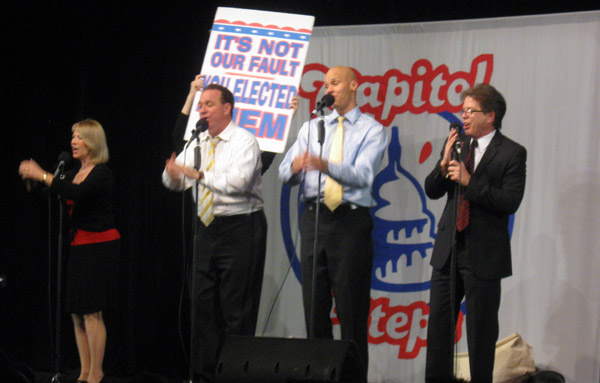 I could point to the Palin-Bachman duet, the Bill and Hillary tag-team match, the Kim Il Jong the Umpteenth cameo, but the dynamic center of the show was the Lirty Dies segment. It's spoonerism, and gives us the chance to debate the Pea-tardy and the Cremodats and the Pee-rublicans. Vote for whom you will, these guys will skewer him or her and leave you laughing at your own bumper stickers. And best of all: they say "Weiner." Over, and over, and over.
THIS is what we send our young men and women off to die for: our right to laugh at the rich and powerful.
The Plaza 'Live' Theatre: http://www.plazaliveorlando.com •Capitol Steps: http://www.capsteps.com ◼
---