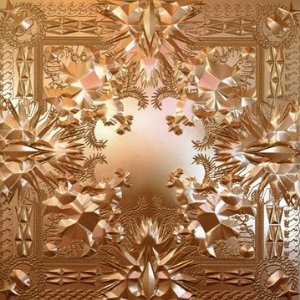 Jay-Z & Kanye West
Watch the Throne
Roc-A-Fella
Back in July when hip-hop kingpins Jay-Z and Kanye West confirmed that they were going to be releasing a joint album, the proceeding buzz among music fans was substantial enough to almost hear it around you as you walked down the street. Posters plastered on the walls of derelict buildings warning passers-by to "Watch the Throne" and the fact that the duo planned to tour under a similarly epic and royal-themed moniker (The Throne) were ostentatious and characteristically badass enough to make pretty much everyone take notice.
At the album's inception it was already a monumental thing, and everyone was wondering how anything created by man could live up to the hype that is automatically generated when you put names like Hova's and West's next to each other. Fortunately, their combined asses have the capital to cash any checks that their mouths might write, and they both have the swagger and experience in the game to carry the burden of making yet another classic rap album and making it look like kid's stuff.
Lyrically, the record emphasizes the opulence and decadence that have become their day-to-day lives. In the album's first half, tracks with names like "Rolex," "Maybach," and "Louis Vuitton" are stacked on top of each other with virtually no lapse between them, leaving little time for the guests at your next house party to catch their breath. Some tracks are individually distinguishable only by tight, distinctive production from the likes of the Neptunes, Swizz Beatz, Q-Tip, RZA, and of course our host Yeezy. Such diversity in the creative forces behind the scenes makes for constantly shifting, but always enthralling, bust-your-skull-open beats. Everyone from James Brown to Flux Pavilion is sampled, and the results are some of the most effectively heterogeneous tracks to ever come from a mainstream hip-hop album. "Who Gon Stop Me" is dubstep. "Otis" is almost entirely comprised of chopped and screwed grunts and wailings from Otis Redding's "Try a Little Tenderness." "Why I Love You" features the most anthemic music that either emcee has ever laid his voice to. R&B elements are thrown in from Beyoncé, Mr. Hudson, and promising newcomer Frank Ocean of Odd Future Wolf Gang Kill Them All fame. Instead of this production style resulting in something that feels disjointed, what the listener gets is music that draws inspiration from everywhere, something that West in particular has had success with in his career as a producer. Watch the Throne is rap that knows and respects where it has come from and knows where it's going: your iPod.
If I have a criticism, it's in the lyrics. There's so much nouveau-riche gangsterdom going on that there's little room for the tales of personal struggle and vulnerability that endeared Jay and West to listeners initially. There's an unabashed earnestness to them that's lacking here, and the sparse tracks that do touch on issues like race and inner city violence are overshadowed by the grandiose nature and scope of the album. Tracks like "New Day" and "Murder to Excellence" almost seem like they're in place simply to placate people (like me, I suppose) who would complain of a lack of "substance." Whatever that is. Watch the Throne is designed to fill arenas and get black people and white people on the same dance floor, which it has achieved in great capacity. And nobody's complaining about that.
Watch the Throne: http://watchthethrone.com
---