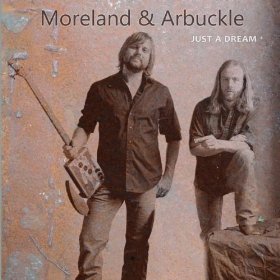 Moreland and Arbuckle
Just a Dream
Telarc
Ever since the Delta blues appeared a century ago, they have fascinated the more city-bred musician and provided fodder for countless musical acts. The duo of Moreland and Arbuckle is the next group to latch on, and they do it with skill and fervor and deliver the cathartic experience that we all seek. Moreland is the guitar guy, Arbuckle the vocalist and harp player, and you can see who ranks higher in this two-man pecking order.
With a hearty and down home sound, this duo plays what the Rolling Stones aimed at when they covered bluesmen's scratchy originals. We open with a hooting call from the cotton fields on "The Brown Bomber," and then plunge into the maelstrom of chords and riffs that make up Moreland and Arbuckle's sound. From fights to the great hereafter they drive with a mountainous sound, drums are added from a guy named Brad Horner, and on some of these songs Moreland reverts to an old fashioned cigar box guitar. Points on style; after all, Mr. Turner didn't get to shop at Sam Ash.
Toss out blues adjectives – blistering, smoking, screaming, they all apply – and the collection of songs here feels like a concert driven by cheap beers and cheaper women. A few covers creep in, and why not? No one band has the monopoly on the blues: Tom Waits's "Heartattack and Vine" and George Jones's "White Lightin'" appear, with the legendary Steve Cropper dropping by on the latter track. The most unusual track is "Gypsy Violin," a partly spoken-word piece detailing how a small boy and a small violin became one of those musicians you see hanging out at the crossroads, waiting to pick the pockets of Lucifer himself. While the big names of Country are out selling sports arenas full of tickets, there are plenty of rising groups that offer a fresh take on an old style, and make you want to check out the originals. It's all good.
Moreland and Arbuckle: http://www.morelandandarbuckle.com • Concord Group: http://www.concordgroup.com
---