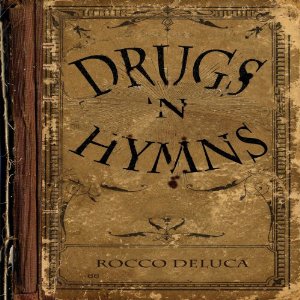 Rocco Deluca
Drugs 'n Hymns
429 Records
Rocco Deluca gained a lot of mainstream notoriety back in 2009 off his critically acclaimed album Mercy. Actor Kiefer Sutherland was championing Deluca and his band The Burden as the next big thing. Others were on board too, including VH1, which spotlighted Deluca and the Burden as a "You Oughtta Know" artist. Now, Deluca has left behind The Burden and taken a distinctly lo-key turn on his follow-up Drugs 'n Hymns. With nothing more than his voice and his patented Dobro, Deluca makes an intensely intimate rootsy-blues-folk affair that is deeply personal.
"Amen" is a gospel-fueled gem with Deluca emoting something that is incomprehensible, but obviously sitting firmly on his soul, yearning to get out. This leads directly into another gospel-esque stomper, "Pray On."
Before you start thinking that this is a religious album, think again. It's more about the yin and yang of life. As his press release says: Rocco's love of contradiction is ever present… salvation and sin, the cerebral and the bestial, light and shade. The shade is present in tracks like the eerie instrumental "They Stride Like Gods," where the only vocal is a constant chanting hum leading to the devilish bluegrass-infused "Snake Oil Salesman."
Drugs 'n Hymns is a stripped-down beauty of an album. Although I could use a lyric sheet to figure out what he's singing for the most part, Deluca reels you in with his blues-meets-folk guitar and vocals that are like a more rugged Bon Iver. Deluca may not get more mainstream attention, but this is an album that blues-folk-roots-Americana fans cannot miss.
Rocco Deluca: http://www.roccodeluca.com
---