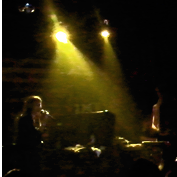 Grimes
with Born Gold and Michael Parallax
Backbooth, Orlando, FL • March 7, 2012
Eric Donath
Backbooth filled up in no time for the Orange You Glad Fest pre-party. A short line made for quick passage into the venue, where the room was full of teens and 'tweens eager to catch the night's electric electronic lineup. The all-ages show featured Montreal's Grimes, a young producer and vocalist with a pop-synth style that borrows from countless influences while remaining uniquely her own. Supporting Grimes were fellow Canadians Born Gold and the much more local Michael Parallax of Gainesville, FL.
The small venue was crowded before the show started, and concert goers tried to stake their claims to floor space early on. A projector looped ink-blot echoes of Snoop Dogg playing video games while everyone waited. Being an all-ages show, there was no trouble getting to the bar, but as the night progressed, wandering around the venue became a foot-stepping experience. Michael Parallax made his way to the keyboards and drum machines set up in front of the stage, and a crew of eager groupies cheered him on.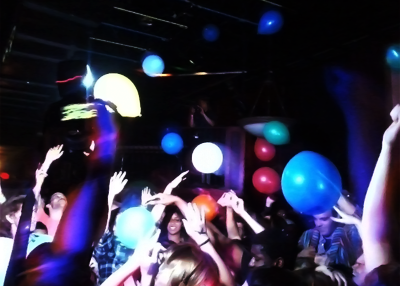 You know that guy who parties so hard he always takes his clothes off? I feel like that could be Michael Parallax. His show-boat included leading the audience in a sing-along and projecting the cheesiest video imagery to accompany his songs. (I mean that in a good way, actually, but there's no way to deny the cheese.) He had his friends throw glitter confetti, balloons, and long stretches of iridescent material into the audience. He sang and played the keyboard and various audio controllers. He got the crowd down low, lifted them up, and asked everyone to send his sister good vibes for her birthday. He stripped off his first outfit to reveal what looked like an altar-boy robe, then stripped that off to sport a b-ball jersey, and by the end of his set he was shirtless and in boxers. He played originals and covers, and while the sound engineering/mixing was poor, the vibe was super fun, so it didn't much matter.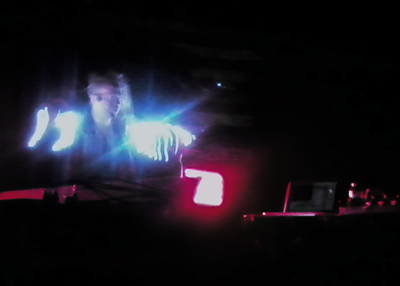 Born Gold, the brain child of Canadian Cecil Frena, came on next. Unlike Parallax, who introduced songs and conversed with (or instructed) the audience, Born Gold skipped the banter. The group played a luscious set of dark-synth-meets-8-bit thump, with Frena towards the back of the stage and his bandmates on either side. They looked like they were from some alternate future imagined in a computer room of the 1950s, and their sound matched that perfectly. It was an excellent set, blending retro sounds with a modern dance-rock appeal and swimming vocals. I had never heard of them, and I was immediately impressed.
Beyond the music, Born Gold was just as much fun to watch as Parallax. One member played a snow shovel equipped with what looked to be a drum machine/nuclear detonator on the scoop. They draped the crowd from the stage to the bleachers with a black satin sheet, and a little later the percussionists took turns drumming each other on the head – one wearing a skateboarding helmet and the other a hockey mask. Frena's black and light-up suit was a pulsing centerpiece; according to one concert-goer, "the lead singer and all of his lights reminded me of Iron Man, and I really like Iron Man, so I was diggin' it."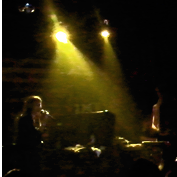 Grimes took the stage after another short break and did some sound and equipment checks. She explained this on the mic in her airy, unassuming voice, and the crowd waited on her with fixed, eager eyes. Born Gold joined her for most of the mesmerizing and minimalist performance. The relatively short set included the well-known "Vanessa," (from her previous album Darkbloom) "Oblivion," and "Be a Body" (both from her recent album Visions), among others.
Gearing up for my first time seeing Grimes, I had checked out some recordings of her previous shows. I was curious to see how she sounded live, not only compared to her studio work, but how her live sets compared to one another as well. One thing I find remarkable is the extremely consistent, tight, lifted vocals – not just how well she sings, but how well her singing sounds live. Her voice is much smaller than booming pop stars like Aguilara or Adele, but the way her singing shines among the layers of harmonizing synths really caught my attention. Few songwriters also excel at production and engineering, and Grimes isn't even a classically trained musician. Her performance really showcased her diverse creative talents: singer, songwriter, and studio wizard.
After her last song, the dense crowd lingered, cheered, and lingered some more, hoping there was more to the show. In the same unimposing fashion as she started, she consoled the crowd when she didn't have any more music to share, almost sheepishly explaining why, while humbly accepting the crowd's warm cheers before leaving the stage for good.
Grimes: http://www.grimesmusic.com • Born Gold: http://borngold.us &bullet Michael Parallax: http://michael-parallax.bandcamp.com ◼
---