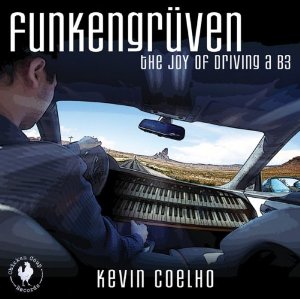 Kevin Coelho
Funkengruven: The Joy of Driving a B3
Chicken Coup Records / Tony Monico Productions / Columbus Sound
Dang, this kid is GOOD! And so is the sound of the vintage Hammond B3 organ, the stock keyboard instrument for stadium rockers in the '60s and '70s. It features a distinctive sound based on a somewhat compromised electro-mechanical scheme to replace complicated pipe organs with spinning metal disks, and once you hear one, you'll recognize it in a heartbeat.
Sixteen-year-old Kevin Coelo is a bit of a prodigy on the instrument. He's mastered the jazz, gospel, and rock sounds and while he sometimes sounds a bit like a classic airport hotel bar, he boasts skills that most other musicians take decades to acquire. Opener "Funkengruven" is a floppy-eared romp through easy listening jazz. It's got enough melody and chord structure to sound a bit pop, and enough dissonance and unexpected changes to please the hardcore jazz fan. Herbie Hancock's "Cantaloupe Island" feels similar, but after a while we bump into Otis Redding hanging out on the waterfront. It takes a few bars to "get" what Coelho is doing, but once you are in the groove, you'll agree "Dock of the Bay" is a completely cool rearrangement of a classic blues-pop tune.
Coelho's skill isn't just in hitting the right ivory. He brings a fresh view to arranging and composing and takes the B3 where few have gone before. The only problem with this record is that it straddles genres; it's not exactly in any one easy-to-market music segment. I would recommend this to jazz, blues, and sacred musicians with equal ease, and anyone looking to take classic rock and repurpose it to a new generation can get some tricks here. Now, if you're good enough to PLAY them, then you might be on to something as big as Mr. Coelho.
Kevin Coelho: http://chickencouprecords.com • http://summitrecords.com • http://b3monaco.com
---