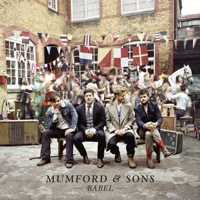 Mumford and Sons
Babel
Glassnote
When Mumford and Sons lead singer Marcus Mumford started spitting out the lyrics of the title track of the band's new album Babel, I knew that I would love this album. He projects himself as the James Hetfield of alt-country, and then, just as suddenly, he quiets down to a Dave Matthews-esque whisper. It's intoxicating.
The first single, "I Will Wait" has a slight "Feel Like Making Love" feel to it, but with a strong hint of "Little Lion Man," the single that threw Mumford & Sons into the spotlight.
"Reminder" proves that Mumford can be sentimental as it is just him singing over his guitar with the intimacy of Glen Hansard. Then his guitar strings and voice get absolutely shredded on the incredibly percussive "Hopeless Wanderer."
Mumford & Sons does keep coming back to the formula that has made them famous: Loud, percussive strings (guitars, banjo, etc.), a slow build to a magnanimous crescendo that could fill Wembley Stadium, led by Mumford's booming accented voice. It is this formula that makes tracks like "Broken Crown" and "Lovers' Eyes" instant classics.
These guys are like nothing that has ever been done before. They pull you in with their harmonies that are intensely beautiful. The music swells and enraptures you until you cannot get away. Then the song ends and you are left begging for more. Mumford & Sons are fantastic and Babel is just another piece of a soon-to-be Hall of Fame career.
Mumford and Sons: http://mumfordandsons.com
---