Peanut
by Ayun Halliday and Paul Hoppe
Schwartz & Wade Books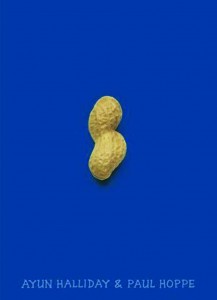 Ayun Halliday's first graphic novel is a trip through the dirty insides of Sadie, a regular ol' kid who happens to have a devastating – and completely fabricated – peanut allergy. This dangerous affliction makes her immediately interesting at her new high school, landing her a best friend, a boyfriend, and a mean-girl group of haters, but when she doesn't die after eating what might be a peanut-laden chocolate zucchini muffin, she's exposed as a fraud.
Sadie may seem like a little jerk, and I won't tell you how her story plays out, but in fact her biggest offense is being terribly, terribly normal. Normalcy is boring, but be careful how you go about differentiating yourself. As you may remember from your own brush with tenth grade, being different can either make you popular or earn you daily swirlies unless you also sport the perfect storm of clear skin, feathered hair, and Dittos. When you're 15, unless you're the prom queen or the new kid from Bolivia (who is secretly terrified that his English will draw attention – little does he know… ), you need a schtick – and even then it's a tightrope walk through those scary halls.
What's lovely about Peanut is its representation of the characters as very real people and the situations as absolutely believable. I took a little time travel back to 1981 and found modern high school completely unchanged, so I had no trouble identifying with the slightly dorky kid forced to navigate the pressures of a hometown best friend who's drifting toward a different set of values, a boyfriend who is way too nice to keep deceiving (and who, interestingly, has his own, intrinsic way to stand out), and a good old mom who doesn't understand why Sadie won't bring her new friends over for dinner.
Hoppe's light illustrations complement the realistic teen dialogue, and the man has a danged firm handle on perspective – look at that cafeteria! Those lockers, for crying out loud, I can feel them not opening! I was a bit distracted by their dissimilarity to Ayun's own East Village Inky style drawings, but don't let my expectations make your belly hurt.
Peanut: http://ayunhalliday.com/peanut
---