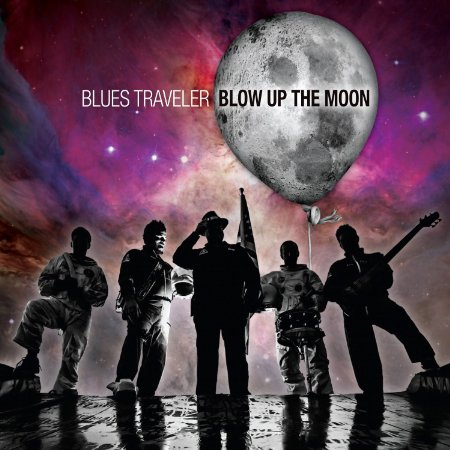 Blues Traveler
Blow Up the Moon
Loud & Proud Records
Harmonicas are always so sad sounding; I think that's because we all associate them with busted blues player in prison cells. But New Jersey's Blues Traveler has brought the mouth harp back to happy land and it's the theme on their latest release.
This album is their first collaborative effort, a dozen fellow pop stars either write, play or record with them. The title track features a mild calypso rhythm as is sings about explosives and love and involves 3OH!3 & JC Chasez from *NSYNC. It's pure pop fun, suitable for a night at the roller rink or just singing it a capella while waiting at a stop light. "Castaway" introduces the Dirty Heads and their ska-punk sound, it's got a rasta beat sound and a "White Dudes from OC" reality. Bowling For Soup joins in on "Right Here Waiting for You," this one rocks like its 1988 and takes a positive approach to a missing girl friend and an IKEA bed. Upbeat and full of hooky goodness the results for the waiting man might be sadly disappointing or they may be loud and squeaky with a cheap Allen wrench left as a souvenir.
Lots of bands here on this fascinating project: Plain White T's, Thompson Square and Jewel are some of the voices in this mix; they help but never steal Blues Traveler's style. It's collaborative music without the sappy introductions.
---