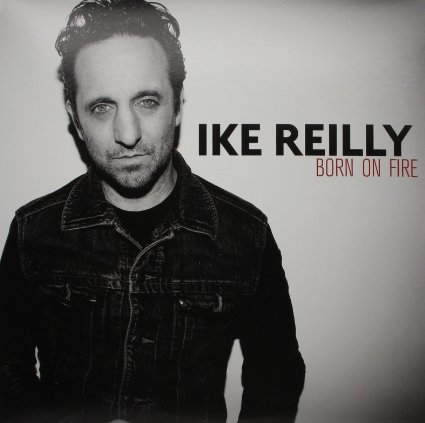 Ike Reilly
Born On Fire
Take the sample of the blues from any decade beginning in the Nineteen-Aughts all the way to the next century and you'll hear a thread of channeled anger and hopeful depression presented in a rough compositional style aiming at emotion rather than polish. Ike Reilly stands tall in that line of blues men from John Lee Hooker to Mic Jagger to whomevers music I'll fall in love with next month. Born on Fire is filed with clear and soulful baby fist shaking against an unfeeling world.
The title track advises "Take your flames to the street!" and that's really the only requirement here; while Reilly has plenty of musical skills his strength lies in lyrics and soul. "Job Like That" gets to the heart of all economic jealousy: others have better jobs and better looking women and where the hell do I get mine? But there's hope; in "Underneath the Moon" he promises he can do better but this is the blues and people don't get better here, they just get drunker and land in jail. Reilly helps you feel so lonely you'll never imaging you're special; if you were you wouldn't need this style of self-examination and self-torture.
Reilly can rock out when he wants: "Do the Death Slide!" takes us to a wedding from hell and then we leap onto the misery of "Two Weeks-a-Work, One Night-a-Love". Now the lonely is so intense he's drifting into the world of cardboard signs at the off ramp. Reilly is a top shelf singer and songwriter and he's got back up from The E Street Band and Rage Against the Machine. Good stuff, it goes well with a big bottle of bottom-shelf scotch.
---