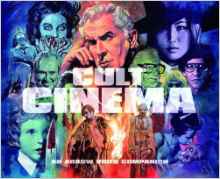 Cult Cinema: An Arrow Video Companion
Edited by Anthony Nield
Arrow Films
This is a book for those of us that watch WAY too many horror movies. And too many Blaxploitation, Roger Corman, Zombie, Italian Gallia, Women in Prison, Chuck Norris, David Cronenberg, Samurai, or Japanese mobster films. In other words; this is the book you need if you buy anything from Arrow Films or any of their esteemed competitors. In the past low budget films came and went and if you missed them; too bad but here's another. But with the internet everywhere and widespread video digitization, all of their cinematic cockroaches have come out into the light, drawing scholarly attention, nostalgic baby boomers and highly entertaining reissues complete with a director tracks, cast interviews and a level of scholarly ruminations worthy of Jack Kerouac or a Medici. This little volumes (I only have a digital copy, how 2106 is THAT?) provides about two dozen essays on these films, neatly categorized by genre, stars, directors, and national origin. Not only are these very readable and endlessly entertaining, they point up details I never caught, connections I never made, and filled me a desire to actually see quite a few I missed: Fall of the house of Usher, Dressed to Kill and Vidoedrome all slipped thought my fingers due to some lame excuse like final exams or filing taxes or visiting my psycho relatives. OK, they aren't ACTUALLY psychotic just as Boris Karloff was never REALLY a zombie, but they are THAT good.
Here are some highlights:
Tim Lucas opens the book with a historic and literary analysis of Roger Corman's masterpiece The fall of the House of Usher. We regard it as such today, but when it appeared it was a B-lister , but it is surprisingly fresh today, and Lucas explores both Vincent Price's performance and career as well as this film and the five other Poe pieces that put American International Pictures a step above their competitors.
Stephen Thrower takes on the Italian zombie movement with an analysis of Zombie Flesh Eaters. Despite the strong influence of the Catholic church in Italy, they produced a large number of both disturbing monster films as well as a strong run of stylistic thrillers with "Strong Sexual content" or as we now say: T & A. The analysis shows deep insight and is fully supported with facts and scene descriptions from other films, it would and did take most of a life time to see all these other citations.
Next we learn about Canuxploitation from Paul Corupe; for years Canada had a big tax break for film makers that succeeded in making tons of low budget sex, horror and monster movies. Eventually even the Canadians threw in the towel and pulled the tax break; none of these films would win an Oscar and most of them were, to the Canadian taxpayers, embarrassing. We LOVE that sort of embarrassment.
A biographical study of Hervé Villechaize, and analysis of Wisconsin Cannibal movies, quality time with Lloyd Kaufman of Troma and 249 pages more make this an in-depth yet eminently readable journey thought the seconds sub-basement of the movie industry. I've written a few looks at some of these films; while this book focuses on the Arrow release card it's a good guide for the neophyte and a pleasant look back for the addict. Excuse me, another envelope arrived today and I need to to see if I'll be watching blood, boobs or bombs tonight.
---