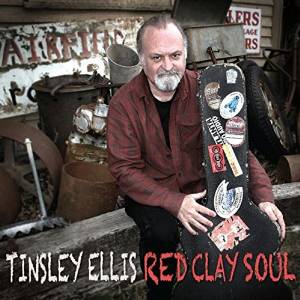 Tinsley Ellis
Red Clay Soul
Heartfixer Music
Georgia's own Tinsley Ellis is one of those solid, enduring artists who has consistently pumped out quality blues for 40 years. He has performed with everyone from Buddy Guy and Albert Collins to Otis Rush and The Allman Brothers Band, and the list goes on and on. Unlike many of today's musicians who can't quite place themselves into a genre and stick with it, Ellis knows EXACTLY what kind of musician he is, and he is a brilliant one at that.
The title of his latest release (on his own label), Red Clay Soul, is an homage to other Georgia-based artists, such as Ray Charles, James Brown, Otis Redding, Little Richard and The Allman Brothers Band. Ellis suggests that even though they represent varied genres, they all "have one thing in common. They all have the sound of Georgia and down here we call that sound red clay soul," the red clay being the very earth one finds on the banks of Georgia. Combining his seasoned songwriting skills, his gravelly R&B vocals reminiscent of Ray Charles and Al Green, and his understated yet masterful guitar work, Red Clay Soul serves up a ten-song collection of blues-infused gems peppered with a hint of R&B and jazz accents that flows so seamlessly, it's over before you even realize it. The very first play hooks you and reels you in to listen again and again, AND AGAIN.
The opening number, "All I Think About," a (half) tongue-in-cheek observation of the typical egocentric artist, sets the tone for this record steeped in reflective glimpses of life, love, loss and regret. And throughout, Ellis never ceases to WOW with killer guitar licks. "Givin' You Up" was co-written ten years ago with Oliver Wood of The Wood Brothers, and Wood shines on guitar and vocals. As Ellis states, "We decided to leave the long jam version on the album, and it's fun as hell." Fun indeed, with dueling lead guitars that echo the Duane Allman/Dickey Betts days. The bonus of Ellis on harp only enhances the sound.
"Callin'," which immediately recalls "Let's Stay Together" from Al Green, "Anything But Go" and "Don't Cut It" all highlight the ballad-driven, R&B side of Ellis. Conversely, "Circuit Rider" adds a more upbeat, rockin' vibe that evokes OId West images and features Kevin McKendree (who was also coproducer with Ellis and suggested recording live in the studio) on organs, pianos and guitar.
"Hungry Woman Blues" and "Party of One" are the real down and dirty blues tracks, the latter with a bit more jazz thrown into the mix. You can feel yourself transported to a dark, smoky nightclub listening to Ellis and his wickedly nasty chords.
"Estero Noche," with its smooth, Santana-esque Latin flair, is the perfect penultimate setup for the closer, the poignantly honest "The Bottle, The Book or The Gun," which chronicles the painful struggle of the down-and-out alcoholic who just can't seem to crawl back up to the surface.
You know that you've connected with an artist and his music when you love the record after the first listen, every song, every note, every word, and that was my reaction to Red Clay Soul. Ellis' uncanny ability to cut to the very core and essence of life and all its entanglements through his music with raw, emotional soul is a true gift to his fans, old and new.
---