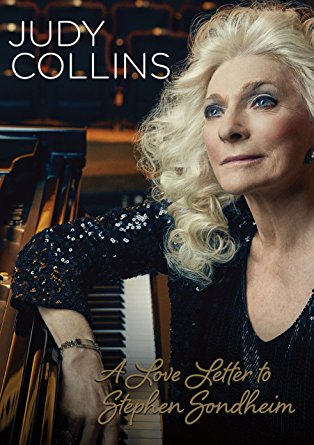 A Love Letter to Steven Sondheim
directed by Peter Lamoureux
starring Judy Collins
Wildflower Records, LLC; MVD Visual
Steven Sondheim is the 800 pound gorilla of the musical theatre world, and he's just not the easiest composer for the neophyte. True, his mantel piece is covered with Tonys and Emmys and Grammys and all those tchotchkes of fame in the trade, but his music is complex, confounding and nowhere near accessible as Webber or Lerner and Loewe. But it IS worth the effort; it's filled with complex chords, unexpected notes, and it grows on you with repeated listening.
A year ago singer Judy Collins sang these selections from the Sondheim song book in Denver's acoustically delightful Boettcher concert hall. This DVD captures that evening, and there real effort in making this sound as good as a seat in the front row. But there are a few cheats, not everything here is Sondheim. Collins opens with a crystalline "Chelsea Morning" (by Joni Mitchell) and mid concert she drops in a medley of John Denver tunes. This takes the edge off the main concert, but there's still plenty of Sondheim on this plate. "Assassins" gives us his strongest material even as it the most difficult show he's written. The song examines the story behind the dozen people who tried or succeeded in killing a president; here Collins tackles "The Gun Song" just to stretch herself. Easier tunes includes "Send in the Clowns" from A Little Night Music and "Green Finch and Linnet Bird" from Sweeney Todd. But there are some tunes I still struggle with; "I Remember Sky" and "Children and Art" come from the justifiable obscure Evening Primrose and 1985's quirky Sunday in the Park with George. As I said, this is a concert that takes some effort on the listener's part.
On the back side of the disc we find an excellent interview with Collins and well as a rehearsal session for "Beyond the Sky." Collins career began in the frothy hippy days of the '60s; she's still going strong and her voice is as clear as ever. This is a concert for the dedicated, the musical theater nerds, and the old fans from the days of yore. Turn off your personal electronics and settle in for a challenging concert.
---