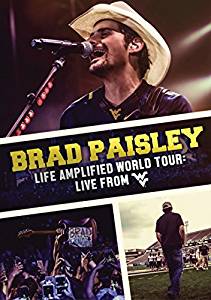 Brad Paisley – Life Amplified World Tour: Live From WVU
City Drive Films, MVD Visual
There might be a bigger country pop star than Brad Paisley, but it's not clear who that might be. He's cranking out the yee-haw hits, and for an old Nashville Sound guy like me, he's not bad despite his massive popularity. Today I'm looking at a combination CD / DVD; they are tied together a with a live TV concert on PBS. His CW cred is solid: born in West Virginia, sang at church, majored in music management and signed with EMI the week he graduated. He knows his stuff.
But more to the point, he can sing and pick with the best. The CD opens with a distinctly non-country "Also Sprach Zarathustra," but quickly we enter pay dirt with his mega hit "Crushing' It." It's a goodtime drinking tune; the beer cans are crushed on his forehead one at a time as is every objection from his date. It's very John Belushi. Next up is "American Saturday Night;" this tune sounds like a Jimmy Buffet track even though it's set in Morgan WV. In tone and demeanor, Paisley does sound a lot like classic Buffet. Their voices are close as their attitudes are both laid-back party time. The main difference is Paisley's parties are set in the mountains of WV, but the results is same in the morning: a hangover and a woman you might not be able to identify by name. It's not all fun and games, there's a great working class song: "Country Nation / Mountaineer" celebrates the steel and coal and farming yeoman that form the base of the country audience. It's not his most exciting tube but it does hit home. Lastly I'll mention "Take Me Home Country Roads", a John Denver classic that is the lowest energy but gave us the highest crowd sing-a-long involvement.
Now I don't know whether what I received for review is what you might find in the store, but the package I'm working from is a 13 track CD and a concert DVD with 20 tracks. It's a very modern concert; Paisley is out on a narrow thrust stage; he's signing boobs and souvenirs while his backing band is discreetly hiding up stage below three Jumbotrons. Paisley works a glittery guitar and a mike stand with a rapidly varying number of spare guitar picks. Like all good concert video, this is several nights' worth of work and the result is shiny clean sound at all times. Paisley is an exciting performer; his music is modern pop rock country, his vocals direct and he knows his audience. The Morgantown crowd responds with a fervor I'd be happy to join in with. Paisley flies light years ahead of the old Nashville sound and this is pure rock and roll done large.
---