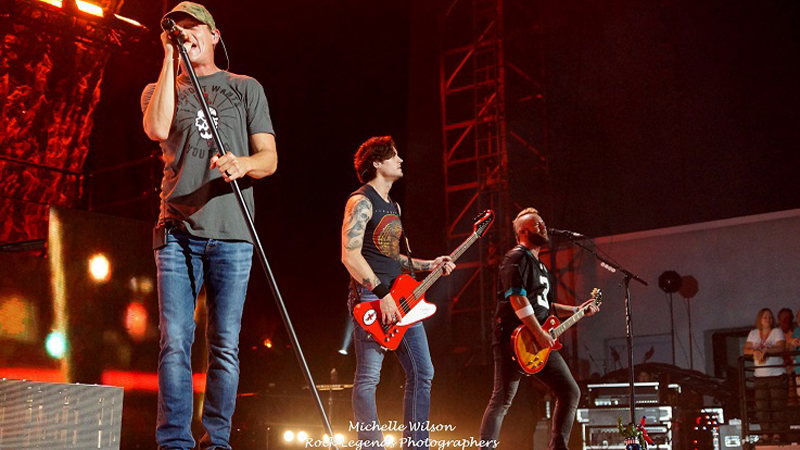 3 Doors Down and Collective Soul
with Soul Asylum
Daily's Place; Jacksonville, Florida • July 7, 2018
by Michelle Wilson
◼
The Rock & Roll Express Tour cruised into Jacksonville, Florida's Daily's Place and unloaded a triple bill featuring co-headliners 3 Doors Down and Collective Soul, with special guest Soul Asylum. The weather was ideal, the house was packed and the post-grunge, alternative rock bands that saw their rise in the 90s still had what it takes to keep the crowd rockin' all night long.
[[soulasylum_jul18_2]] [[soulasylum_jul18_3]]
With "Let's get ready to rumble!" blaring over the PA, members of Minnesota rockers, Soul Asylum, blasted onto the stage and ran back and forth as they settled into their quick appearance. Frontman and sole remaining founding member, Dave Pirner, still possesses just enough 90s angst to keep it interesting, replete with self-deprecating humor ("I'm sure you guys can't stand anymore of my smokin'-hot leads – that's why Ryan [Smith] does the smokin'-hot leads."), feigned guitar annihilation ("stepping" on his electric guitar and being handed a new acoustic one) and a wordless stage exit at the end of the brief 30-minute performance.
[[soulasylum_jul18_4]] [[soulasylum_jul18_5]]
Pirner's vocals were as strong as they were back in the day, and his guitar theatrics also remain just as entertaining. The band's brief but solid set consisted of "Shut Down" and "Misery," both off Let Your Dim Light Shine (1995), "Freaks" (While You Were Out, 1986), "Bus Named Desire" and "Whatcha Need," two cuts from Silver Lining (2006), and the chart-busting double-shot of "Runaway Train" and "Somebody To Shove" from their breakout album and the third in their catalog, Grave Dancer's Union (1992). The high energy vibes from Pirner, Smith, drummer Michael Bland and a fill-in touring bassist (regular bassist, Winston Roye, is about to kick off a Broadway run in Gettin' The Band Back Together) got the event off to a great start.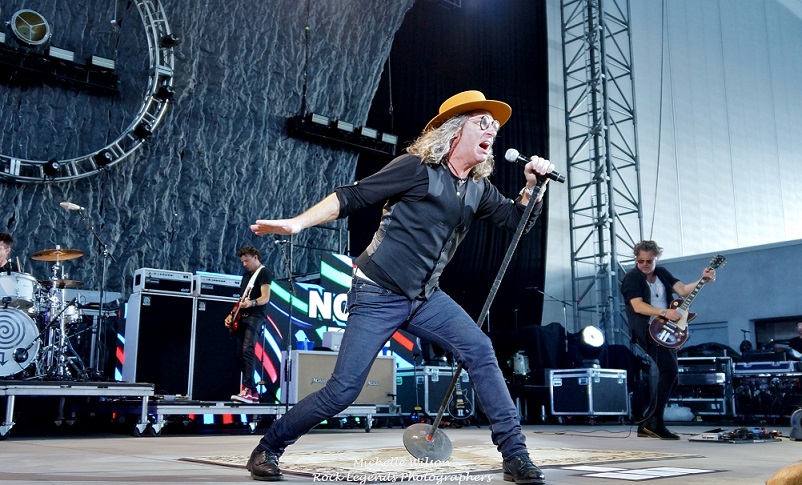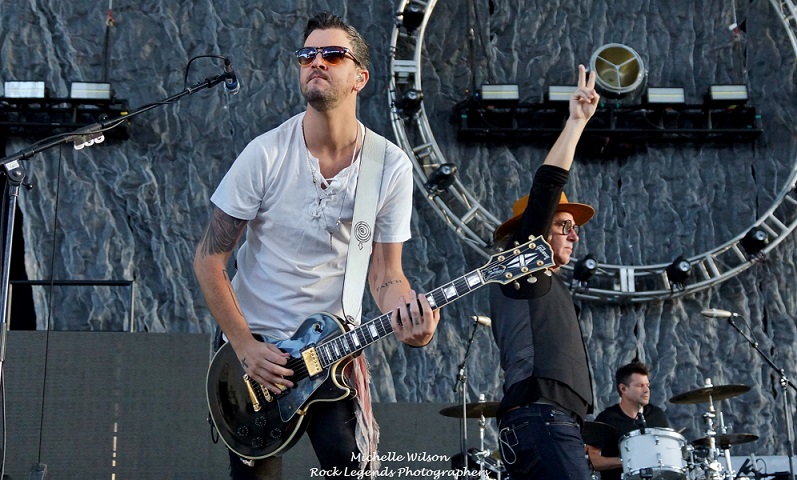 As the unexpected yet inspirational notes of "Climb Ev'ry Mountain" (Rogers and Hammerstein) from The Sound of Music became audible and elicited ripples of laughter throughout the audience, Collective Soul's five-piece ensemble took the stage at 7:50pm for the second slot of the night, a 75-minute delight. Original lead singer/guitarist/keyboardist/songwriter Ed Roland's wide-brimmed hat, round, funky glasses and shoulder-length gray hair immediately brought to mind the quirky visage of Chip Z'Nuff, frontman for rockers Enuff Z'Nuff. Along with Roland's brother, Dean Roland (guitar/keys) as well as bassist/backing vocalist Will Turpin, the three original members were joined by guitarist Jesse Triplett and drummer Johnny Rabb to round out the band. "We're from Atlanta, Georgia! How ya' doin', Jacksonville?" The ever-charismatic frontman had the crowd thoroughly engaged for the entire set, and it was so apparent that they genuinely still love performing even after all these years.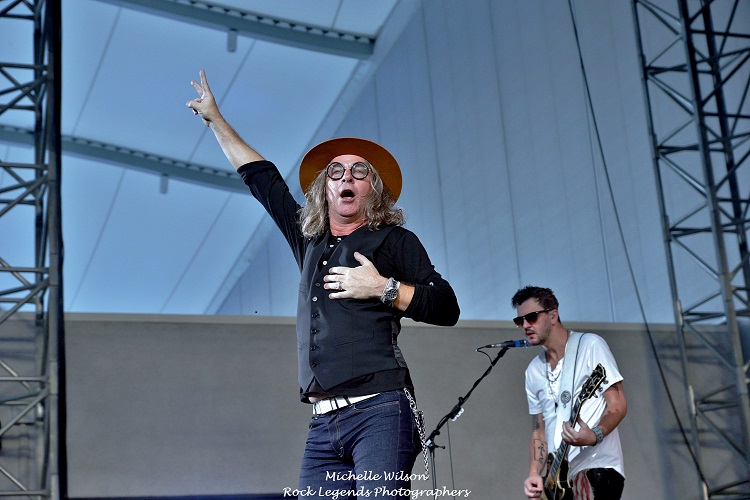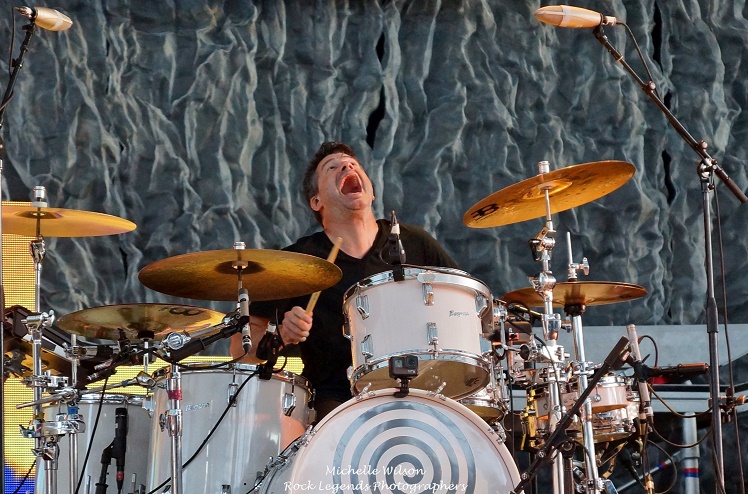 The 14-song set spanned the group's vast catalog and included some newer ones not yet released. Roland did mention that the band is releasing a double album next year, which will be a real treat for fans. Choices included new cuts "Now's The Time" and "Over Me," a partial cover of Electric Light Orchestra's "When I Was A Boy" with Ed at the keys as the composition segued into "Shine," "Heavy," "Why Pt. 2," "Better Now," "Precious Declaration," "December," "Right as Rain," and "Observation of Thought." "Sometimes you write songs to rhyme, sometimes you write songs that are therapeutic. F-ck cancer!" Roland announced. After the beautifully haunting crowd-pleaser, "The World I Know," Roland took it right back up a few rocker notches. "I know we were doing a little sensitive thing but now we're back to rock 'n' roll! From 25 years ago…" and then they morphed into an epic version of "Gel," with the crowd totally diggin' it, dancing and singing along.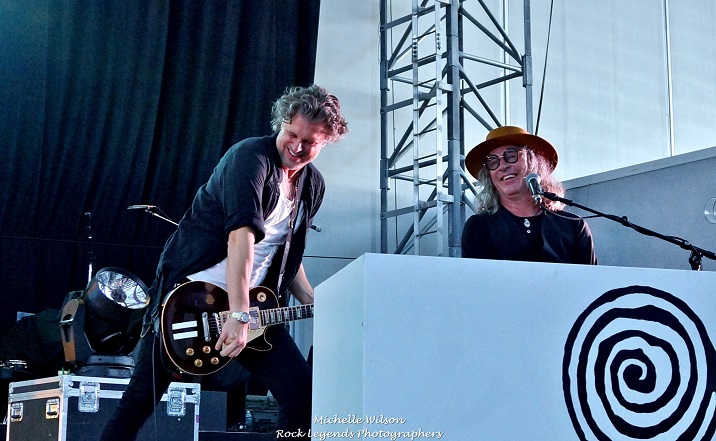 Roland made a point of thanking Soul Asylum and 3 Doors Down for allowing Collective Soul to share the stage with them, and he also walked over to his younger brother, Dean, who was sitting at the keys during band intros and gave him a big hug. Anyone who knows this band's history is well aware of the ups and downs that these two have endured, but not only have they endured, they have thrived. Closing it out with "Where The River Flows" and "Run," the band members all moved forward to the front of the stage to say their goodbyes to the appreciative crowd and walked off with the song still playing. It was truly a spectacular exit.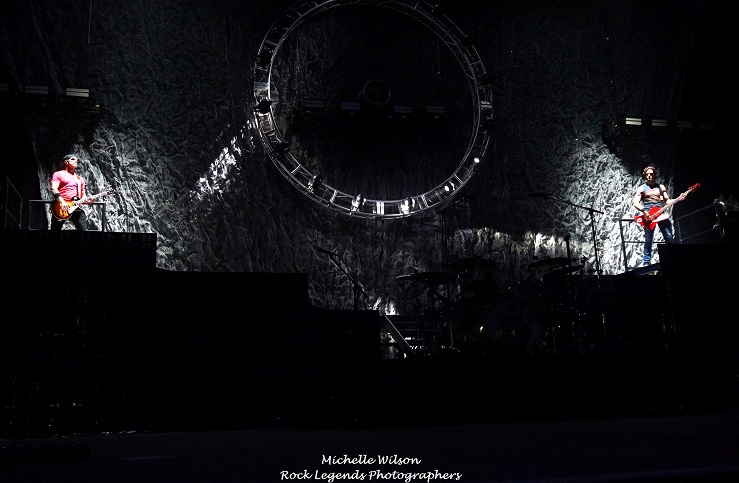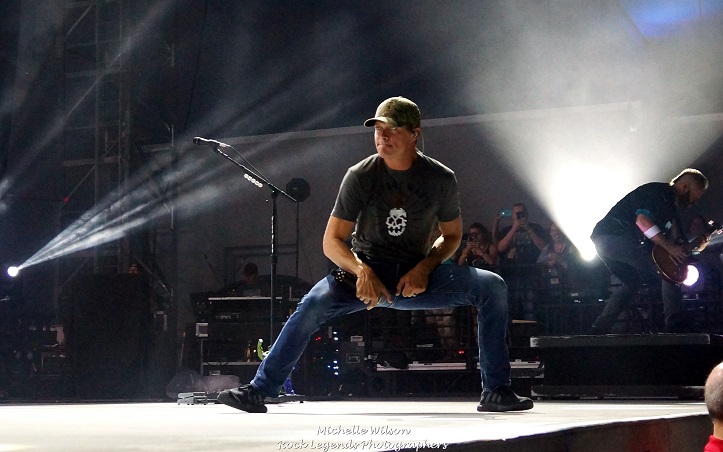 At 9:35pm, 3 Doors Down made a grand entrance amid funky lighting and smoke as guitarist Chris Henderson and bassist Justin Biltonen appeared one by one on opposite towering risers. Guitarist Chet Roberts, drummer Greg Upchurch and lead singer/founding member, Brad Arnold, all took the stage for a wild 75-minute ride of hit after hit, with the crowd absolutely eating it up. The guys were all over the stage and just killed it. Few people were in their seats, and most were up dancing and singing right along. Arnold asked the crowd to share photos and video on social media and to remember to hashtag the band. The band's official videographer was making the rounds out in the crowd later on, and he stopped to film a couple dancing nearby. The alcohol was flowing and had taken full effect by this point, so people were pretty loosened up and just enjoying the moment, some definitely more than others.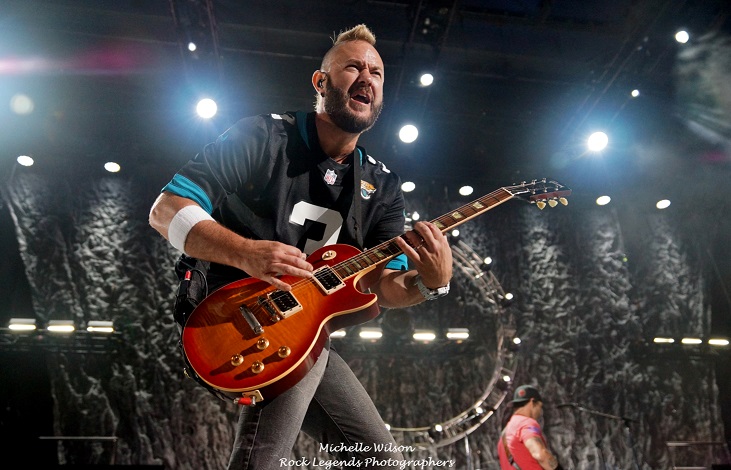 Songs included "Duck and Run," "Running Out Of Days," "It's Not My Time," "Away From The Sun," "Let Me Go," "Going Down In Flames," "The Road I'm On," "Be Like That," "Citizen/Soldier" ("G-d Bless our citizen soldiers!"), "Danko," "In America" ("Do we have any Charlie Daniels fans in the house? He happens to be a good friend of ours and I can't think of a better song to play."), "Landing In London," "My Way," "Loser," and an off-the-chain "Kryptonite." Exiting for a few minutes at 10:41pm and reemerging at 10:44pm, the boys from Mississippi finished it off with "Here Without You" and "When I'm Gone." "Thank you so much! G-d Bless America!" It was the perfect ending to a pretty perfect evening.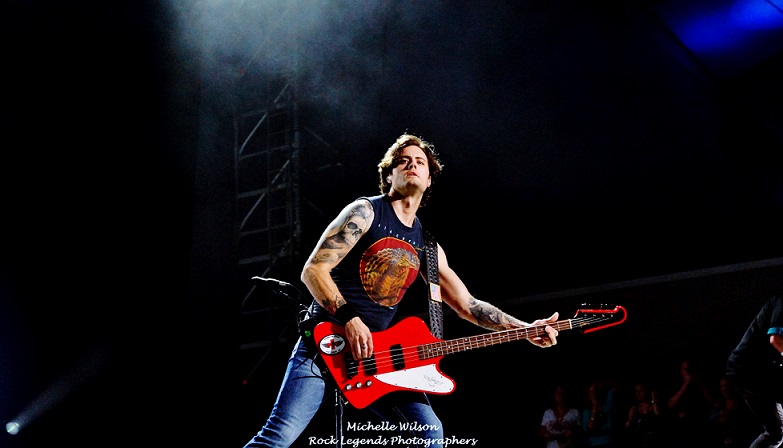 It's essential to stress that this IS being billed as a co-headlining tour. The two headliners performed sets of equal lengths, reinforcing the co-headlining announcement. Someone had to go first, and it just happened to be Collective Soul. But that does not relegate them to "opening" status. This was a phenomenal triple bill and fans certainly got their money's worth.
Check out the full galleries below from Rock Legends Photographers.
https://rocklegendsphotographers.smugmug.com/ROCK-CONCERT-PHOTOS/3-DOORS-DOWN-Dailys-Place-Jacksonville-FL-7-7-18/
https://rocklegendsphotographers.smugmug.com/ROCK-CONCERT-PHOTOS/COLLECTIVE-SOUL-Dailys-Place-Jacksonville-FL-7-7-18/
https://rocklegendsphotographers.smugmug.com/ROCK-CONCERT-PHOTOS/SOUL-ASYLUM-Dailys-Place-Jacksonville-FL-7-7-18/
http://https://www.3doorsdown.com/#!/, https://rocknrollexpresstour.collectivesoul.com/, https://www.soulasylum.com/
---