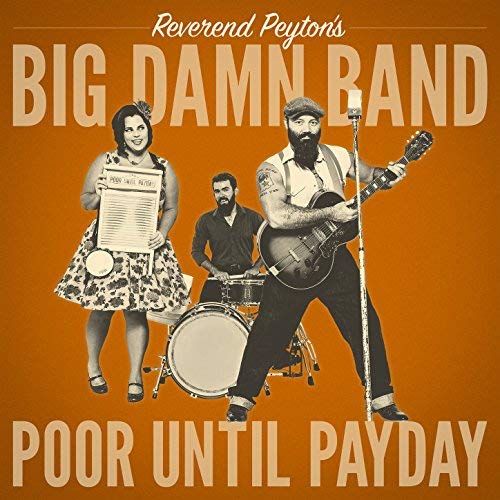 Reverend Payton's Big Damn Band
Poor Until Payday
Family Owned Records
Reverend Peyton's Big Damn Band's new album Poor Until Payday is 10 tracks of rowdy, blues-laced and gospel tinged fun. Throw in some serious skill with a guitar, washboard, driving drums, and some great vocals and you have a recipe for a great second album on their own Family Owned Records Label through Thirty Tigers.
The Big Damn Band is made up of Reverend Peyton on guitar and vocals, his wife "Washboard" Breezy Peyton on vocals, and of course, the washboard, and Max Senteney on drums that include a 5 gallon maple syrup bucket. It's a mix of instruments and vocals that all mesh perfectly for the sound they want and a feel of an old school record from the classic analog recording studios. They have some fantastic videos on their website that show their tongue in cheek humor and unique, fresh take on some bluesy roots music
The entire album is upbeat and driving and while I enjoyed the entire 10 tracks, here are a few of my favorites. "You Can't Steal My Shine" is reminiscent of an upbeat revival song that's complete with great slide guitar and tambourine that makes it feel like you are under the tent and getting ready to dance in the aisle. "Poor Until Payday" gives the album its name and has some nice harmonica added in to mix things up. "So Good" has a cool, chugging rhythm, and guitar parts that follow the vocals and give the song a modern face of some serious old blues stylings.
This album is a huge spotlight on Reverend Peyton's upbeat and optimistic mindset, and his hope of perpetual positivity for the fans. His mission to effect change by being the change he wants to see is evident in each and every track and none so more than "You Can't Steal My Sunshine". His infectious desire for better than what we've been given shines through out the album and will grab you on the first spin of the vinyl.
Reverend Peyton's Big Damn Band is back from an overseas jaunt and now back touring around the US. I was able to catch them at a show in Kansas City and their stage presence is a spectacular as their recorded music. Get out and see them live and pick up a washboard from Breezy, a maple syrup bucket from Max, or any of their albums and help keep these guys making great music.
---