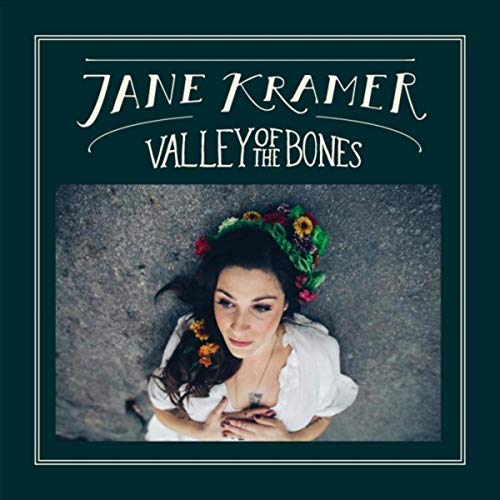 Jane Kramer
Valley of the Bones
Famous Brown Boots Music
Valley of the Bones is Jane Kramer's third album and is a heartfelt journey through life, the heartache it can bring, and the strength you muster up to get you back on your feet. Jane toils over each song to make sure it's written truthfully and tells exactly the right story. I find each song like a beautiful snapshot in time and compiled into a photo album that will hold a place in your heart each time you open it back up.
When I spoke to Jane from her Asheville, NC home, I asked who her influences are that I subtly hear throughout her music and she credits some incredible singer songwriters. Jane tells me "Bob Dylan was sort of the first real songwriting that I noticed that called to me. Joni Mitchell, Joan Baez, and then as I got a little older I was really inspired by the writing of Annie DiFranco and… you know using songs as a vehicle for humanitarian efforts. Patty griffin is a huge one for me as well."
You hear all those influences through the album both in the way that she writes the lyrics and how the melodies flow over the music. I asked how the album materialized and if she had a specific theme in mind. She said, "I'll eventually write the song that feels like it holds enough gravity for me to center the album on and for this one it was "Valley of the Bones", which is written about a very profoundly grief filled, but also redemptive experience in my life"
The songs leading up to "Valley of the Bones" are full of ups and downs and Jane perfectly builds the lyrics and music into a beautiful bouquet of flowers. "Hymn" starts of the album with a flowing melody and some well crafted lyrics that include "My hippie mama didn't make me go to church, so I found God in the fire flies and digging through the dirt.". It's melody is accompanied by stunning dobro playing by Billy Cardine that runs throughout the album and directly into the second song, and upbeat breakup themed, "Waffle House Song".
"Macon County", "Saint Carrie of the Storm", and "Two Broke Kids" all have a shared story of growing up and making your own way through life. Each approaches a different stage in the journey but fits like a puzzle piece. Make no mistake, this album is full of genuine experience and absolutely no room for anything less than her truth.
"Child" and "Valley of the Bones" are both deeply personal in that they are dealing with her experience of a miscarriage and how emotional and lasting an effect it has on your soul. "Child" tears at your heart with lyrics like "Tonight I am a mother, I am barefoot on my lawn. I am burying the dream of the grass stained dancing feet of my child." "Valley of the Bones" continues the narrative and contains this piece of the second verse. "I said Matty, I lost a child in February it took me to my knees. I feel her tiny weight upon my chest in all my greedy dreams"
As a father and husband, Jane's style of writing easily placed me in a position to understand her pain and she evokes some real emotion. That's the beauty of this album is that, it draws you in deeper with with each successive listen. It's a moving work of art that flows vibrantly out of Jane's voice.
Engineered and mixed by Adam Johnson, the album was tracked live at Sound Temple in Asheville, NC with Jane using her regular touring band to enhance the authentic feel of the music. Eliot Wadopian, River Guerguerian, Billy Cardine, Allison Hall, Nicky Sanders, Franklin Keel, and producer Chris Rosser are the musicians behind Jane that give this collection of music weight it deserves. With all the musicians playing live, you can hear and feel each member playing off each other and having a subtle conversation that comes out as masterful.
---