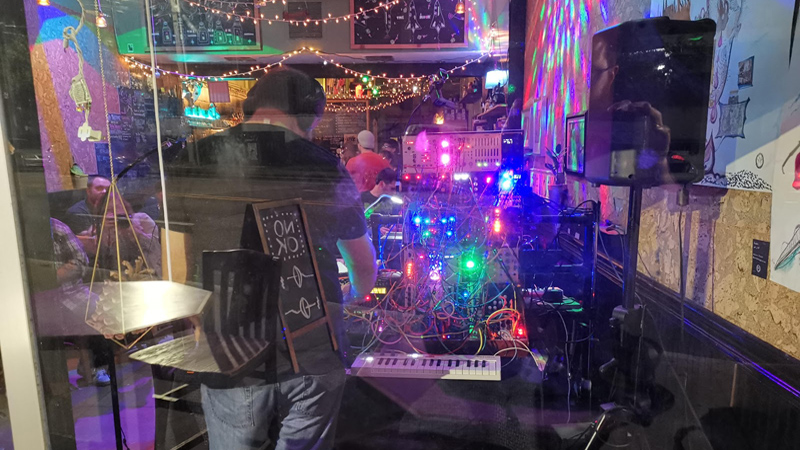 Moloko Plus
with Void Machine, Individual Two, and Black Knight Satellite
The Nook; Orlando, FL • 04/25/19
by Arianna Davis
There's a tiny bar in the Milk District of Downtown Orlando. No, it doesn't serve milk. Although, you could probably get a damn good milk stout. If you mostly stick to Gringos and Sportstown, you'll miss The Nook on Robinson only a few doors down, where once a month a local experimental music group called Moloko Plus can be seen and heard from the busy street. When first walking in to The Nook on Robinson, it might remind you of your friend's living room. It's cozy and welcoming with string lights, small cafe tables, a beautiful bookcase with esoteric novels, and an interesting mannequin of a butt that resembles something you probably stole from your neighbor in college.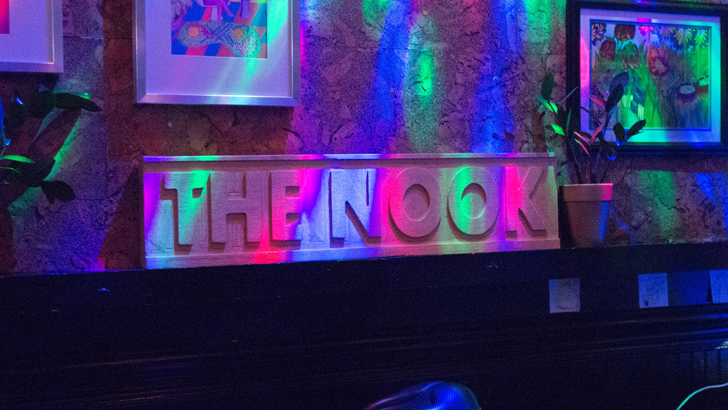 By the front door, right in front of the giant window that overlooks Robinson Street, you'll find several tables connected in a pattern resembling that of dominos carefully butted up against each other. (How many times can I say butt in this article?) The table closest to the window holds several modular setups designed by Void Machine, the first performer of the evening. The cables running to his setup are everywhere. Trying to trace them back to their original output and input would be quite a task for an unassuming person, but he knows each and every single one and how one simple wire change can create the sound to elicit the right emotions from the crowd. Inputs and outputs are what make up almost any genre of music, but experimental electronic music takes this idea to a whole new level. Void Machine begins his set as most of the patrons in the bar lower their voices to listen closely. For someone experiencing this for the first time, they might question whether or not the artist is doing a sound check or simply just diving right in. It doesn't take long for one to be transported by the sounds to a scene in an '80s film where the protagonist is driving fast around town trying to sort out some conflict in his head, tapping the steering wheel as the beat continues. Each time you find yourself getting lost in it, Void Machine pulls you out with something new and unexpected. The best part is watching as people pass by but decide to stop and stare in awe of the all of the lights and cables coming from the custom built modular setup.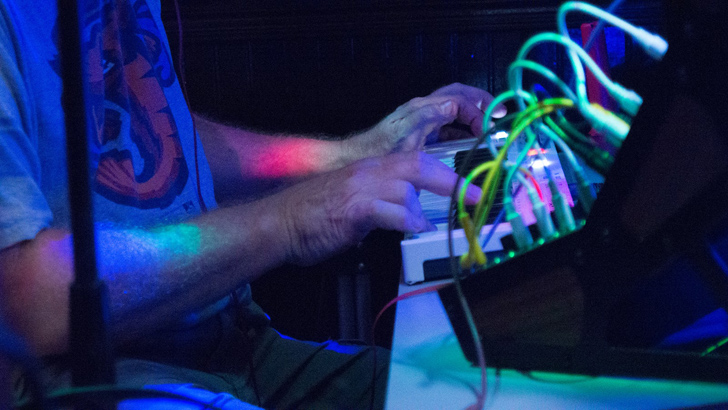 "I like the beeps. I like the bloops. And the blinky lights," says Teege Braune, a regular to the monthly Moloko Plus shows. Each month brings a unique set of talent from the great Orlando area. It's spaced between other 'Monthly Modular Meetups' where new and old electronic music artists come together to test out and show off their setups to fellow musicians before unleashing them to the public.
Sean, the only human component to Void Machine, looks up from his modules and politely asks, "Is my time up?" It's an informal exchange that either embodies the laid back low key atmosphere of the venue or of the musicians.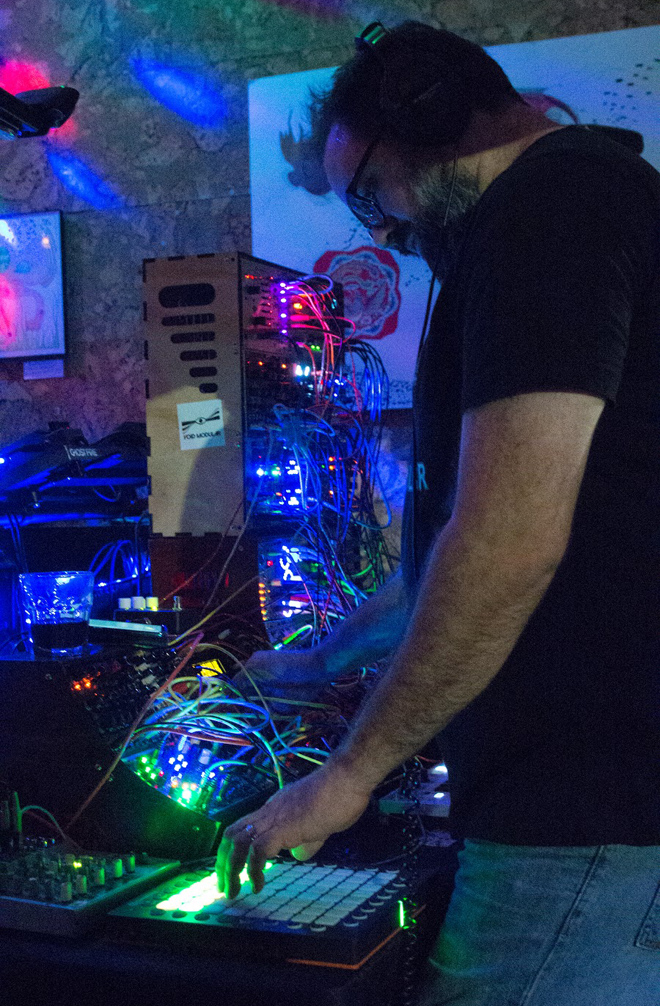 Winter Park native Will Randall, otherwise known as Modal Plane, doesn't happen to be on the ticket this particular evening, but has a chance to jam with Void Machine. The two play off each others creations with Modal Plane sitting and Void Machine standing. One sitting and one standing only adds to the contrast of their equipment. Modal Plane is on a much smaller setup while Void Machine's modules tower over him.
As they finish, they are greeted with applause from the bar. A curly-haired man with a digital mixer on an iPad in his hand walks up and thanks Void Machine and Modal Plane for their impromptu jam. This is about as close to a vocal artist as it will get for a Moloko Plus night. He invites the next performer up, John Irby or Individual Two, who saunters over to his setup which includes a larger keyboard than seen on the other tables so you can almost expect that things are going to get a bit crazier. Now we've moved to the scene of that '80s film where the protagonist is beginning to realize what he needs to do. There's an urgency to the music but the artist is calm, cool, and collected the entire set. So much as a twinge of a smile barely crosses his face as he focuses on his keyboard all while turning knobs in what appears to be a random pattern. Individual Two finishes his set softly. The audience cheers.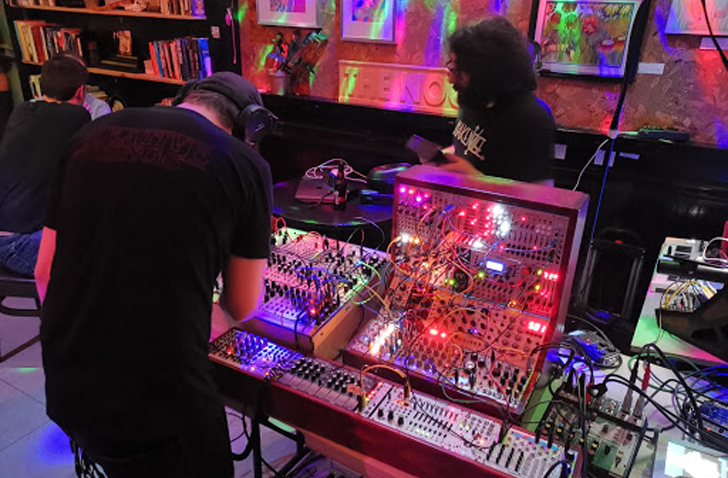 The curly-haired man returns. He's better known as Pressurewave or Jared Silvia for short – the co-organizer of Moloko Plus. He thanks Individual Two and coaxes another round of applause from the audience. This time, Jared has some exciting news to share with everyone: a new cassette tape music label called Circuit Church. Yes, cassettes, with all of their tape hiss and nostalgia… they're making a come back. Their first cassette release will feature Modal Plane's music that was heard briefly earlier in the night.
The last artist of the evening – Zac Adkins, a popular tattoo artist by day and Black Knight Satellite by night – is still setting up. His setup resembles a key grip's nightmare similar to that of Void Machines, and one would wonder if it is custom built as well. Finally, we've reached the fight scene of the film. Black Knight Satellite sound hits with a harsh contrast to Individual Two but excellent nonetheless. It's inviting as the evening begins to wind down. The new set of blinking lights helps to reinvigorate the crowd and sparks many conversations just outside the doors of The Nook.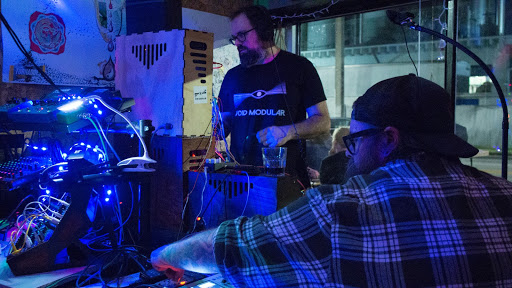 Many artists from Moloko Plus attend these monthly shows whether they are performing or not. This level of support for each other is just another reason to attend this spectacular event and support local music in Orlando overall. Every musician there is willing to discuss or explain the artistry that is experimental electronic music and it is highly recommended that you take them up on it. It's not just music. It's science, math, emotions, and art all rolled up into one.
Black Knight Satellite finishes his set and is greeted once again with applause. The evening has finished. One can only pray to the lord of Circuit Church to thank him for Moloko Plus, and be thankful that only the artists have to figure out how to pack up all their equipment and get it home safely. ◼
---