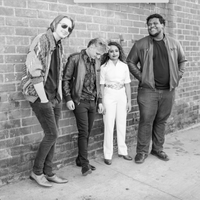 Love Ghost
"Mr. Blue"
"Mr. Blue" is a fantastic new single with a unique twist.
There aren't many bands who are seamlessly able to combine different genres and ideas. However, when you come across one of these bands, the possibilities are truly endless.
This is definitely the case of Love Ghost, a young (two members are high-school seniors) L.A.-based group whose music strikes as a vivid combination of rock, pop, indie, and everything in between. Their most recent release, "Mr. Blue," is a blend of heavy rock textures and infectious hooks with beautiful orchestral elements (such as a prominent string section) to bring some light to the mix.
This track combines raw energy and potent riffs with insightful lyrics and personal melodies that are easy to remember. The attentive production, as well as the sheer passion behind the performance are absolutely awe-inspired, and Love Ghost is definitely a band to keep on your radar because if this song is any indication, great things are to be expected from them.
---